Thai Style Prawn Cakes with Huai Shan
Posted on: October 10, 2017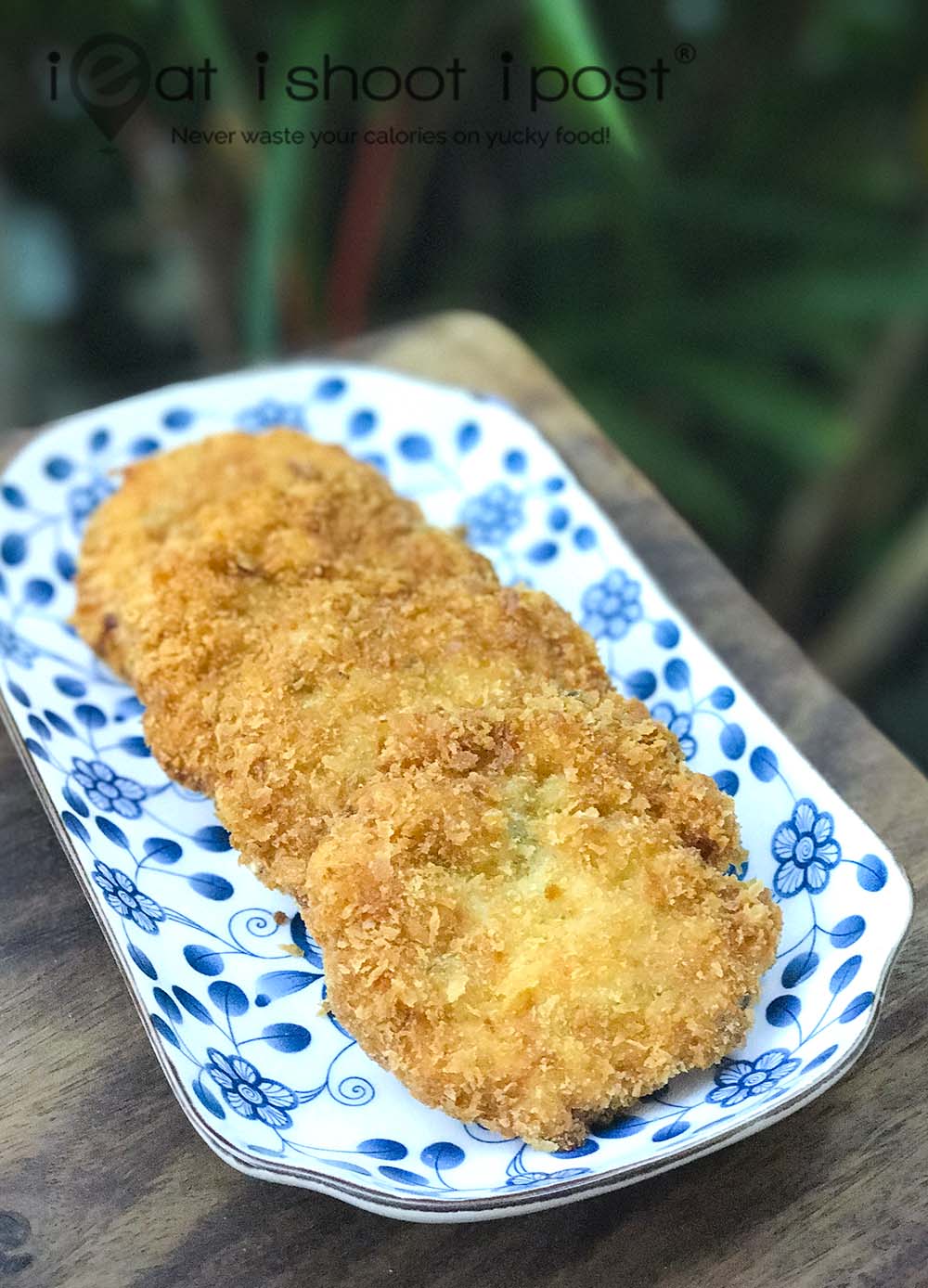 Thod man goong or Thai prawn cakes are one of my wife's favourite dishes whenever we go to a Thai restaurant.  They are quite easy to make and when you make them yourselves you can be assured that of good quality prawn meat without a lot of fillers.  These prawn cakes are not cheap to make! I bought 1 kg of sua lor prawns for the market for $16 and I made only six prawn cakes out of them!
For this recipe, I explored a new idea I picked up from the Japanese and that is to use nagaimo or huai shan (淮山 – mountain yam) as a binder instead of egg white.  The Japanese incorporate nagaimo into their meat balls for oden.  I am happy to report that the result was excellent.  The prawn cakes had an added moisture and a pleasing tackiness which provided a good contrast to the crispy crust!
Ingredients
Main
Prawn meat 400g
Huai shan (淮山 mountain yam) 2 Tbl grated, 2 Tbl diced 3mm cube
Coriander stems 1 Tbsp (chopped)
Salt 1/2 tsp
White pepper 1/2 tsp
Cornstarch 3 Tbsp
Brine
25g salt
500ml ice cold water
Crust
Egg 2 beaten
Cornstarch for dusting
Panko
Method
Peel prawn meat, de-vein and place them in brine for 30mins. (place in freezer section)  Wash away the brine and pat dry.  Chop the prawns roughly and add the meat and the rest of the ingredients in a bowl and stir in one direction vigorously till the mixture binds together.  If it is still wet, then add more cornflour till it becomes a workable paste.
Portion the prawns into patties and place in the freezer for 30mins to firm up.  Coat with cornflour, then dip in egg wash and cover with panko.  Fry at 180°C till golden brown and serve with Thai sweet chilli sauce.
Here are the notes: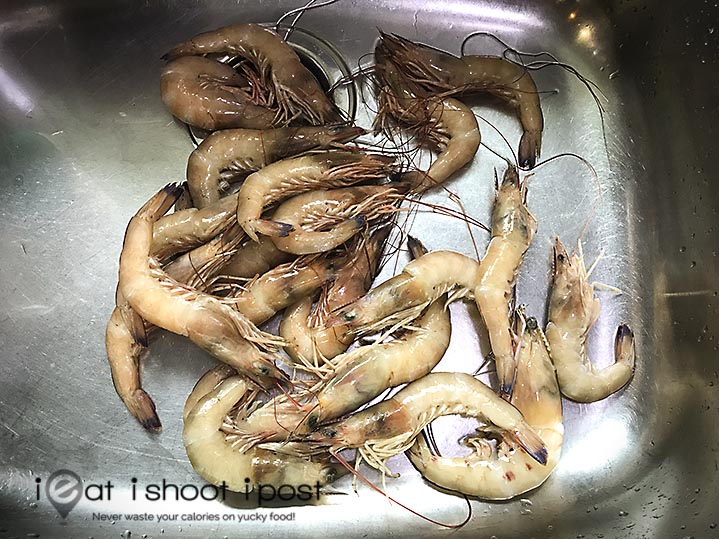 These are 1kg of blue tail sua lor prawns bought from the wet market. Their meat is very tasty and perfect for making prawn cakes.  More info about these prawns here.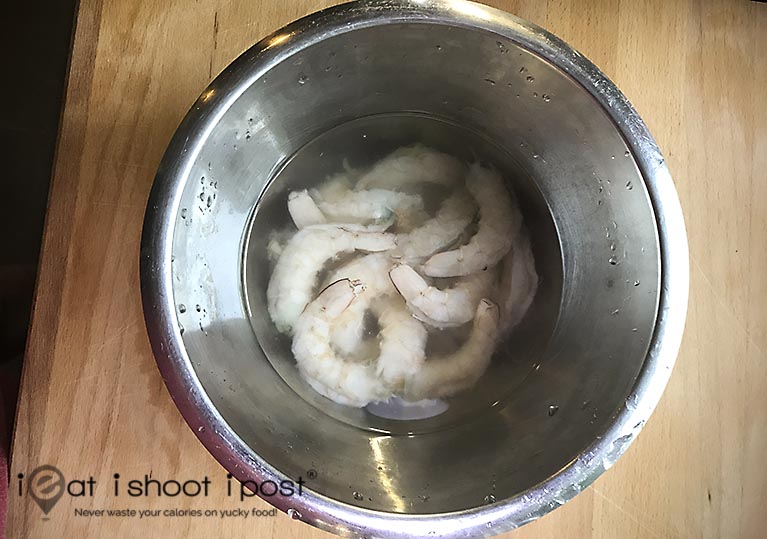 Brining the prawns will make the meat more bouncy and juicy.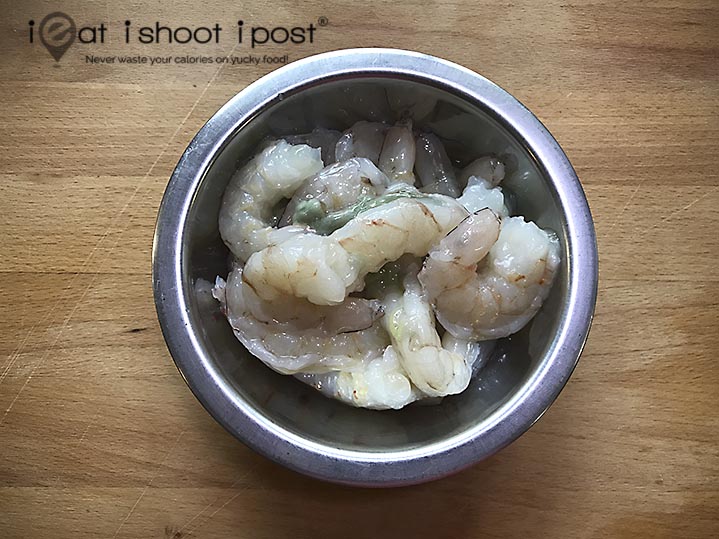 After brining, the prawn meat is lively and bouncy!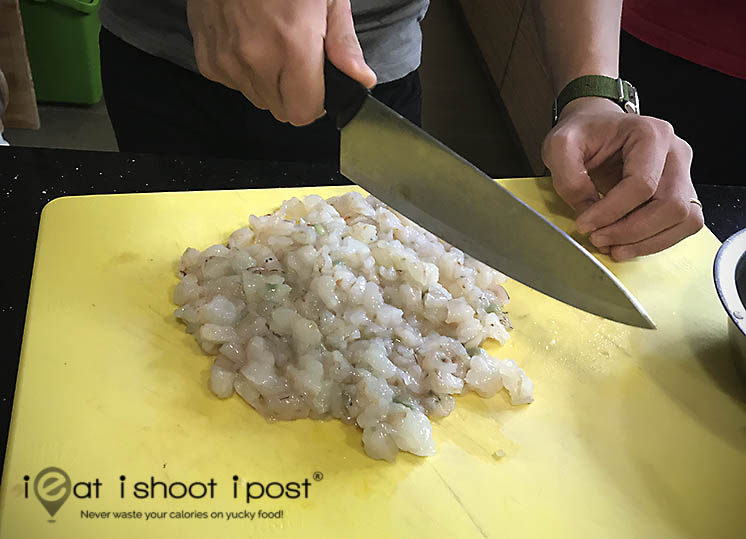 Roughly chop the prawn meat so that there are nice meaty chunks.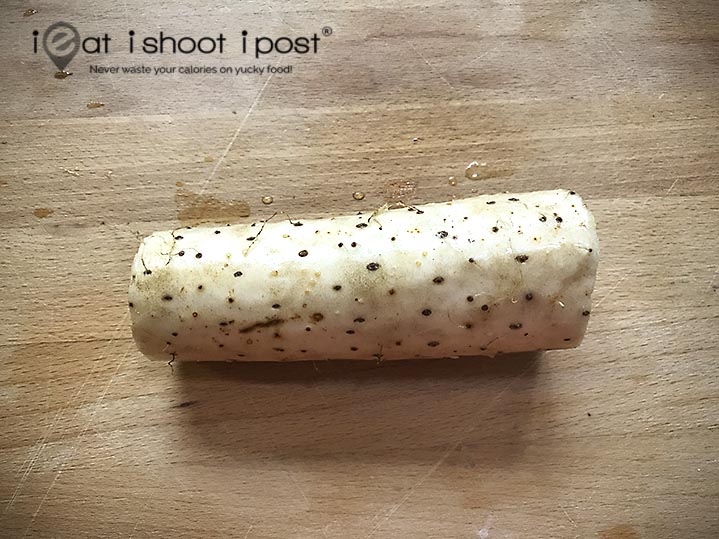 Huai shan is readily available at the wet market or supermarket.  You don't need a lot of it.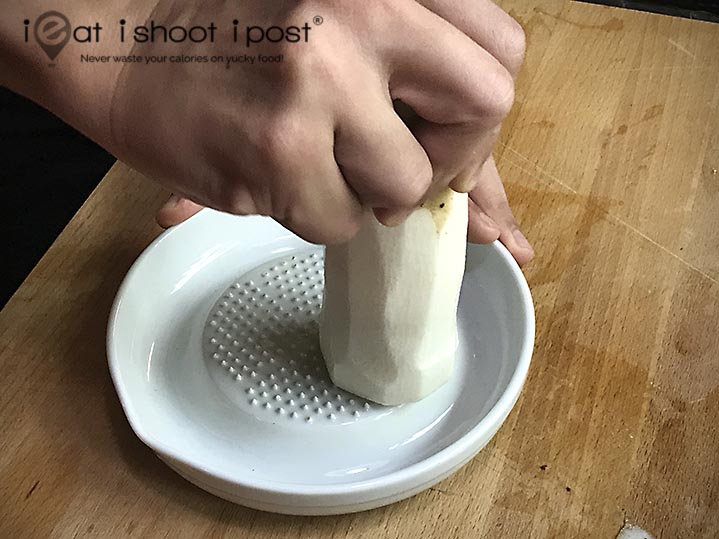 Grating the huai shan will produce a slimy liquid…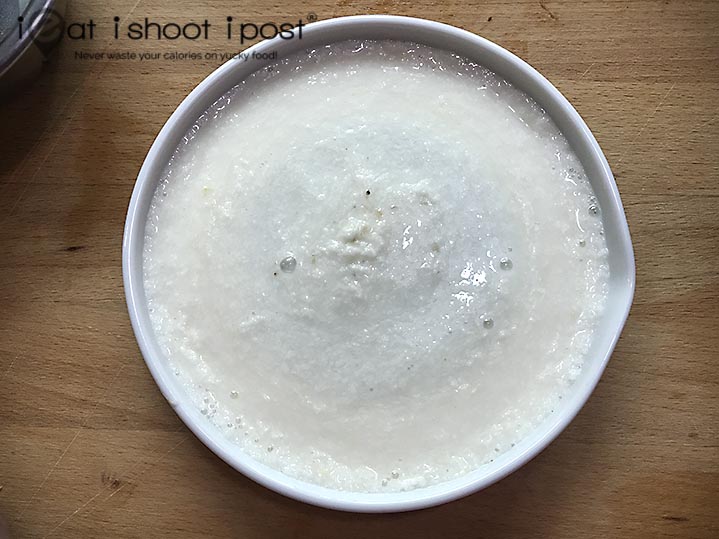 Like this.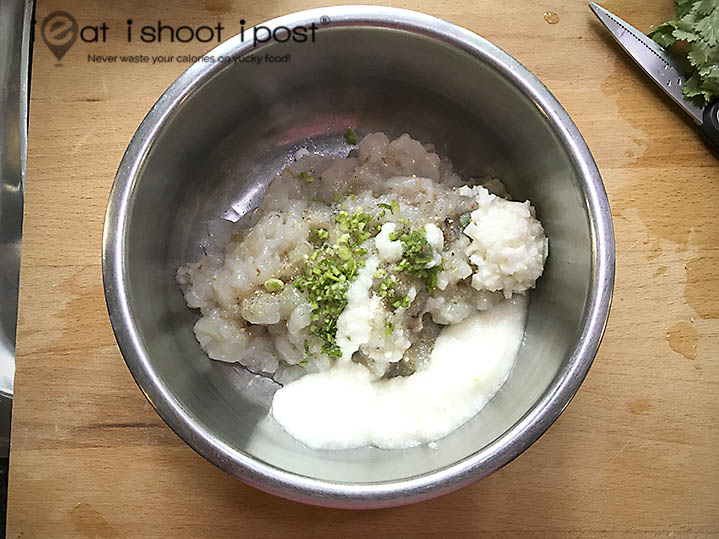 We also add some diced huai shan to add some pleasing crunchiness to the prawn cakes.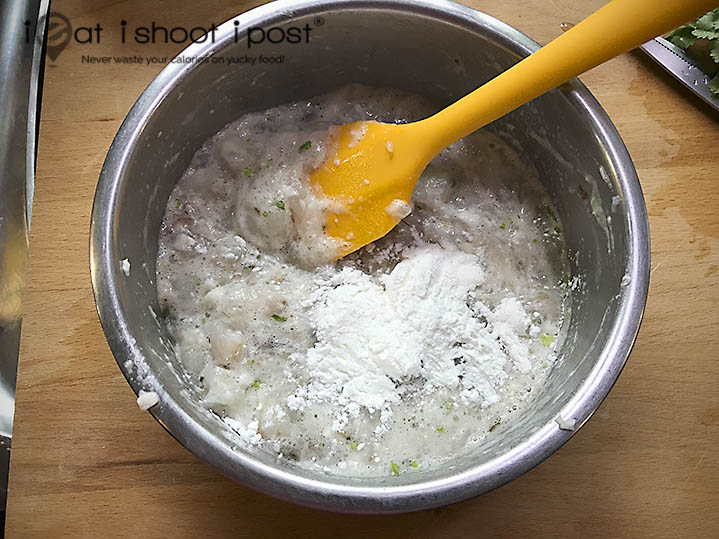 Stir the prawn mixture and add more cornflour if the mixture is still too wet to handle.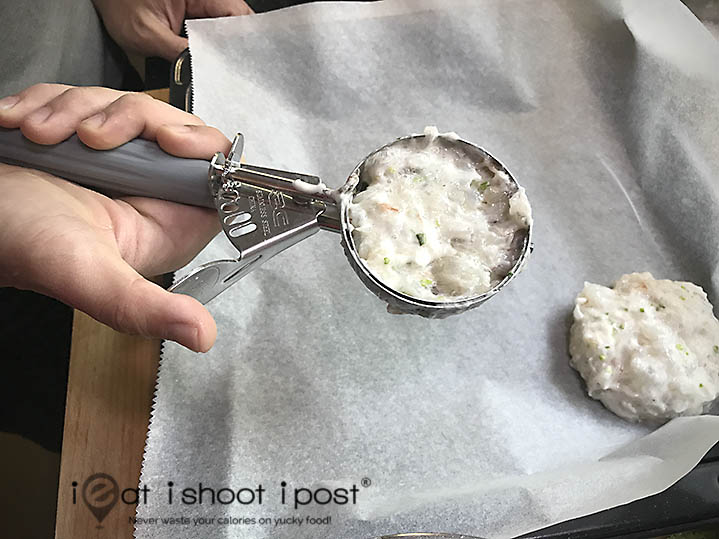 Using an ice cream scoop or spoon, portion out the patties.  Place them in the freezer for 30mins to firm up.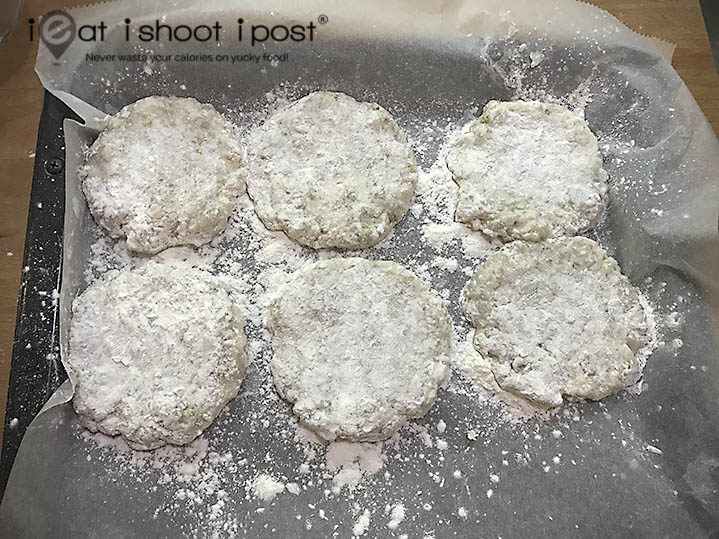 Coat with cornflour first then dip in egg mixture.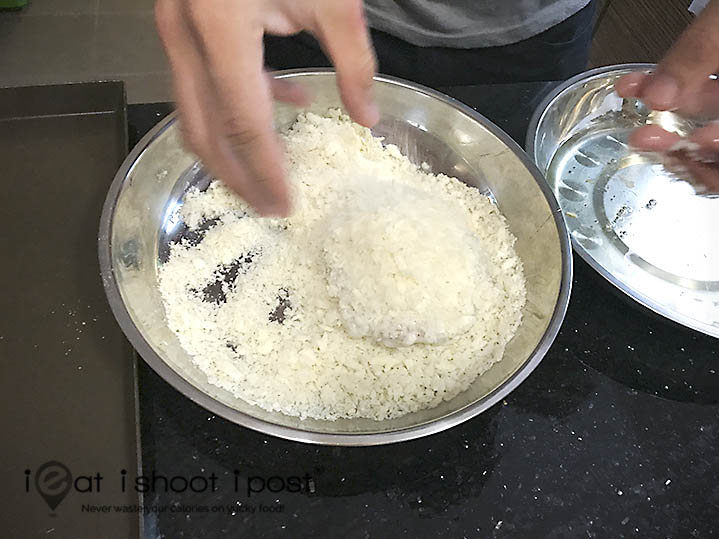 Finally cover with panko and press gently.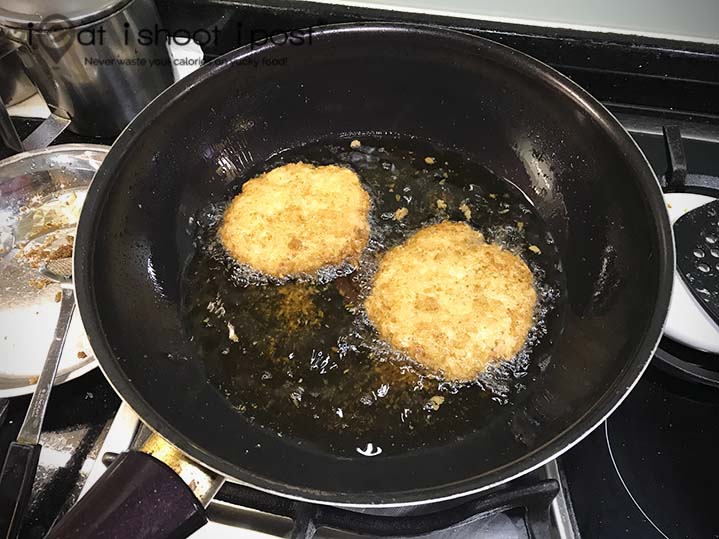 Fry at 180°C till golden brown.  I am shallow frying it today as I don't want to waste too much oil.  This should take 2-3 mins.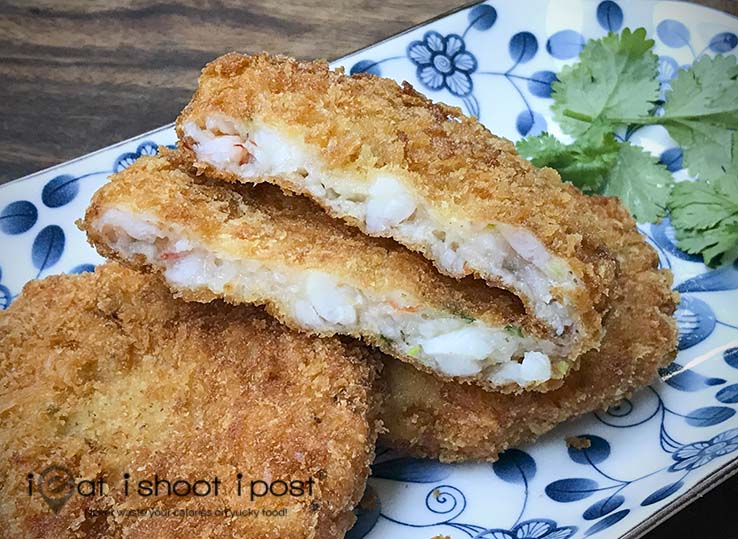 Crunchy on the outside, bouncy, crunchy, juicy and sticky on the inside!  A magnificent melange of textures for the whole family to enjoy!