This stall used to be called "Jia Xiang"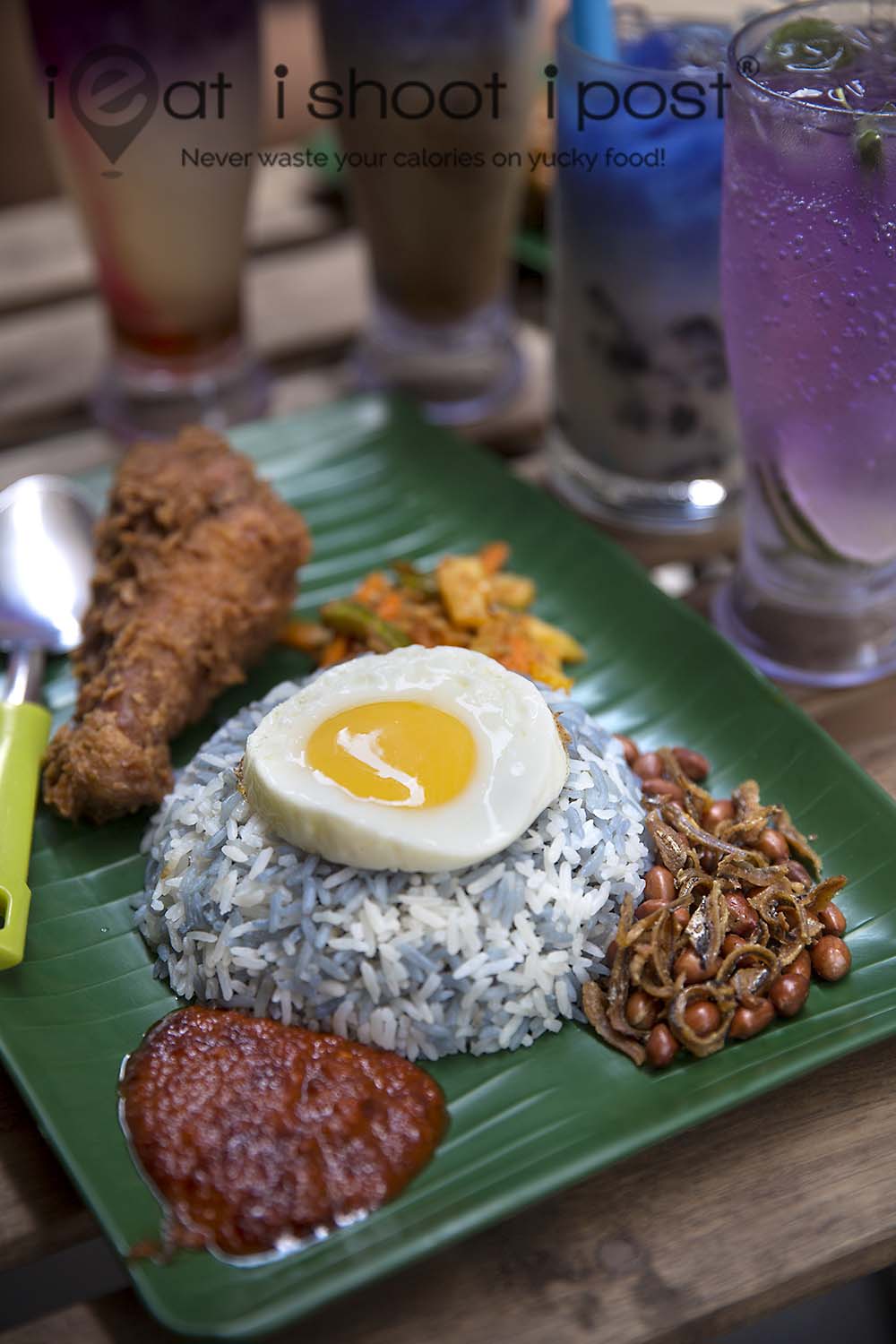 Blue rice is currently the in thing!  It's actually not a new thing but an old thing, but somehow it has recently become THE thing!
Blue food really does capture the imagination doesn't it?  There are not many foods that we associate the colour blue with.  One can think of blue cheese and blueberries perhaps, but blue is an uncommon colour for food.  Whereas reds are usually an indicator for heat, yellows for richness, greens for freshness and browns for sweetness, blue is usually associated with cold and rotting food.  So, we seldom see blue used for food.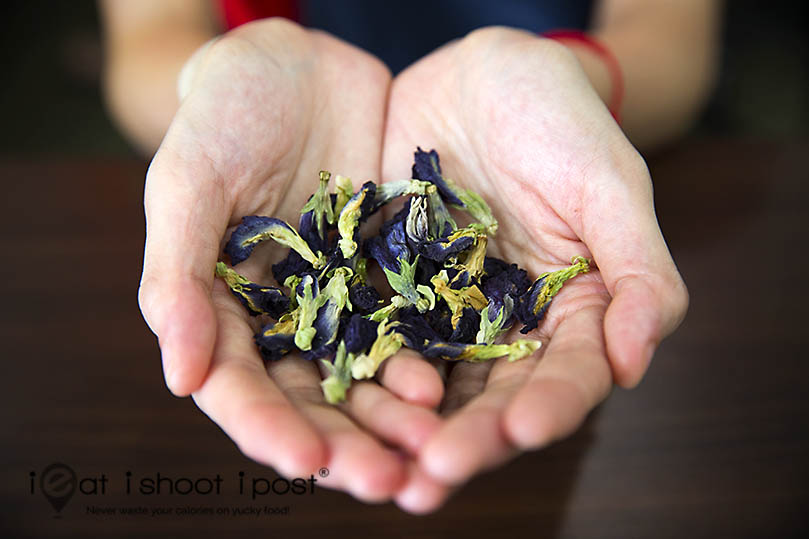 Blue pea rice is another exception, especially in Peranakan and South East Asian cooking. The colour comes from the petals of the blue pea flower,  (Malay: bunga telang) which is native to Malaysia and Indonesia.  Its resemblance to the female genitalia gave rise to its scientific name, clitoris ternatea and it is believed to be able to boost the female libido! (Same sort of reasoning with oysters)  It is also believed to have other medicinal qualities, but I think most of the time, it is simply used for its unique colour.
I don't mean to be morbid, but my friend and food expert, Chris Tan tells me that blue is the traditional colour of mourning for the Peranakans and that the blue kuehs were made to be used during funerals!  Is this the common understanding amongst those of you who are Peranakans?  Do let us know!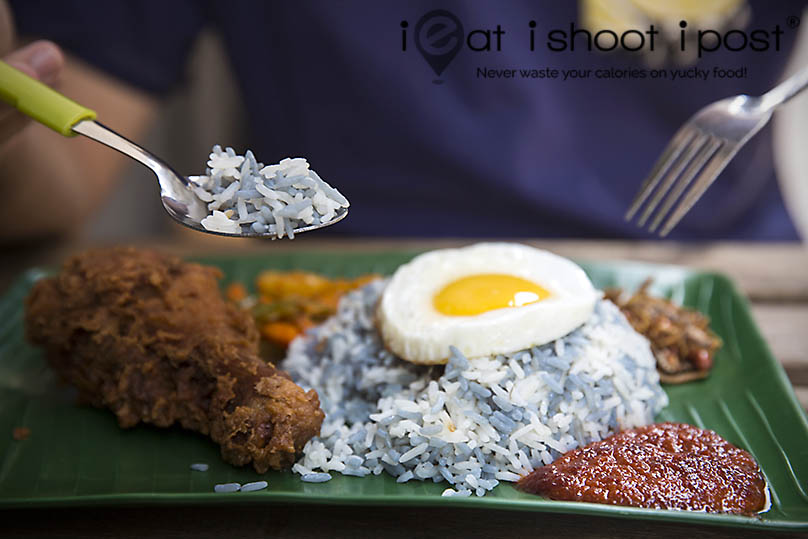 Jia Xiang 家香 (lit flavours of home) was founded by two brothers, Kenneth and Shawn who hail from Alor Setar.  Shawn tells me that they grow a lot of blue pea vines at home and he grew up eating blue rice nasi lemak which is one of his grandma's signature dishes.  In fact, it is still harvested, dried and sent to Singapore to make the blue pea rice at the stall!  So, the stall's name,  "Jia Xiang" isn't simply a nice name but there actually is some substance to it!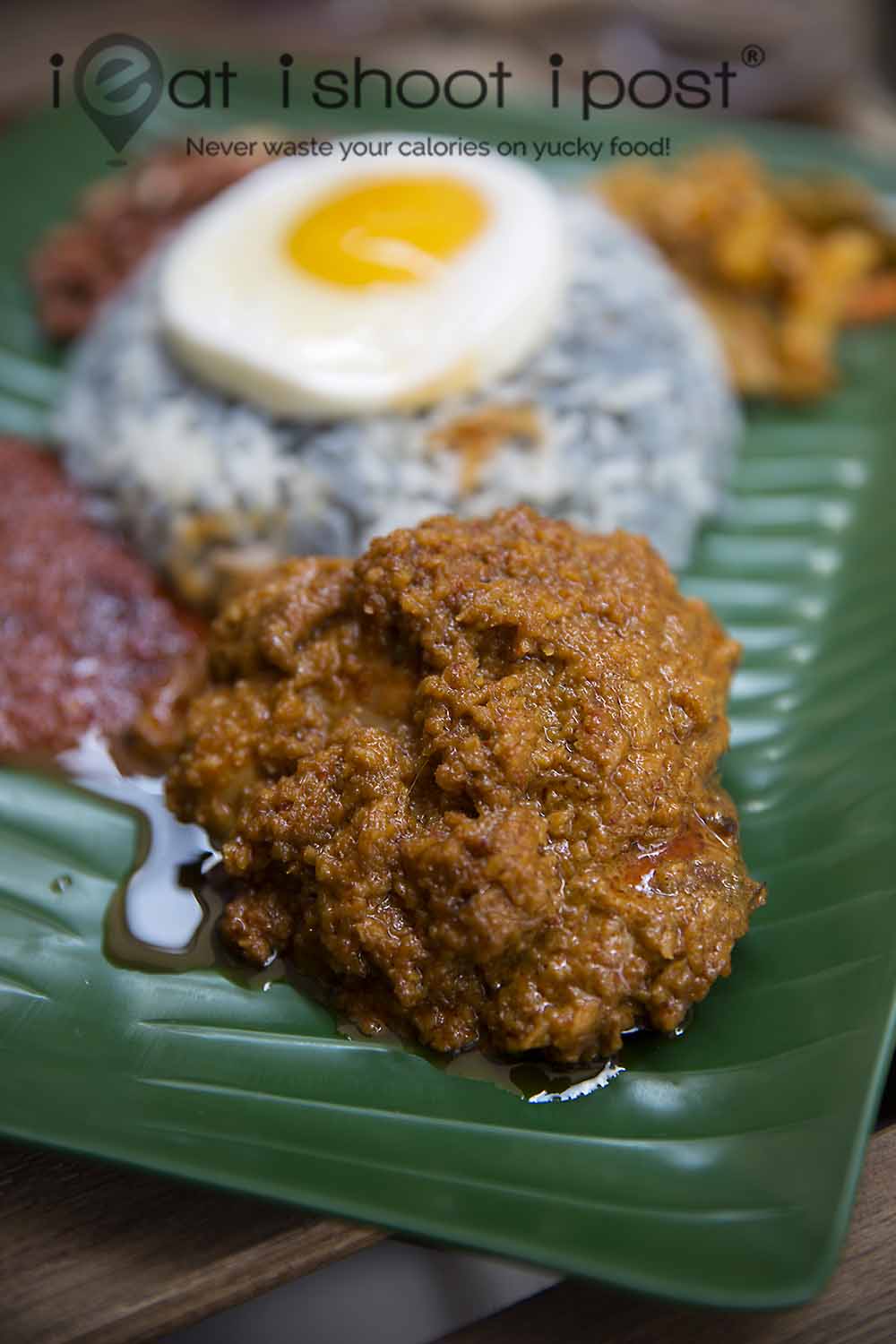 I was introduced to Jia Xiang a while back when the stall was still in Tampines.  A good friend of mine, Amigo Chen, insisted that I need to try the nasi lemak and brought a box of it to the clinic.   I was immediately taken by the deliciously rich rendang ayam which went so well with the fragrant blue rice!
When I decided to pay their new home a visit,  I was really pleased to find that the rendang ayam was the special dish of the day!  (It's on the menu on Tues and Sat).  For me, the dish was special because of the rendang ayam. The other components, viz rice, chilli, fried chicken and fried eggs where done very well, but it was the combination of the rendang and the rice that was outstanding.  The rice could be more lemak (rich), but Shawn tells me that he had deliberately cut back on the coconut milk so that his customers don't feel too jelak after the meal.  Nevertheless, the rice grains were still plump and moist.  The fried chicken was good.  The meat was nice seasoned and juicy, though I felt the crust was a tad thick.  4.25/5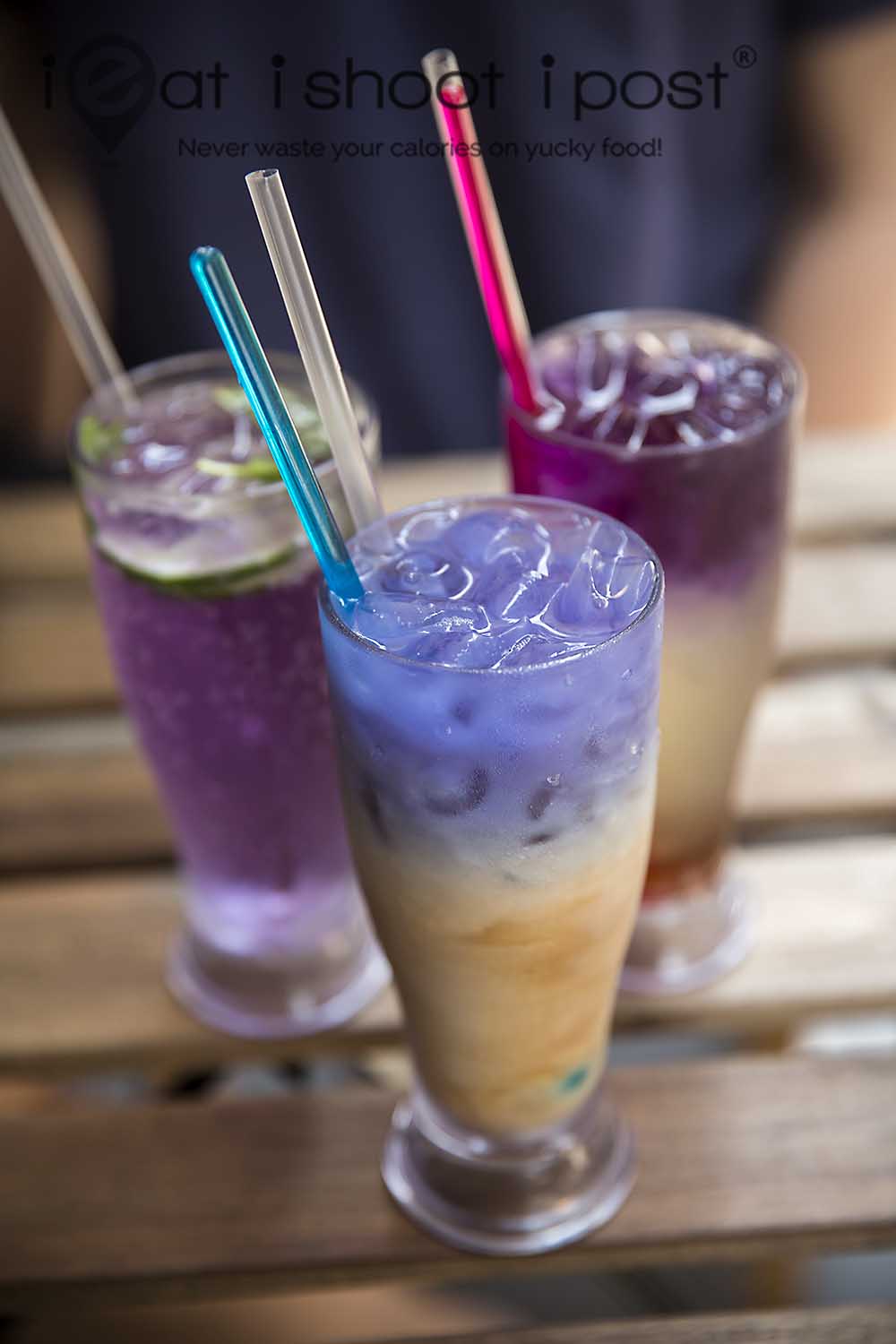 The blue pea flower is also featured in their drinks.  These are the brainchild of Kenneth's wife, who is a make up artist by training.  The drinks are attractive, until you try to stir them and they become a dull duck egg green.  I was told that most of the ladies would just stir the bottom and leave the nice colour on top for as long as possible.  Taste wise, I think they were pretty standard drinks, but they are so pretty that I am sure most people will end up buying one, especially when it's just an extra dollar for the blue chai tea with every set meal!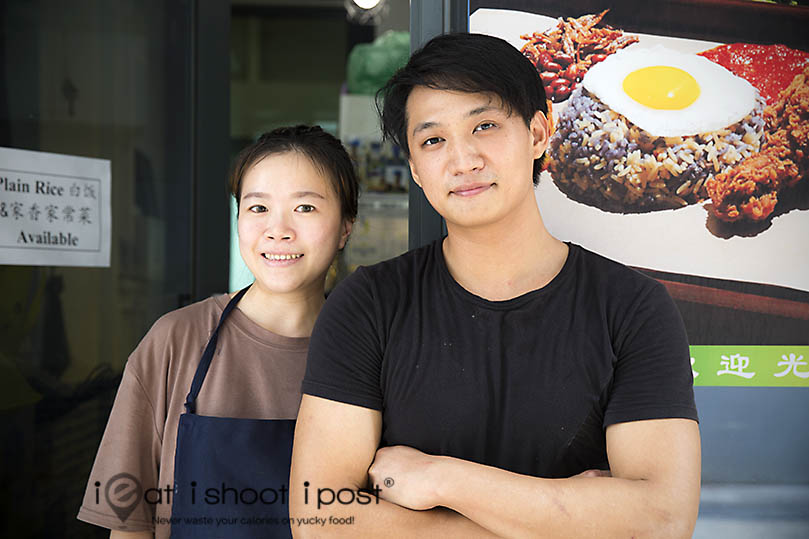 Conclusion
Good to see another young couple working hard at their craft.  I think the blue rice and blue drinks are great for marketing, especially in the age of Instagram.  But, in the long run, I think it is the quality of the food that will enable them to succeed.
Update: 14 Jan 2021
The name of the stall has been changed from "Jia Xiang" to Simple.