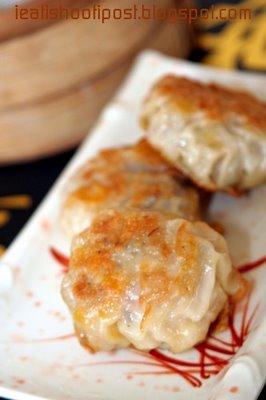 Most people know about Zi Yean's Cze Char, but you may not know that since they moved to their new premises a year ago, they have started offering Dim Sum and La Mian. Dim Sum is an excellent way for the whole family to enjoy a Sunday brunch together which is why I am always on the lookout for good and affordable Dim Sum Places.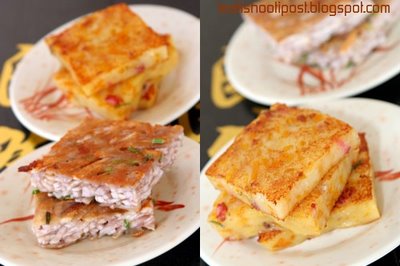 Most Dim Sum places will serve the standard fare of Har Kow, Siew Mai, Cheong Fun, Phoenix claws and so on. And most places would serve a pretty descent Siew Mai such that they usually differentiate on size and price. Of late, Dim Sum places are also trying to differentiate by offering novel items. Zi Yean is following this strategy and offering several interesting items which I would like to highlight.Above are 2 items that are quite nice. The first one is the shredded yam cake. Instead of using pieces of yam set in rice flour, here you get shredded yam seasoned and fried till nice and crisp on the outside. One the right is their fried pumpkin cake which I really like. It has got pieces of chinese sausages and dried shrimps and the pumpkin gives it a really fragrant, sweet taste. $2.50 per plate with 3 pieces.
3.75/5
for both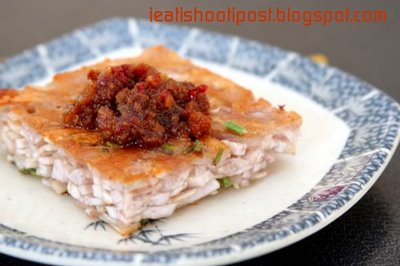 By the way, these go really well with their excellent Hae Bee Hiam, which they provide as standard condiment. Mmmm.
4/5
for the Hae Bee Hiam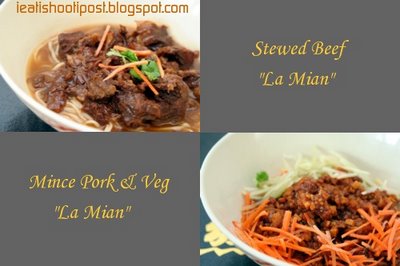 What I really want to rave about is the Stewed Beef (Gnao Lam) La Mian. The Gnao Lam is the best I have tasted for a long time. Very tender and they have managed to get the balance of spices just right. You MUST try this. (The only way that they can improve on this is to use more Shin Beef) The La Mian is made fresh and you can really appreciate its smooth texture. The Minced Pork and Vegetable La Mian is also very very good. The best I have tasted so far. It has got the distinct taste of young bamboo shoots. They managed to get just the right balance of zest, spice, sweet and umami. Another MUST try. Best of all each bowl only costs $3.80 with no added taxes.
4.5/5
Definitely ordering these next time!

La Mian Chef pulling the La Mian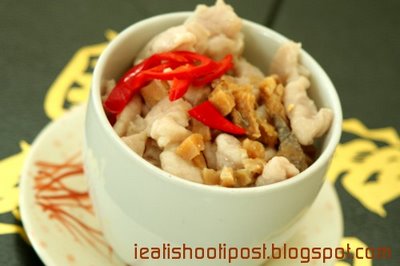 Another unique dish is the pork and salted fish rice. The pork and salted fish is very nice, but I found that there was not enough flavour in the rice as it is just plain steamed rice. 3/5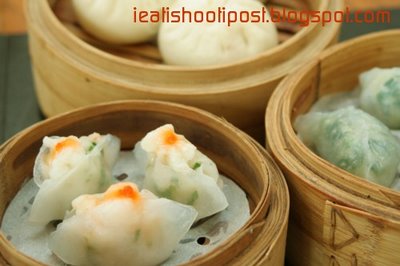 Scallop dumplings
3.5/5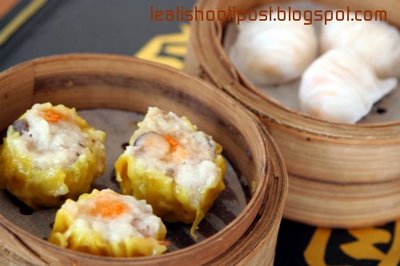 Siew Mai and Har Kow as standard Dim Sum fare. These are all quite good. Each cost $2.50 for a basket of 3. 3.5/5 for most of the dumplings. Personally, when it comes to the various steamed dumplings, they all taste quite similar to me after you put the Hae Bee Hiam or chilli sauce on. Some would say I just don't know how to appreciate Dim Sum.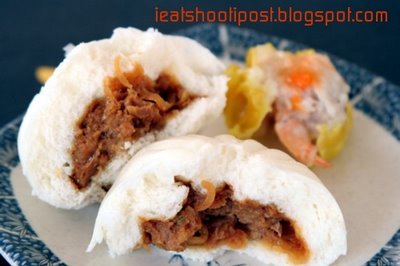 Another interesting item is the Gou Bu Li (Dog don't care) Pao, aka Tianjin Meat Pao. Quite nice and certainly something very different from your standard pork pau. The Gou Bu Li has plenty of shredded onions in it. $2.50 for plate of 3. 3.75/5 I tried to give you a view of a half eaten Siew Mai. You can probably just make out the prawn sticking out.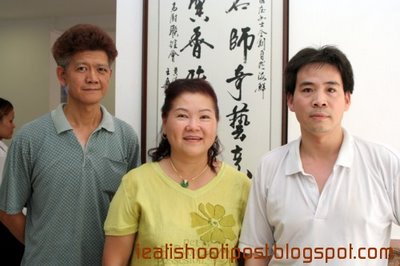 Lao Ban Niang, Ms Angela Chia with Head Hong Kong Chef Wu (on her right) and the La Mian Chef. Those of you who are familiar with the history of Zi Yean would know that it was previously owned by Ms Angela and her partner who subsequently retired when they moved to the new premises.ConclusionYet another place for affordable and tasty Dim Sum. Zi Yean is divided into an aircon restaurant and a non-aircon coffeeshop. Both serve the same food, but there are several items that are exclusive to the restaurant. If you dine at the restaurant, you will be charged the standard taxes although the prices of food remain the same. Eating at the non-aircon area is good value since there are no extra taxes. The La Mian is exceptional value for money and a MUST try, so you might just want to pop in for a quick working  lunch or, if you have to entertain, book a table on the aircon side.4/5 Good Dim Sum, Great La Mian, Affordable Prices!