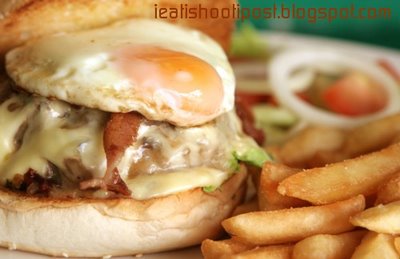 Found another place to have a really nice hamburger! This burger has probably got the juiciest and beefy pattie I have had. Again, I insist that any self respecting burger should be made of chopped beef rather then mince. This one has got 220gm of shoulder beef and because shoulder beef has got a higher amount of fat, that translates to a really beefy tasting burger. The Picardy Burger costs $9.90 and you add $1 for extra toppings such as egg, bacon, mushroom. So my burger with the lot costs $12.90 which is exellent value given the quality of the pattie.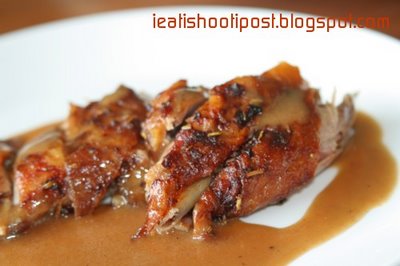 Foo House's food is the responsibility of Ex Executive Sous Chef of the Grand Hyatt, Robert Foo, who until recently used to be responsible for the menus of restaurants such as Mezzanine. Foo's House also serves a delightful roast duck which has been served at the Grand Hyatt for the last 20 years. The taste of the duck was really good, though the meat could be a little more tender.
If you like Hainanese Cuisine, then this is one place where you can get a late night, traditional Hainanese Pork Chops with a beer and ESPN. Probably the only Irish Hainanese Pub/Cafe in Singapore! The Pork Chops are done traditional style with crispy pork chop and a zesty tomato based sauce. Would have liked my chops a little thicker and juicier but this is the traditional way that Hainanese Pork Chops are prepared.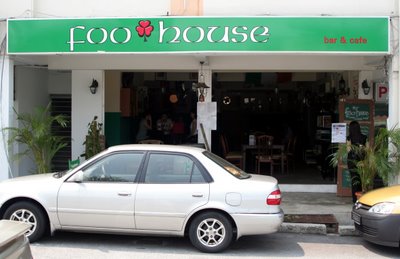 Conclusion
I visited the cafe during lunch so the atmosphere was not that great. I think this place would work well at night. Foo House has been opened for 3 months and has already a loyal following of customers yearning for the fusion of Irish Stew and Hainanese Pork Chops. Certainly worth a visit if you are looking for a Pub with really good food.
3.75/5

Great Burger and Hainanese Food in a Pub/Cafe atmosphere. Would have scored higher if the price of the pork chops was more competitive.