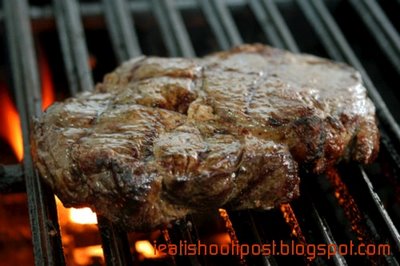 This store is closed.
The information in this Blog has been superseded by a newer Blog! Please click HERE!
Please read the updates to get the latest feedback from other readers!!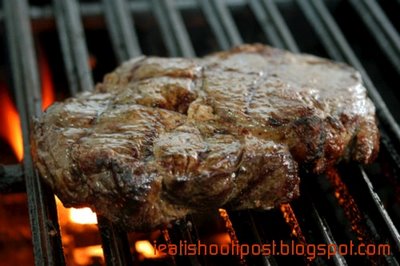 This 300gm NZ ribeye steak costs just $11. Do I really need to say anymore except to tell you where you can get it?
E Blackboard is the newest kid on the block that is bringing restaurant styled western food to the HDB heartlands. Foodies will have already heard of the likes of Astons and Botak Jones who are dishing out great western food at prices you'd think there must be government subsidies. Gone are the days of the thinly sliced beef steak with the obligatory baked beans and chips. The HDB heartlander is now internet savvy and knows a steak from a emaciated piece of dead cow that has had the dickens beaten out of it.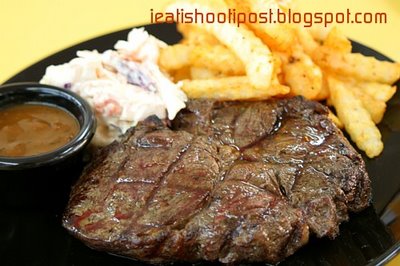 This is the real deal! Still can't believe it's only $11 right? I think we have been overcharged for steak all this while! Now please don't compare this with US Angus that you get at places like Black Angus. You do have to pay for good meat. The difference is this. If you are to bring me out for steak, I'd still choose Morton's of Chicago. Of course US Angus Prime tastes better, but you'd have to pay the equivalent of at least 7 to eight of these for one.
My only complaint is that the steak was not cooked evenly. This bit was ok but there was another part of the steak which was overcooked. The boss told me that they are having teething problems with their brand new grill and should be fixed soon. (They have only been opened less than a week)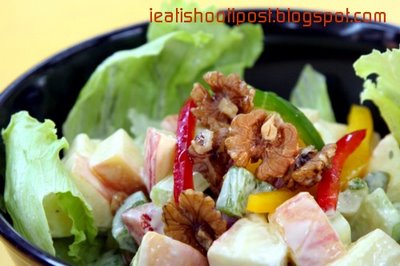 Aside from the steak, they also have quite a commendable Waldorf salad at $3.50 per bowl. Full of crunchy apples, walnuts, fresh lettuce and homemade salad dressing. Hard to find anything with walnuts for $3.50 really.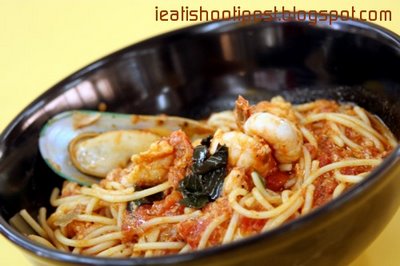 The seafood marinara is pretty decent. For $6.50, you get a clam, lots of crab meat (someone actually complaint that there was too much), prawns and a nice tomatoe sauce that has chopped tomatoes in it. However, I thought that the dried oregano and basil was a little too strong and reminds you of the standard spaghetti dried herb mix that you usually throw into your spaghetti bolognaise.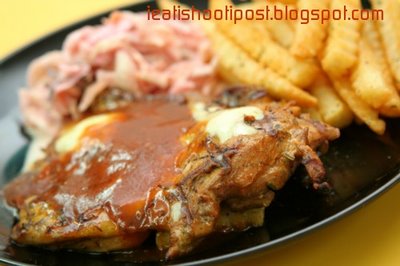 The other thing that the chef does really well is the cajun seasoning. The cajun spiced chicken ($6.50) is actually very very good. The chicken has got that unique smokey cajun taste and they use quite a good supplier of chicken thigh meat such that the meat actually tastes quite, well chickeny.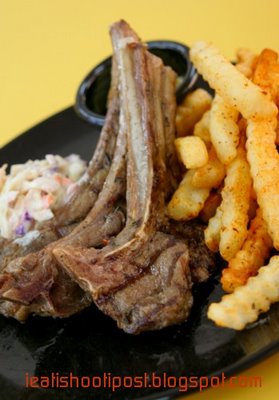 Lamb chops $8 were a tad on the thin side for me. If it's meat you are after, you are better off with the steak. Its served with a homemade citrus butter which was actually quite good.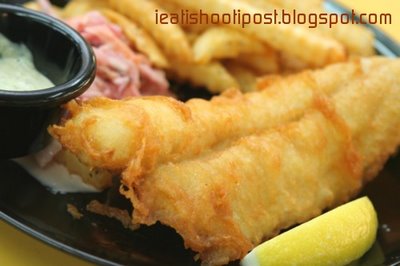 After receiving various feedback on the quality of the fish and chips, I decided to head back to try it myself a week later. Whoa, this is almost the same as what you would get at Fish & Co and its only $5. The dory is creamy and season just nice. One little secret I would share with you. Ask for the other sauce that goes with the grilled Salmon. That one is made of fresh herbs and its amazing with the fish and chips. Normally, they would give their homemade tartare sauce which I find a little on the sweet side. (If too many people start to ask for this he might have to charge for it but it is worth it) Definitely the best $5 fish and chips I have ever eaten.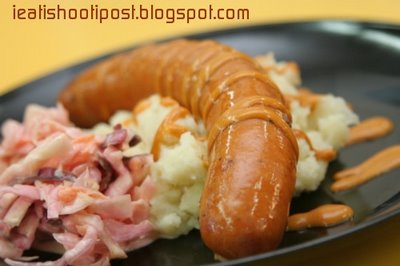 The homemade mash potatoes is very nice and they also have this jumbo garlic chicken sausage for $7 (probably a bit too expensive for a sausage)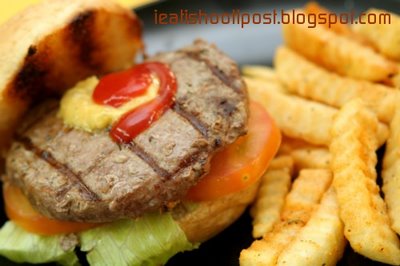 The burger set comes with fries and consists of a 150gm of minced beef pattie. Certainly much better tasting beef (and bigger) than MacDonald's. Not much to rave about except that at a typical pub, they would give you the same thing for $10.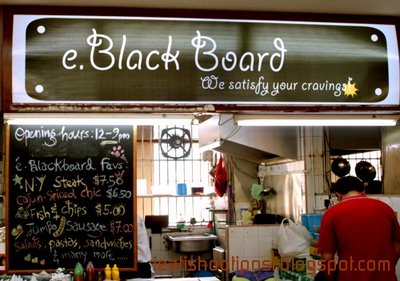 Conclusion
Where to find $11 Ribeye Steak in Singapore? Food quality is very good for the price you pay. My pick for the must try dishes are the Fish and Chips, Rib Eye Steak and the Cajun Chicken.
4/5 Scores mainly because it is real value for money. It's a steak I can afford to eat every week! (Please read updates)
Update 1: 26 Sep 2006. On my second visit, I noticed that the Ribeye was not the same quality as my first one. The portion is about the same size but it was not as marbled and lacked the central piece of fat. So there are some initial quality control issues. You will have to ask Bryan for the quality of the beef before hand if you want to make sure you get a decent steak. Bryan is now busy ironing out these issues. Last week problems with the grill has been solved.
Update 2: 30 Sep 2006. Today there was some feedback from friends of mine who said that the steak was still not up to standard. Unfortunately his supplier has been very inconsistent. Bryan has asked me to convey to you his apologies. He is busy trying to change supplier. I will personally go down on Tuesday to make sure that the quality is up to par. Until then, don't order the beef. Chicken and Fish still good.
Update 3: 4 Oct 2006. At last they got their beef steaks supplier problem settled. They are now using Angliss which is a reputable supplier. Below is a picture of the ribeye I took today. I felt that the quality is better then the initial one I featured. They now also offer a 200gm cut for $9.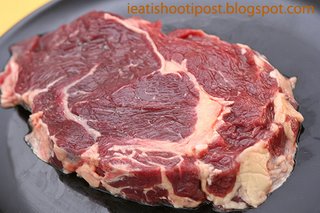 Update 4: 10 Oct 2006. The feedback from our forummers suggest that most people want a better quality beef. Because of this, Bryan has decided to change the Ribeye to 250gm NZ Chilled Beef for $12.90. The previous beef was frozen beef which is much cheaper. I have not tried it yet, so those who go can you please post your feedback to the rest of us?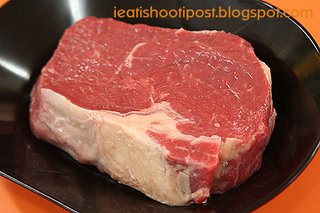 Update 5: 16 Oct 2006: This is the new supply of chilled NZ ribeye. $12.50 I did not think it looked very Ribeyeish in that it did not have the ball of fat in the middle and the nice tender bits around it. It was tender but not that beefy in taste but definitely more juicy. Aiya, I still liked the very first one, ie the first pic. But some initial positive feedback has been trickling in since he switched to chilled beef. You can find it here, here and here.