Congratulations to Yi Sheng Hokkien Mee for making the 2018 Michelin Bib Gourmand Selection list!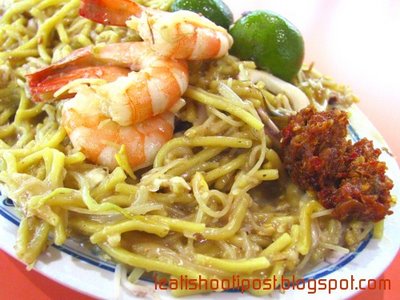 Remember eating Hokkien Mee when you were a kid? Assuming you are my age, then you might have been eating from this particular store which has been around for 40 years. What they say about practise makes perfect is very true. This is one excellent hokkien mee particularly if you like your hokkien mee with thin bee hoon and swimming in thick gravy.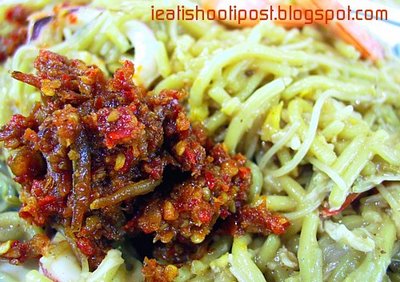 And if you like chilli, this particular chilli will make sure you return again and again. Mr Toh tells me that there are dried anchovies and dried prawns in the chlli. A secret receipe handed down from father to son. In fact, uncle was so passionate about the chilli that at one stage I was wondering if he was selling chilli, with Hokkien Mee as the condiment. I usually don't take my hokkien mee with chilli, but today I was lapping it up.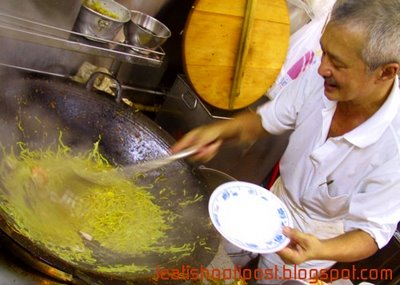 Take note of the extra large wok which ensures that every strand of the mee gets its fair share of attention from the heat. He took over the business from his father in 1989. Oh, and by the way, here's a little secret, Mr Toh is Hainanese not Hokkien!!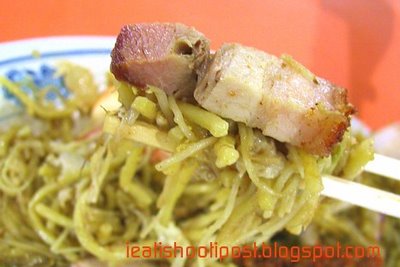 What's better then a mouthful of shiokalicious Hokkien Mee? A mouthful of shiokalicious Hokkien Mee with a piece of perfectly grilled Sio Bak, that's what! If you have not tried this before, you are being deprived of one of the very simple (sinful) pleasures in life. When you put the noodles and the Sio Bak in your mouth, the first thing you that delights you is the crunch of the pork rind followed by a burst of flavour as the juices from the pork combine perfectly with the savoury gravy of the hokkien mee. And as you savour the taste, you can also appreciate the "pang" (tasty savoury smell) smell when you exhale through your nose. This excellent Sio Bak was purchased from Fatty Cheong's who are also in the same FC. (That's another blog) Conclusion Different style of Hokkien Mee from Kim's at Joo Chiat. Chilli definitely wins Kim's. Noodles wise, Kim's is a little more QQ and has less gravy then Yi Sheng. Hard fight. Both are good in their own ways but I just feel that Yi Sheng just lacks that knockout punch. For the chilli lovers, that knockout punch might just be the chilli. Other blog entries on Hokkien Mee: Hokkien Mee Riddle Solved Finally Hokkien Mee Reloaded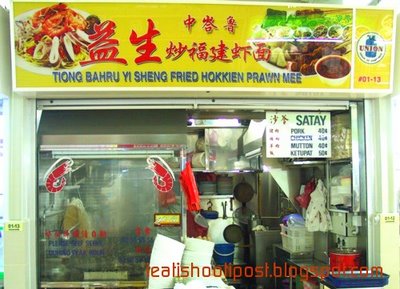 4.25/5 Definitely one of the best Hokkien Mee in Singapore and definitely better then Nam Sing Hokkien Mee which made it in the Makansutra Hawker Legends list.