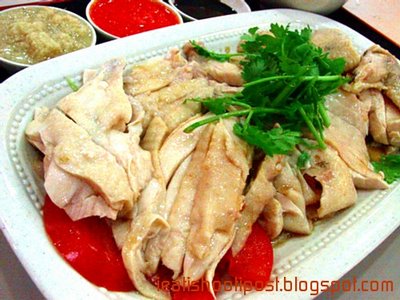 Why are there so many people lining up? Must be good yah? I thought. But too hungry leh, can't wait. Eat something else first. So after an unsatisfying bowl of beef ball soup, I let myself be tempted again by walking up to the people queuing up to find out what the fuss was about. Oh, Mr Chicken Rice is opened by the retrenched chef who used to dish up the famous chicken rice at the Chatterbox at the Mandarin hotel. There's even a newspaper cutting with a face that matches the man behind the counter. $17 Chatterbox Chicken Rice at $3, Phwa, must line up man! (What kind of Singaporean would I be to miss out on such a good deal?)
Needless to say, I am dissppointed with this chicken rice. Maybe its because my expectation of "Chatterbox" chicken rice is much higher, I don't know.
The chicken itself is pretty ordinary. I suspect they might have used Kampung Chicken, as the skin is not very thick and the flesh not the usual plump, juicy and tender version. But since there was no chicken on display, I can't really confirm this. Taste was quite ordinary, if this was Kampung Chicken, then the poor chicken must have abused, cos the taste was not there.
Rice is very good though and the chilli sauce was accpetable and they do provide mince ginger which I think is a requirement of any chicken rice aspiring to be famous.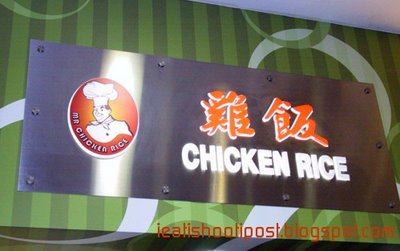 Conclusion
If Chatterbox Chicken Rice was really like this, then I know why the chef was retrenched. Don't get me wrong, it's not bad (by much). But I won't be lining up to eat it. In fact, even if someone else was lining up, I'd probably eat something else.
3/5 Ordinary chicken rice, in my opinion, but you can give it a go and decide for yourself cos lots of others don't mind the queue.
The other White Chicken blogs: Ming Kee, Kampung Chicken Eating House, Yee Cheong Yuen