I love meat. When it comes to pork. I love char siew. So I have decided to do a char siew challenge to compile pictures from the top 10 char siew/sio bak/roast duck hawker stalls in Singapore. If you have a favourite char siew store please let me know.
The kind of char siew I like is the juicy, slightly fatty and sweet type. There are some that like the dryer, less sweet versions. I think that char siew and bak kua are very close when it comes to the marinade. Both have very simple ingredients and you'd be amazed at how those simple ingredients combine to give that unique char siew/bak kua taste. These are namely fish sauce, sugar, white pepper and red colouring. Some would add other stuff like oyster sauce, hoisin sauce, garlic and so on to give it some variations. The trick is in the combination of the 3 ingredients and roasting over charcoal. What I am labouring to say is that technique is paramount when it comes to char siew.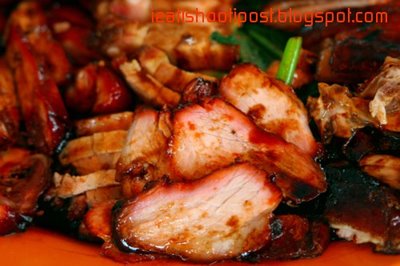 First off the block is this little known store (at least to me) called Incredible Roasted Meat which was recommended through the makansutra forum. This store specializes only in char siew and chicken wings. The sio bak and roast duck are actually sourced from a famous shop in Geylang whom the boss used to work at.
This charsiew is very good. Enough charred bits and the meat is tender. The outside sauce is sweet and tasty. The sio bak and roast duck are good but not exceptional.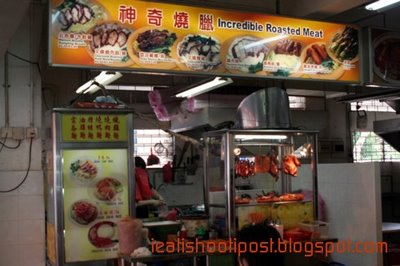 3.75/5 Very good charsiew. Would certainly eat here again if in the area but won't make a special trip.
10 North Bridge Road
+++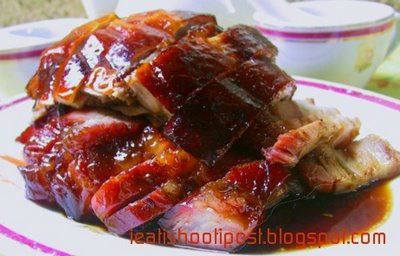 Next is the famous Fatty Ox BBQ meat. This is classic Hong Kong roast meat with a real Hong Kong Si Fu. (Good if you can speak Cantonese)
The roast duck is heavenly. Probably one of the best I have tasted in Singapore. The meat is tender and really flavoursome without the "fowl" or gamey smell that you sometimes find in duck which is not prepared properly. The special plum sauce is the World's Second Best (Best I haven't found) and blends perfectly with the duck.
The char siew is very good too. Juicy, tender but not too fatty and sweet. (So it did not score as high in my books) But still a very good char siew. Sio bak is good but not exceptional.
4.5/5 Roast Duck – Phwaa Say. When I have a craving for roast duck, this is where I am going
4/5 Char Siew – Very good char siew but there are better and cheaper places elsewhere.
PS: Not cheap yah! The plate above cost $15
Fatty Ox Hong Kong Roast Duck
10 Murray Terrace (Next to Maxwell House)
62220923
+++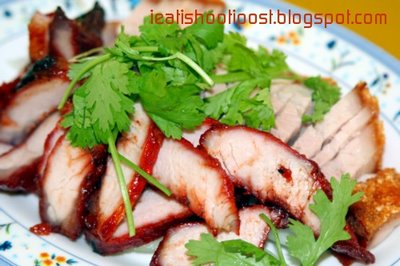 For a stall with newspaper cuttings, this char siew is really not much to rave about. In fact, I did not even finish the plate. (Well I was eating the excellent beef hor fun next door and this was a sidedish, but it says something) Maybe I should have gone for the roasted pig, after all they are the roasted pig specialist.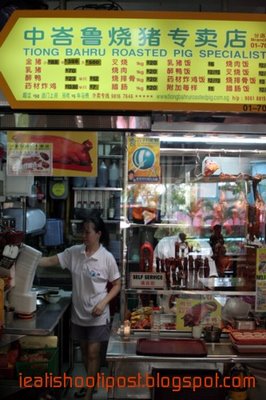 3/5 Try if you must have charsiew and its the last char siew shop in Singapore. BTW this is the second time I tried them. The first was at Tiong Bahru FC (also not impressed)
Tiong Bahru Roasted Pork Specialist (Branch at Golden Mile FC)
Address: What's the point?
+++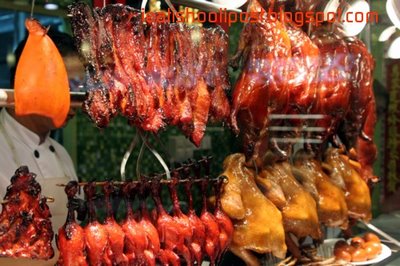 You will always be very impressed with the variety of roast meats at Jia Le. This famous shop has made headlines and there's always a long queue at the Marina Square Food Court Branch. The signature roast goose and roast quails never fails to catch your attention.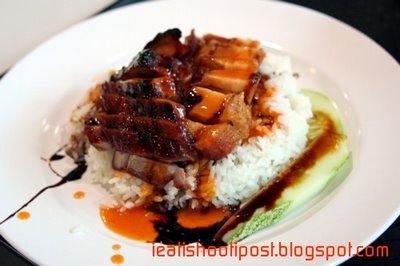 I have tried this 3 times to convince myself that it is really more hype then taste. And now I am convinced. Oh the char siew is good but not good enough for me to line up and wait. The roast goose is good but I would not pay that kind of money to eat a big duck.
Char Siew is classic Hong Kong style, quite dry, not too sweet. Sio Bak also nothing to rave about.
3.5/5 Try for yourself and decide. I know better char siew places which are cheaper and tastier and don't have to wait so long.
Jia Le Roasted Food
Taman Serasi Gdn Foodcourt and Marina Food Loft
Conclusion of Round One
The leader is Fatty Ox with excellent Roast Duck and commendable Char Siew. But the best is yet to be. I just don't have the pics to show you. I just had almost the best char siew in Singapore at the ABC market. The stall name is Fatty Cheong. Did not bring my camera. Will be back soon.
To be continued……..