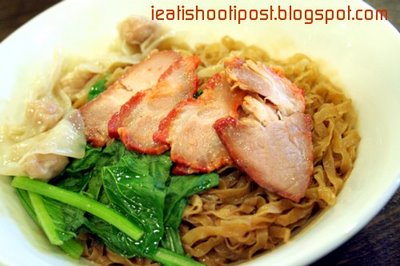 Had to go down to try a proper bowl of He Ji wantan noodles after my quick sampling at the World Food Fair. I must say that I have very mixed feelings about this wanton mee. The noodle itself is fantastic but the sauce could be so much better. But maybe its just me, cos I don't like chilli that is plain spicy, and their chilli is very hot. So I had my noodles without chilli last night. Without their homemade chilli, the sauce is basically only oil, light soy sauce and dark soy sauce.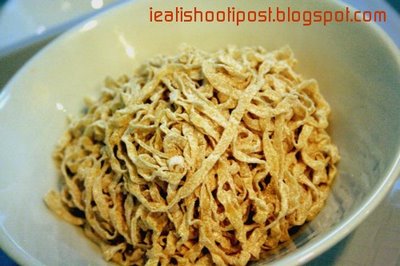 But strangely, I am still thinking about the noodles this morning. These noodles are very very good. They are unlike any other noodles that I have eaten in Singapore. I would venture so far to say that the noodles remind me more of freshly made Tagliatelle rather then normal chinese (factory made) mee pok. You can see from the picture that the texture of the raw noodles is very different. The noodles are made from duck eggs and flour which results in the dark beige color. All their noodles are made in JB and imported fresh into Singapore.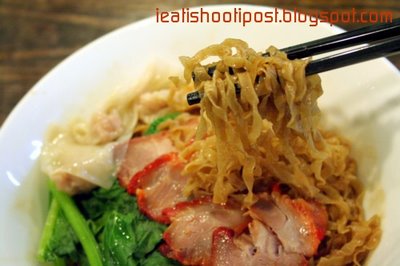 I did instruct them not to overcook the noodles as I like mine QQ (Al Dente). So I was very happy with my noodles last night. It's the texture and the unique taste of the noodles that I really love. The char siew is good, not fantastic, but better then average. The wonton nice but tiny. If only they had a nice sauce to go with it!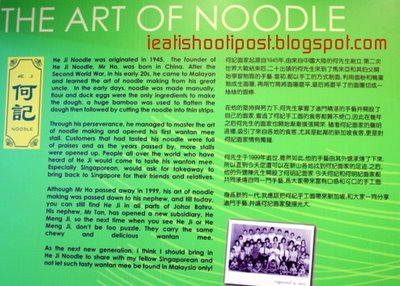 Ah, save myself some writing. You can read about their history in the pic above.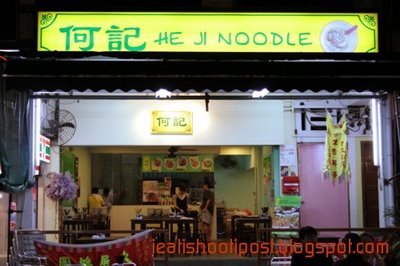 Conclusion.
Strangely, even though I complain about the sauce, something about the noodles still draws me back to gian (clamour) for more. Those who love hot chilli sauce (and the stall owners themselves) will insist that you really need to eat the wanton mee with chilli.
Well, I tar paued (doggy bagged) the noodles home and added 2 tablespoons of Kewpie Brand Japanese Sesame Dressing in the noodles. Pow!!! That really hit the spot!! Phwaa Say! I'm hooked. The beauty of the noodles are that they remain QQ after the half hour journey home!
4/5 The fundamentals of a truly great wanton mee is all there. All it needs is (ultimate fantasy wantan mee) , a better (non chilli) sauce, thick pieces of char siew from Kowloon BBQ (upper thomson), and fried wontons from Seng Kee Bak Chor Mee. But as a compromise, I might just bring along my bottle of Sesame Sauce to He Ji the next time.