Advertorial
Time flies! Its been a year since the last Zespri Kiwifruit Season and I have been appointed Zespri Ambassador again this year.
I have written extensively about the nutritional value of Kiwifruit last year and since then Kiwifruit has been part of our family's diet because the kids just love them. During my talk, I highlighted the fact that Kiwifruits are excellent source of both Vit C and Vit E, both of which are potent antioxidants. Antioxidants are important to our health because they are like policemen who go around the body apprehending free radicals which are produced by the body. What makes Kiwifruit so special is that it has high levels of both Vit C and Vit E. Since Vit C is water soluble while Vit E is fat soluble, both of these Vitamins actually work together to produce a synergistic antioxidant effect in the body. Vit C works everywhere in the body where there is blood while Vit E is able to get into the fatty, cholesterol laden plagues to exert its protective effects.
The launch of the Zespri Kiwifruit season this year was held at AFC studios in Orchard Central. The event was opened to families with kids and we all had a wonderful time trying to make dishes out of Kiwifruit. You can read their account of the events at their respective websites!
Our Everyday Things
KiNiGuTwin Terror

Happy IJ
Levine
Angie Ng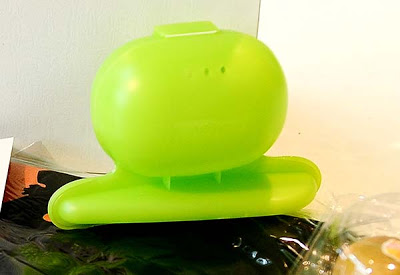 Now you can pack your Kiwifruit to bring to school!
This year Zespri had introduced the Kiwifruit container which I thought was an excellent idea. With this you could pack a Kiwifruit and a plastic "spife" (A cross between a spoon and knife) and your kids can bring this to school and have a Kiwifruit during their recess time. Nifty isn't it? A Kiwifruit a day will fulfill your child's daily intake of Vit C (for adults its 2 Kiwifruits) and do remember that all the other stuff in the fruit like the phytonutrients and other Vitamins actually make it a much more nutritious way of taking your Vit C as opposed to taking a Vit C tablet.
If you are interested in the Oolong Jelly with Kiwifruit or Golden Kiwifruit Custard recipes that we did that day, they can be found here:
A more detailed post on the nutritional value of Kiwifruit can be found here.