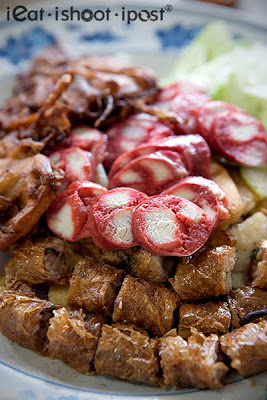 One look at the photo and you would instinctively call this dish Ngoh Hiang, but have you ever wondered why it is called Ngoh Hiang (Five Flavours)? Well, there is a very simple answer to that. When our Hokkien forefathers brought this dish over from Fujian Province, there were only 5 different types of fritters that the dish was comprised of. These were Prawn Fritters, Pork Rolls (Ngoh Hiang), Pork Liver Rolls, Egg Rolls and the Pork Sausage, hence the name.
But as time went by, we added other stuff that could be deep fried and served with the same dipping sauce like tofu, fishballs, sotong balls and rolls of many different flavours. Hey, I am not complaining except that with the increased variety of fritters being offered, most shops have decided to outsource the items instead of making it themselves and of all the hawker dishes in Singapore, this particular dish suffers most from hawkers being more like traders rather than cooks.
Thankfully, there are still stalls like this particular one who still stubbornly hangs on to tradition and makes all the five foundational items themselves. They do outsource the fishballs and tofu but the classic five items of Ngoh Hiang are all homemade including the prawn fritters which is done ala minute. I have not seen anyone else still making prawn fritters on the spot which might explain why this stall is so popular. They are so popular that he only opens for 2 hours everyday, from 11am to 1pm. So if you want to try this Ngoh Hiang you really have to have an early lunch!
Dipping Sauce
Now the thing that I notice about this stall is that the overall dish is more savoury than sweet. The Ngor Hiang that I am familiar with usually comes with a pinkish sweet sauce. However, this one comes with a sauce that is more like the sauce for a Lor Mee. The Ngor Hiang and the Egg rolls were also more savoury than sweet. Aside from the Prawn Fritter which I found quite special, albeit very oily, the rest of the items were unusual but not spectacular in my books. However, I have to qualify that I do like my food a little on the sweet side, so I would prefer the sweeter version of the Egg Rolls or Five Spice Rolls. 4/5
Conclusion
Personally, I prefer my Ngor Hiang with a little more sweet to balance out the salty. This Ngor Hiang does come across as something that is still very traditional. I am not sure I actually like the traditional version of Ngor Hiang now that I have been accustomed to the current version. But this is really something that you would want to try to judge for yourself.
Talking about Ngoh Hiang, I should try to blog the rest of the good stalls around. What are your recommendations?
Update 22 July 2011
The stall has moved to:Blk 5, Tanjong Pagar Plaza, #02-04/05, Teck Kee Coffeeshop