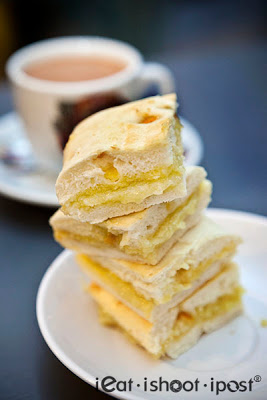 This Stall is Closed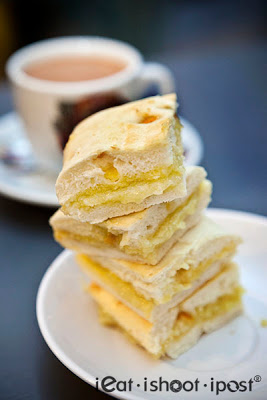 Orange Ciabatta $2.70, Teh Si $1.40
Our good friend Liverpool has opened his brand new Cafe over at Robinson Road. The kakis went down to check out his new joint today right after we ate Ramen at Men Tei which is just across the road. If you are a regular reader of the blog, you would know that Good Morning Nanyang Cafe has been our kakis' de facto meeting place since Liverpool first invited me over to his stall to take some photos for him way back in 2006. Since then, he has been an integral part of our community and is also the moderator in our forum.
My wife, who is a coffee drinker still says that Nanyang Cafe serves one of the best cups of kopi in Singapore. For me, my regular order is Teh Si Kosong with his signature Orange Ciabatta with freshly made kaya. This is something really unique and when I brought some new friends to try it today, they have become instant fans! 4.5/5 So to all ieatishootipost readers who are working around the area, do drop by for a cup of kopi and try their Orange Ciabatta toast!
You can read my other post on Nanyang Cafe here.
Here's fellow food blogger, Camemberu's review.
Men Tei is just across the road! We had their Shio Ramen again today and it was excellent!