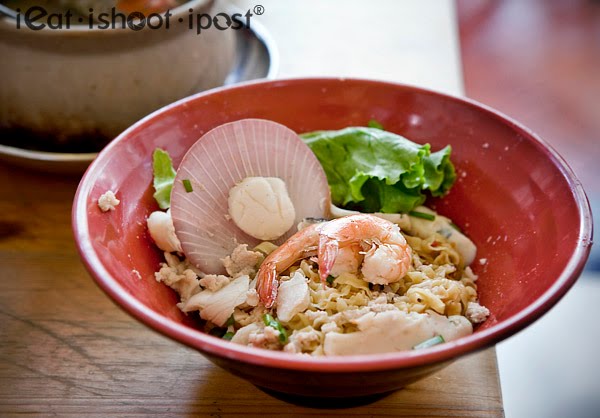 Mee Pok Tar Jia Liao (Mee Pok with extra ingredients) $5
It is good to know that some of our enterprising hawkers have taken on the Japanese Ramen concept and brought our own Mee Pok Tar to the next level. The idea of taking an "old signboard" and converting it to a standalone restaurant is certainly not new and some well loved brands like Ya Kun,
Hock Lam
and
Boon Tong Kee
have already done it. Even with Mee Pok, old brandnames like Chai Chee and
Seng Kee
have already gone onto opening out of their own shophouse. So what Ah Guan is doing is not really version 2, but more like version 2.5.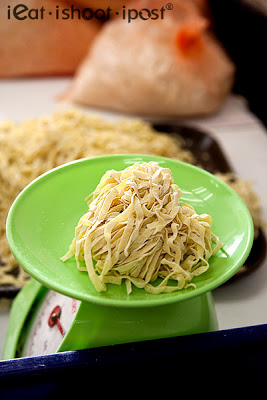 The reason that Ah Guan is version 2.5 is because he is incorporating Japanese processes into his bowl of Mee Pok Tar. Each part of the process in making your bowl of Mee Pok is carefully measured to ensure consistency. The Mee Pok is outsourced, but it is made to Ah Guan's exacting recipe. When it arrives, the Mee Pok is first portioned by weight and then sqeezed tight to make it curly. During the cooking process, they use a timer to make sure that each portion is cooked for precisely 36 seconds.
Over at Ah Guan, you can only order Mee Pok. They don't have Mee Kia because the owner, Eric felt that his recipe will not work very well with Mee Kia. This is exactly the kind of thinking that the Japanese apply to their Ramen. Each bowl is designed with the perfect pairing of a certain type of noodle to a certain sauce and this cannot be changed by the customer as it would affect the intended flavour of the noodles. Another thing that cannot be requested is tomato sauce. The noodles are flavoured with a special sauce and vinegar and you have a choice of whether you want chilli or not. But you can't ask for tomato sauce as it would spoil the taste of the noodles.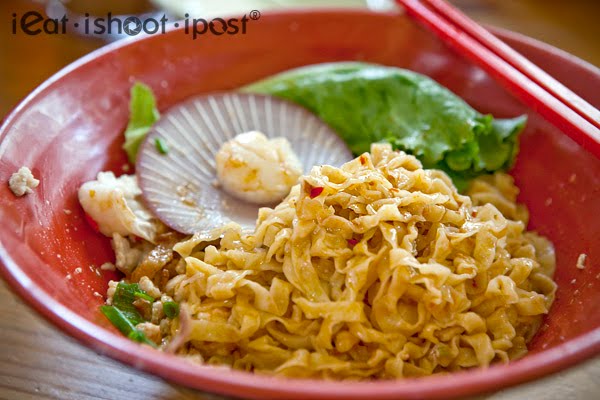 What I like about Ah Guan is that you have the option of adding really good stuff like scallops, crayfish and fish slices to your Mee Pok. They still sell the normal bowl of Mee Pok for $3, but if you are really going for a great bowl of Mee Pok, just add another $2 and you get their special bowl which is packed with the extra goodies! 4.5/5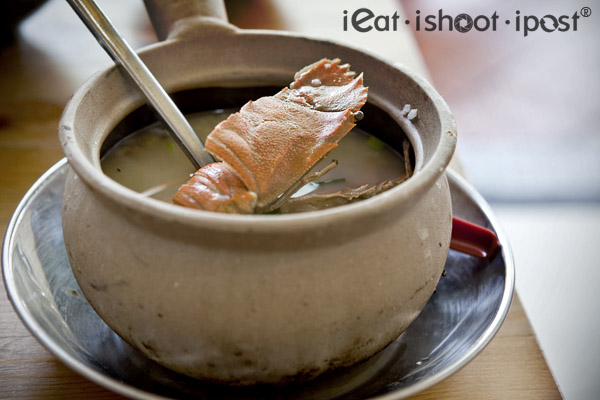 Teochew style Crayfish Porridge $6
Besides the Mee Pok, they also serve Teochew style porridge at Ah Guan. Teochew style porridge, unlike Cantonese and Hainanese porridge is basically whole grains of rice in water. The typical ingredient that is added is usually sliced fish, but over at Ah Guan, you can choose from scallops to crayfish. The ingredients are quite generous for the price you pay. We managed to fish out 2 or 3 pieces of dried scallops from our $6 claypot porridge which is excellent value!
4.25/5
ConclusionIts good to see our own Mee Pok taken to the next level! Ah Guan Mee Pok dishes out a great Mee Pok experience that goes beyond just that bowl of noodles by creating an environment to dine in which is modern yet alludes to tradition. This is the way to go for our famous hawker dishes!
Update: 12 Nov 2015
Eric is now selling his mee pok under the stall name Ah Hoe Mee Pok at Blk 501 West Coast Drive.