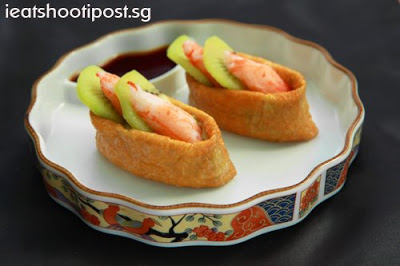 The Zespri Kiwifruit Season is now well and truly underway and I have been asked to be Zespri Ambassador for the 2009 Season. As part of my duties, I had to come up with three original Kiwifruit recipes for the media launch which I am posting here for everyone to try at home. As I am more of a home chef rather than a professional chef, you will find that these are really simple recipes that anyone can do at home with ingredients that are easily available from the supermarket.
I hope you can try them at home and let us know what you think.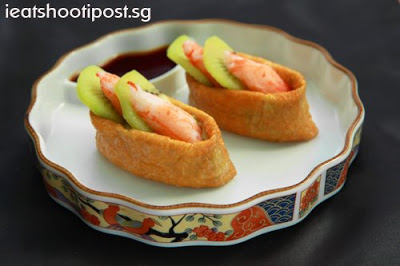 Zespri Green Kiwifruit, Surimi and Avocado Salad in Beancurd Skin

The first recipe is basically a salad which is presented in finger food form. The inspiration for this dish really came from my mom who introduced me to avocado and crabmeat salad with thousand island dressing years ago. The zesty green Kiwifruit goes very well with seafood such as crabs, prawns and lobster and I felt that the Kiwifruit would add a nice contrast to the creamy Avocado which can be a little heavy by itself. To give it a bit of Japanese twist, Goma dressing (Japanese Sesame dressing) was added to the mashed avocado as well as a dash of wasabi to give it a bit of kick. The idea of using inari skin actually came about because I was initially experimenting with the idea of a Kiwifruit rojak which is presented in a toasted Tau Pok Skin. But that didn't taste too nice, so I ended up using inari skin with avocado instead.
Ingredients:
1 ZESPRI Green Kiwifruit
6 sticks of Surimi
1 Ripe avocado
1 teaspoon lime juice
2 tablespoons Japanese Goma Dressing
6 sheets of prepared Inari Beancurd skin
Wasabi paste
Mash avocado with Goma Dressing and lime juice and half fill the Inari Beancurd skin. Add two peasized portion of Wasabi on top of the mashed avocado. Cut ZESPRI Green Kiwifruit and Surimi sticks and set on top of the avocado.
Serves 6

Video Clip of Recipe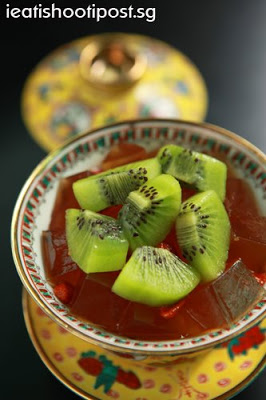 Zespri Green Kiwifruit on ice with Oolong Jelly and Wolfberries
I have been drinking a lot more Chinese Tea lately, in particular Oolong and Pu Erh tea as they are great for lowering cholesterol levels. Hey, when you are eating stuff like Char Kway Teow, you really want to try balance it out with something that will help negate the ill effects of all that lard. One of those things I have been doing was to chill the tea in the fridge and drink it cold. When I got my supply of Kiwifruit, I thought that adding a few slices of Kiwifruit into the chilled tea might make it even more refreshing, and was quite surprised that the combination worked really well!
So rather than having just chilled Oolong with Kiwifruit, I thought it would be great to make a jelly using Oolong. With Konnyaku, people often add flavours, colours and sugar to make the jelly. But I just tried using just Oolong Tea with Konnyaku powder and found that it actually tastes quite refreshing without the addition of sugar. The Konnyaku powder does have a bit of sugar in it already, so the jelly is slightly sweet. With the sugar syrup, I originally used pandan flavoured syrup, but I felt that using wolfberries would give it some colour as well as flavour. Assemble all the ingredients in an ornate Chinese Tea cup and you have a dish that celebrates the Chinese origin of the Kiwifruit accompanied by the other Chinese ingredients of Oolong and wolfberries. It's a light, thirst quenching dessert for a hot day and you can make a big bowl of it like how we do with almond jelly with longan if you are serving at home.
Ingredients:
2 ZESPRI Green Kiwifruit
150mg Konnyaku powder
750ml brewed Oolong Tea
Half Cup wolfberries
2 Cup sugar
1 Cup water
Mix Konnyaku powder with brewed Oolong Tea and bring to boil. Pour into mould and set in the fridge. Dissolve sugar in the water and add wolfberries and bring to boil. Simmer for half and hour till wolfberries are soft and plump and chill in the fridge. To serve, shave or crush ice, top with cubed Oolong Konnyaku and Kiwifruit. Add wolfberries and syrup to taste.
Serves 4 to 6

Video Clip of this Recipe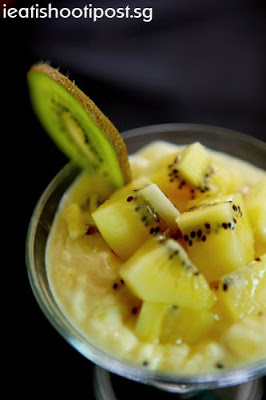 Gold Kiwi Pudding with Sago
The idea for this final dish comes from the popular Mango Pudding dessert that we often get at Dim Sum restaurants. But it is difficult for gelatine to set with Kiwifruit because the Kiwifruit contains actinidine, an enzyme that breaks down protein. This is why if you marinade a tough cut of beef with Kiwifruit for half an hour, your meat is going to be nice and tender. Also you really don't want to cook the Kiwifruit as it would destroy the Vitamins. So in the end I just pureed the Kiwifruit and mixed it with the custard and was pleasantly surprised that it worked really well.
You can blend the Kiwifruit if you like but I find that if you use a blender, the seeds get cut and you get a grainy texture with your pudding. So after trying out a few ways of making pureed Kiwifruit, I suddenly realise that you can simply crush it by hand which is where the ziploc bag idea came it. With the ziploc bag, you can puree the kiwifruit, mix it with the custard and leave the whole bag in the fridge to chill. When you are ready to serve, cut off the corner of the bag and it turns instantly into a piping bag! The sago adds a local touch to the dessert as well as some texture to contrast with the smooth pudding.
Ingredients:
6 ZESPRI Gold Kiwifruit
Half Cup Pearl Sago
400ml milk or alternatively skim milk may be used
200ml Evaporated milk
4 Tablespoon Bird's Custard Powder
4 Tablespoon sugar (adjust to taste)
Vanilla essence
To make Sago:
Rinse sago and add to pot of boiling water. Bring to boil then turn off heat and leave for 20 minutes. Bring water to boil again and cook until sago is transparent. Rinse in cold water and set in fridge.
To make custard:
Add 50ml of milk to custard powder and sugar and dissolve. Bring the rest of the milk and evaporated milk to boil. Slowly whisk the custard powder mixture into the hot milk and bring to boil. Add a few drops of vanilla essence to taste. Chill in fridge.
To assemble:
Cube the Gold Kiwifruit. Save some of the Kiwifruit for the topping and place the rest in a Ziploc bag. Use your hands to crush the kiwifruit into a puree. You can also use a blender if you wish, but the seeds will get cut and it will not taste as nice. Add equal amounts of the chilled Custard into the Ziploc bag and mix. You can now leave the bag of Custard in the fridge to chill.
When ready to serve, spoon the sago into a Martini glass. Cut the corner off the Ziploc bag and pipe the Kiwifruit Custard into the glass. Top with cubed Gold Kiwifruit and garnish with a slice of Green Kiwifruit.
Serves 4 to 6

Video Clip of this Recipe
Disclosure: Some links above are affiliate links, meaning, at no additional cost to you, we will earn a small commission if you click through and make a purchase.