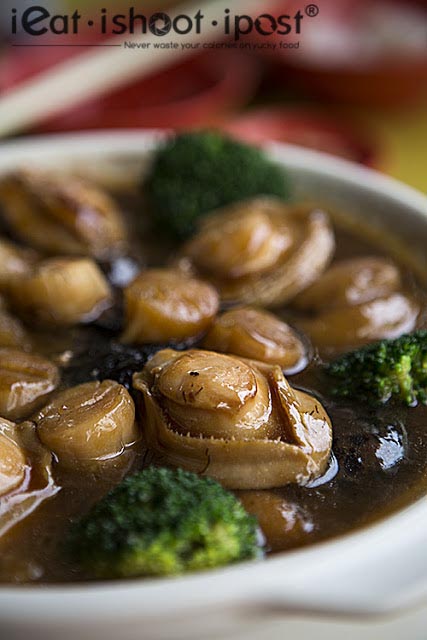 Chinese New Year is round the corner and so it is time to throw caution to the wind, bring out the best food and feast to your hearts content!
In the old days when food is scarcer, that might have been much more significant, but for food crazy Singapore where food is available in abundance, it takes more effort to find something special to eat during CNY. There was a time when having a whole chicken was treat which was only served during special occasions like Chinese New Year. But nowadays chickens are a cheap commodity, so having chicken during Chinese New Year isn't special anymore. I still remember a time when having McDonald's and KFC was a real treat! Nowadays our kids can even complain if they have it too often!
So, it's Chinese New Year and people want to spend money on lavish food, what do the restaurants do? In the 60's the four heavenly kings introduced Yu Sheng to Singaporeans which has since been the must eat dish every CNY. It started out by using local Wolf Herring (Ikan Parang), but now you get even the Japanese restaurants serving the dish using Empurau fish or abalone which can cost a bomb. (All the better for you to part with your money with, my dear!)
Then, in the late 90's some restauranteurs started serving Poon Choi which was gaining popularity in Hong Kong around the time that the British handed the island back to China. This was due, in part, to Prof Leung Ping-kwan poem, "Pun Choi on New Year's Eve" which was written in 1997. He explored the symbolism Poon Choi at a time when Hong Kong was coming to grips with its identity.
Poon Choi was an obvious candidate since it has been the indigenous food of the New Territories walled villages dating to pre-colonial days. Legend has it that it all started during the time of the Mongol invasion when the Song Dynasty Emperor was forced to retreat down south. As a show of respect for the emperor, they took their most valuable food and served it in the fisherman's wooden basins for him and his troops. Over time, it became a dish that is served during festive occasions as a means to feed the masses.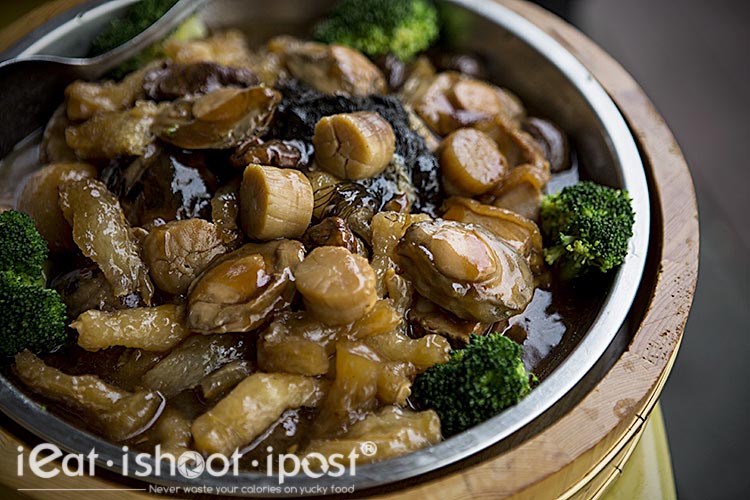 Since I was a 70's child, Poon Choi was never a dish that I associated with Chinese New Year. In fact, for my family, eating Poon Choi during Chinese New Year is still not really a tradition. As such, I never developed a taste for it. To me it's simply a hotchpotch of really expensive dried seafood designed to make you part with several fifty dollar bills. Having said that, I do know of people who really love the dish and so this blog post is written to explore its significance and also to suggest a place where it is being served at a reasonable price.
There is no doubt that the dish is a umami bomb. That is what you get when you take seafood like dried scallops, dried oysters, fish maw, dried sea cucumbers and abalone and slowly braise them in a stock made from cured Jin Hua Ham. The drying of seafood concentrates and increases the amount of free amino acids and this equates to more umami. The long hours of stewing and steaming extracts the free amino acids from the seafood and so you are left with an extremely tasty broth!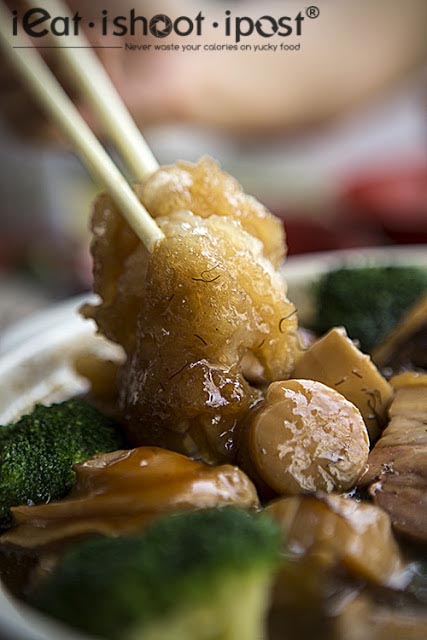 The second thing the long cooking process does is to turn tough collagen into slippery soft gelatine. So your sea cucumbers, duck web, pork skin and tendons all turn from tough, sinewy stuff into sticky, jello like substances to soak up all that umami goodness. This is something we Chinese love but Europeans can't appreciate! Our most prized foods are all about texture. Bird's nest, Sharks Fins, Sea Cucumber and Fish Maw, they are all simply collagen in different forms!
So, now that we know about umami and collagen, it is easier to understand why Poon Choi is arranged the way it is. The collagenous stuff is placed at the bottom while the umami stuff is on top. When you steam the whole pot, the flavours from the dried seafood all gravitate downwards and gets soaked up by the sea cucumbers, fish maw etc. Right at the bottom of the pot are the least expensive stuff which is by no means any less delectable once they have absorbed the rich umami. We are talking about foods like dried bean curd and radishes. They are relatively cheap stuff that take up lots of space and help to literally elevate all the more expensive stuff on top!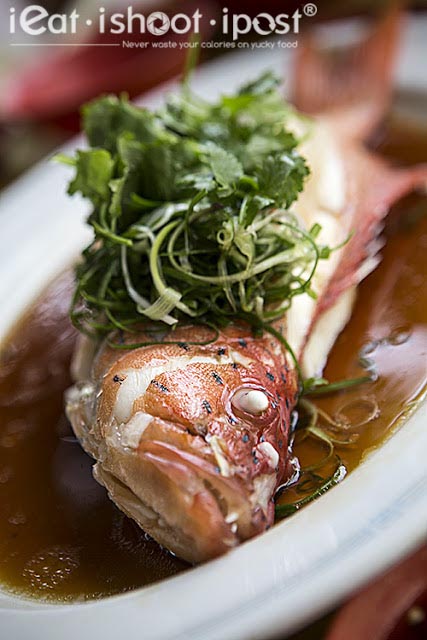 I have been a regular patron of Zai Shun ever since I blogged about them last year. I always go there for their steamed fish which is always cheap and fresh. On this occasion, the boss insisted I try his Pen Chai. Now, I already told you I am not a big fan of this dish, so I can't tell you if it is really that good. Objectively, I can say that the abalone is the canned variety, fish maw is very good as they use those that come from threadfin fish and the sea cucumbers and pig tendons where wonderfully soft and gelatinous. I also know that he buys Jin Hua ham to make the stock for the gravy. It is good to know that our AVA has allowed the importation of Jin Hua ham since last year, which seems only fair since they have also allowed Jamon Iberico to be sold in Singapore.
Tastewise, it is very much like other Pen Chai that I have eaten before. However, the price is competitive, so it is one potential place to celebrate Chinese New Year with your friends and family if you don't mind feasting in a coffeeshop environment. 4/5

Conclusion
If you are looking relatively affordable Pen Chai for the family, then this is one place you can consider. However, be prepared to sweat it out in the heat of the noon day sun as they are only open for lunch. One alternative is to buy the pot of Pen Chai and eat it in the comfort of home. (You can bring home the whole pot and heat it up yourself) But the downside of that is that you won't have the opportunity to eat their excellent steamed fish!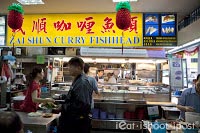 References
1. Communal dish a melting pot of flavours
Thanks to the boss of Zai Shun for hosting the meal