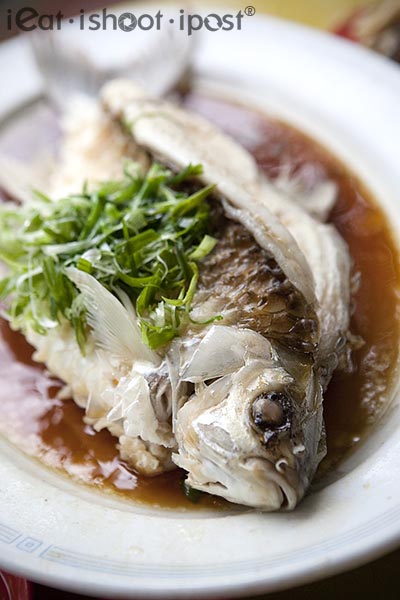 Zai Shun Curry Fish Head: A Place for Unique Steamed Fish! – ieatishootipost
I have been very curious about the Sultan Fish ever since the news reported earlier year that a man was charged $1200 for it at Resort World Sentosa. I say I am only curious because I don't see myself ever forking out $1200 just to eat a fish. But it does make you curious doesn't it? Just how good tasting can a fish be to command that kind of price?
The Sultan Fish (Leptobarbus Hoevenii, Ikan Jelawat,

) is river fish found in South East Asia and the flesh is supposed to be very fine and sweet. The fish is an omnivore and it is said that its unique sweetness comes from the fact that it eats the fruit that falls into the river. The fish is indeed expensive and even though the price of the $1200 is inflated, you can still expect to pay upwards of $500 per kg to eat a Sultan fish.

I never thought I would get to eat the Sultan fish in Singapore, much less in a coffee shop! But I did…..almost.
I have heard about this particular Teochew Muay place in Jurong East that sells really good (and exotic) steamed fish from Toothfairy a while ago. Then recently, a friend of mine reminded me again of this shop which, according to him, "Sells fish that you cannot find anywhere else in Singapore"!
Unlike lots of places that display their fish in tanks or on top of ice in glass cabinets, Zui Shan's fish are all stored in foam boxes buried in ice. It was a good sign, as that means that the fish is being kept in the best possible condition after gutting. Contrary to what a lot of people think, live fish straight from the tank might not be the best way to eat steamed fish. Just like Aged Beef, freshly caught fish that has been gutted and kept on ice (not in a fridge which is at 4 degrees celcius) for a day or so actually develops more flavour.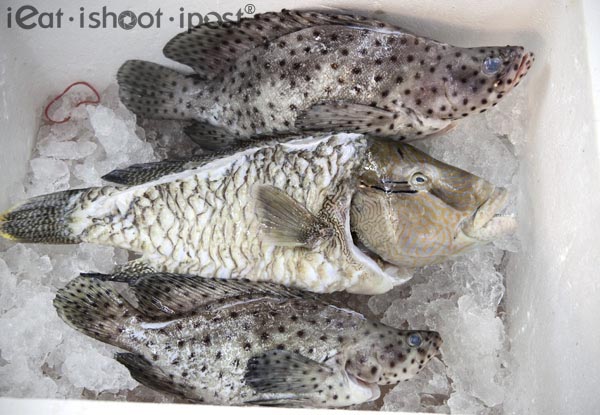 So just how exotic are the fish at Zai Shun?
I opened the lid of the first box and saw, to my delight, some Mouse Groupers as well as Soo Mei (Napolean Wrasse). The Mouse Grouper is a favourite amongst Hong Kongers and they can be quite expensive. They were going for about $38 per fish which I thought was quite a good price. The Wrasse was going for $70 per kg for the whole fish, but it wasn't a fish I would order due to its endangered status. The Mouse Grouper on the other hand was farmed, so it was more sustainable. At any rate it was cheaper and the flesh more delicate than the Wrasse.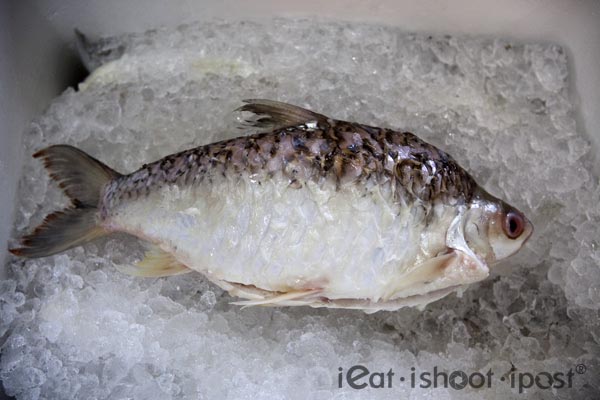 I then proceeded to open the second box and was greeted with a fish I wasn't familiar with. The owner told me that this was "Sultan" fish which got me rather excited. I blurted out the first question that came to mind: "How much is it?". The boss told me that its priced at $90 per kg, gutted. The next question that naturally came to mind was: "Is this the same fish as the one that sold for $1200 at RWS?".
The boss told me that the one sold at RWS was probably a wild caught Sultan fish of another closely related species. The "Sultan" fish that was in the box is farm bred and the supplier only supplies to his shop in Singapore. I was a little hesitant at first as it was quite a large fish, but my friend SCS Butter was keen to try this "Sultan" fish and assured me that he could finish a whole fish by himself.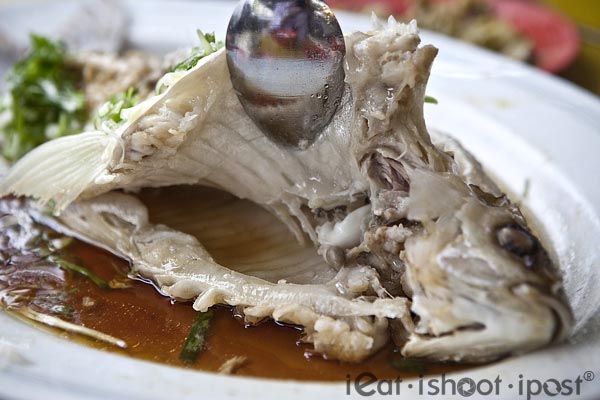 The fish turned out to be an excellent choice. I don't know if it is just the novelty of having it for the first time, but both SCS Butter and I felt that it was just about one of the tastiest fish we have had. The flesh was very delicate, sweet and had a nice umami flavour at the end. The flesh just behind the neck of the fish was exceptionally sweet, but it was the belly that was truly outstanding. There was a thick layer of fat just under the skin which extended to the belly which, when steamed had the texture that was soft as slow braised sea cucumbers. But, being fish fat, the enjoyment was not tainted by a feeling of guilt. Instead, I was happily telling myself that I was getting my cardio-protective Omega 3 fats while enjoying what would usually be a guilty pleasure! We both went home that day with plans for a return trip! 4.6/5
Remember I said that I "almost" had Sultan fish? Well it turns out that the fish we had wasn't the $1200 Sultan fish (Mad Barb), but a close cousin, the Thai Silver Barb or Ikan Lampam Jawa, (Barbodes gonionotus ,

). I guess paying $90 per kg to eat a fish that would normally be at least $500 per kg was too good to be true after all. But to be fair to the boss, he did tell me that it wasn't exactly the same fish as the one sold at RWS tried to explain the difference to me before I ordered it, so I didn't go away feeling that I was cheated. (Please read the postscript)
Here's a video clip of the fish being sold in a Thai market.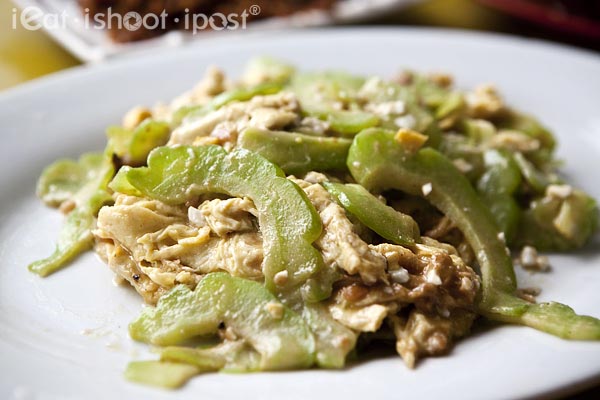 The other dish that was surprisingly good were the bittergourd fried eggs. This is one of SCS Butter's "must order" dishes and I can see why. Instead of being a straight up omelet, it actually braised in a very tasty sauce! It goes really well with porridge! 4.5/5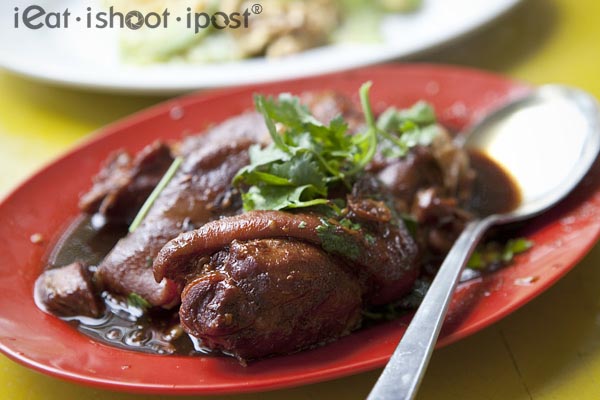 Although this shop is supposed to be a Teochew Porridge place, the dishes are not limited to Teochew style dishes. You would have noticed that our fish was steamed Cantonese style instead of Teochew style. However, they do serve many of the Teochew porridge staples such as the braised pig trotters which are quite good. 4/5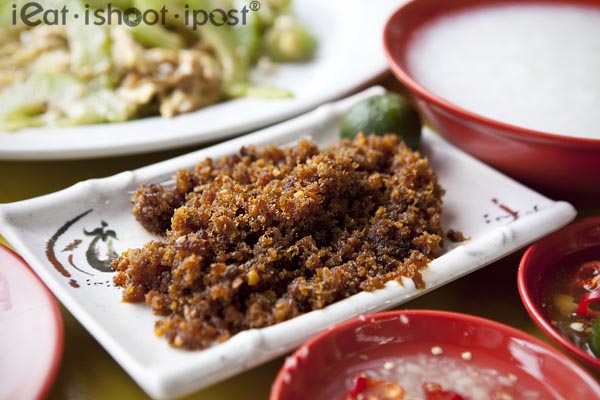 The other Teochew porridge staples like the Hae Bee Hiam was also very good. Not great enough for you to travel all the way to Jurong East to eat, but certainly robust enough for me to order it every time I head back there to eat. 4.25/5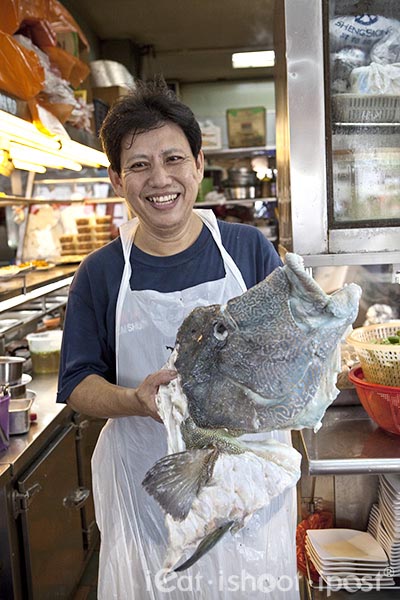 Conclusion
If you love to eat fish, this is the place for really fresh steamed fish at a really good price! Good enough to travel all the way from the East to the West for. The Teochew Muay dishes are competent but they will never be able to steal the limelight from the steamed fish.
Postscript
I guess the burning question on everyone's mind is how this Ikan Lampam compares with the real Sultan fish right? To answer this question, my friend who runs the Pine Valley Restaurant at Laguna National Golf and Country Club specially arranged a Sultan fish for us to try.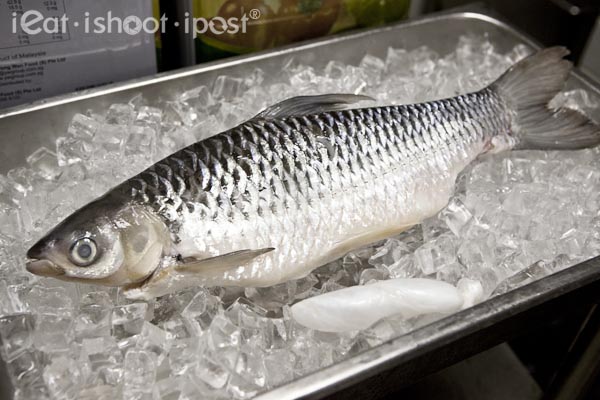 Both the Lampam and Jelawat belong to the Barb family, so the fish look similar especially the head. The Lampam is more stout like a VW Beetle whereas the Sultan fish is sleek like a Porsche. The flesh of both fish are quite similar. Like the Lampam, the flesh of the Sultan fish is very fine with a delicate and subtly sweet flavour accompanied by a nice layer of fat under the skin. Both fishes also had lots of fine bones on the back which make it a bit more difficult to eat. So I guess the owner at Zai Shun was quite justified in calling the Ikan Lampam a type of Sultan fish, at least in terms of their similarity in taste. I can't really say that the Sultan fish was superior in taste to the Lampam, but I had only tasted them once so I am far from an expert. But from my limited experience, I would be very happy paying for the Ikan Lampam at Zai Shun given its similarity in taste but significantly lower price.
In case you are really interested to get hold of a Sultan Fish, please give Pine Valley a call at 6248 1755. They would be very happy to arrange it for you.