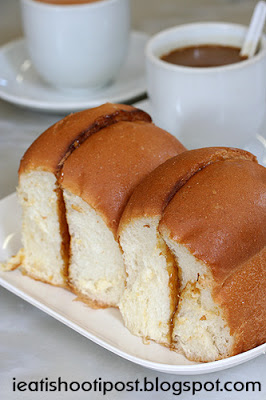 I really don't know why Hainanese Food has such an effect on me. I am not sure if it is the nostalgia attached to it since I have so many fond memories of old Hainanese Coffee Houses like Silver Spoon and Cairnhill Steakhouse. Many Hainanese men worked on "Ang Moh" ships where they learnt how to cook western dishes. When they arrived in Singapore, they modified their cooking to suit our local tastes. If you think that fusion cuisine is a modern phenomenon, then you should really consider Hainanese style food and think again.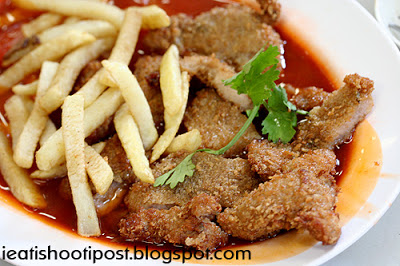 Don't you think that Hainanese Pork Chops is fusion cuisine? Essentially it is a Pork Schnitzel seasoned to suit local tastes and served with Pototo Chips and Peas. I am a big fan of Hainanese Pork Chops. So much so that there is even a special label for this particular dish. One of our readers, jcys, alerted me to this particular one which he described as "old fashioned killer" pork chops.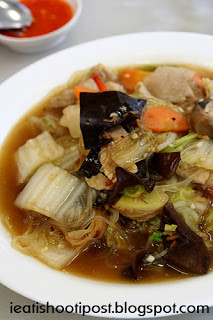 What I like about the pork chops is that instead of bread crumbs they still use the crushed up "Jacobs" Cream Crackers for the crust which is how it is done traditionally. This really makes the crust just that much more crispy. The other thing I like is that instead of using Pork Loin, they use the Pork Neck (I think) which is the same cut used for Sweet and Sour Pork (Ku Rou Yoke). This cut of meat tends to be more juicy, chewy and flavoursome. So overall, I would say this is one Pork Chop that you'd need to add to your list of must trys. 4.25/5
The Hainanese Chap Chye here is good but still pales in comparison with my all time favourite over at Chin Chin. It did not have enough of the cuttlefish flavour which I really enjoy. 3.75/5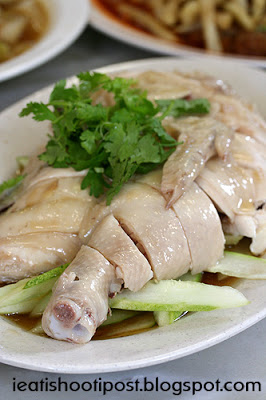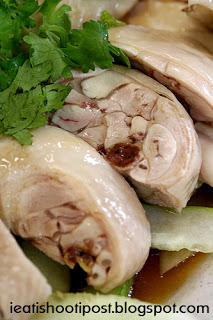 The Chicken Rice here is pretty standard for Chicken Rice nowadays. The chicken is soft and succulent even though they cook it till the marrow is dark red color. That really gives more assurance that I will not be getting salmonella poisoning after eating it. (Yeah, Doctors think like that) As you can see from the picture, they are able to cook the chicken such that there is a nice layer of gelatine under the skin which is a real plus point for me. The rice is good but nothing much to rave about. 4/5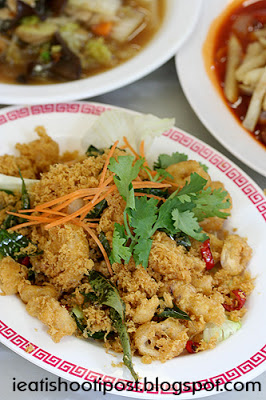 One of the dishes which we were pleasantly delighted with was the Crispy Sotong. The batter has a very nice spicy vanilla flavour to it that reminded me of cereal prawns. It goes really well with the plain Chicken Rice. 4.5/5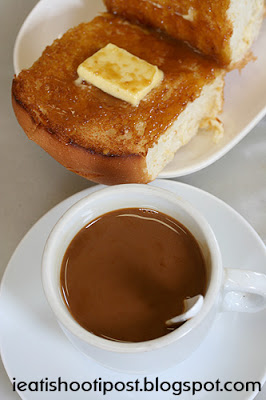 Although YY Kafei Dian is probably most famous for these Soft Kaya Buns, there are other traditional Hainanese Desserts that they serve on weekends that we did not get to try. One is the Arh Buah which is similar to the more familiar Muah Chee. Guess I have to make a return trip for this.
The buns are all baked on the premises and are super soft. I think that for these type of buns, one really goes for the texture. I found the buns was rather plain and the crust too light and dry for me. It was not the savoury buttery style buns like Chin Mei Chin or Gideon. Amagada really loved it though. 4/5
Conclusion
It was a great after Church lunch for the extended family. We all had chicken rice, several dishes and finished it off with Kopi and Kaya buns and still had change for $50. When I was there I spied that they had a Hainanese Kong Bak which looked like quite a killer dish, (in more ways than one) and one of the guys in the adjacent table was raving about it. So looks we'll be back one of these days.