With SCS Butter, Happi Mummi, Amagada and the kids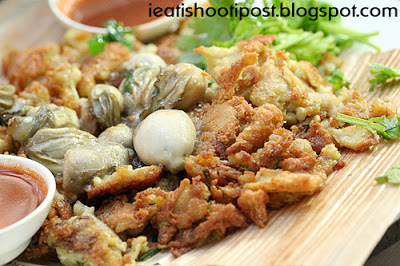 Which bit of the Oyster Omelette is your favourite? Is it the oyster, the egg or the sticky sweet potato paste? For me it's the sticky paste. Ok, call me an Oyster Omelette ignoramus but when I was young I never liked oysters or cockles, so I grew up just eating the sticky paste with the egg. I guess I just developed a liking for it. So the main things for me is the fried eggs and sticky paste and the oysters are a side issue.
Don't you think fried eggs are one of those things we tend to take for granted? You only realize how yummy a simple omelette can be when you are out in the jungle during reservist training and someone starts frying some eggs. I remember having a craving for eggs during the Bird Flu epidemic some years back. Somehow Char Kway Teow just does not taste the same without the eggs.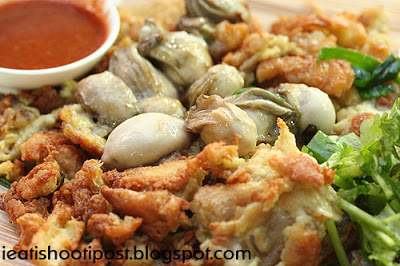 This Oyster Omelette is quite well known and is one of those stalls where there is a perpetual queue outside. However, there have been some mixed reviews about the stall. I liked the fact that the eggs and the sweet potato flour was fried till it was really crispy. The oysters were also quite plump and tasted quite fresh. 4/5
Conclusion
Quite good but I felt it was missing something. Somehow, franchised hawker joints just cannot beat the solo hawker joints especially when the dish is operator dependent. Still its an Oyster Omelette that is better then most out there.