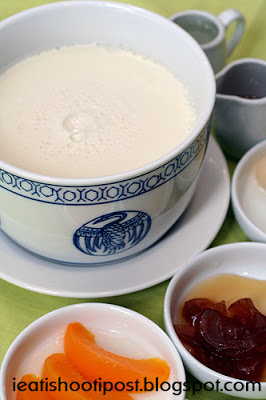 Can Bean Curd ever be too soft? I have heard many bean curd lovers say that the quality that they always look for to determine a good bean curd is its texture. No doubt, the most well known bean curd in Singapore, namely Rochor Bean Curd has got bean curd which is super smooth and soft. But my usual complaint is that they have sacrificed taste for texture ie it tastes watered down.
This particular bean curd was recommended by BC who used to frequent the stall when they were still at Changi Airport. When they moved out, he was quite devastated and thought that he had lost his favourite bean curd forever. (I am being a little melodramatic here). Until one day he chanced upon the stall again at Old Airport Road…. (music in the background)…..(girl and boy meets and runs around coconut tree)….. Quite boldly he proclaimed that this bean curd was better than Rochor's. Phwa, you willing to risk your neck? Ok lah go try try.
The Bean Curd is indeed super-soft and I would dare say softer than Rochor's. They make their bean curd on the premises with soy milk that is procured from the factory. This is because the beancurd is so soft that it would disintegrate during transportation. This also explains why so many factory produced beancurds are necessarily firmer. Now the thing that I am still unable to decide is whether it is TOO soft. I always thought that Bean Curd should be soft and smooth but still have a little of that gelatine like consistency. You know, such that it can "chip off" and leave a smooth surface. This one is soft to the extent that it is almost like the consistency of cold porridge or almost like yoghurt. Certainly one bean curd you have to try for yourself to decide if you like it! For me it is mysterious enough for a repeat visit. 4.25/5
Now what I am really impressed with is the Ah Balling. These are also handmade. I must tell you that this is one Ah Balling that stands out from the rest. The skin is superduper smooth and soft and I was taken aback with my first bite. I never thought that I would ever be able to come across an Ah Balling that I can really rave about, but here it is! Just make sure that its the old lady who is preparing it as I think a lot of it depends on the cooking time as well. 4.75/5
I find that a lot of the time, you can really appreciate something only after someone has given you some frame of reference to assess its quality. Take for instance this longan drink. If you had just ordered it to go with your Hokkien Mee, you would probably think "its really nice and refreshing". But this auntie was telling me that it is special because the longans still maintained a level of crunchiness in them. Once you know what to look out for, suddenly you find that you are able to appreciate it more. The longans were indeed crunchy which is quite different from your run of the mill longan drink! 4.5/5
Conclusion
So, can Bean Curd be too soft? Do go try it an let us know what you think. Whatever it is, you won't regret trying the Ah Balling there. I can't think how it can get any better.
Update: Jun 2008
The stall has closed
Update: Sep 2008
Update 21 Sep 2008
Ho Hup has closed the Old Airport Road Stall. It now has 2 branches:
Haig road food centre
stall number 01-59
operation hour: ard 10am-10pm
and
Bedok North St 3 Blk 538 market
unit number #01-19
4am-2pm