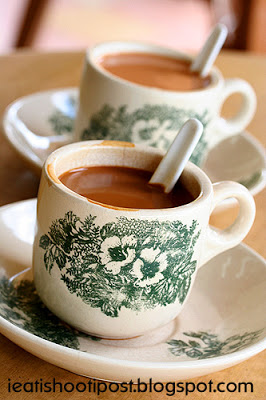 When you go to Hong Qin for the fish porridge, don't forget to order a cup of Kopi after that, the Kopi here is very good.
The stallowner told us that they were originally from SIA Cargo House Canteen where they have been brewing Kopi for the last 20 plus years. Apparently, they were famous for their Kopi and Ice Kachang. If there are readers who work in SIA Cargo House, could you please confirm this?
Anyway, although they don't actually roast their own coffee beans, their expertise lies in their secret blend of coffee powder from various sources. The final result is a full bodied coffee, aromatic, mellow and creamy with little acidity. 4.25/5 I just love sock coffee!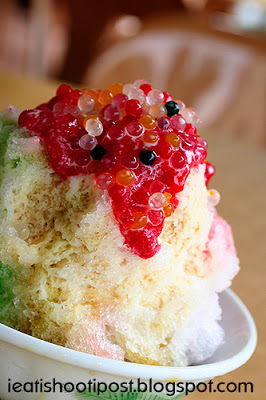 They ran out of peanuts that day, so the Ice Kachang was topped with a Strawberry puree instead. The ice and syrup tastes much the same as any other ice kachang, but buried under that avalanche of shaved ice lies the stuff that makes this ice kachang really special and that's the mushy Homemade Red Beans. The beans were perfectly done the way I liked them. The skin of the beans were soft and there was a good half and half of beans and paste. $1.80 4/5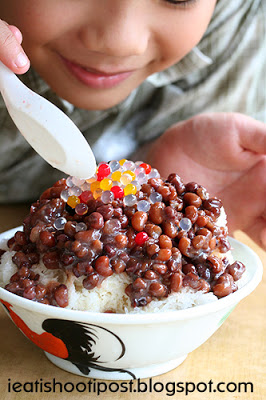 I could not tahan and just had to order the Red Bean Ice (Hong Dou Ping) in order to get my Red Bean fix. Now this is what a real "Ice Kachang" should be right? Just Ice and Kachang drizzled with a generous amount of carnation milk. Hoooooooo…! $1.80 4.5/5
Conclusion
Cross to the other side of Sims Ave and buy some tim sum from Hoe Kee, then settle down and enjoy that satisfying cuppa Kopi! Don't forget the Red Bean Ice too!