With smart, liverpool and iwatch_ueat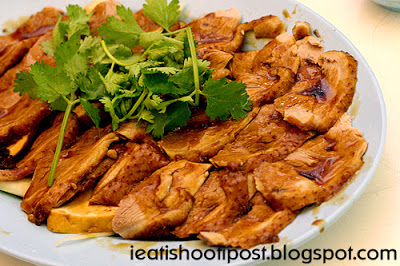 I have been passionate about blogging those really old established hawker stalls because since they have been around for so long, their food ought to be good (akin to Darwin's theory about survival of the fittest yah?) But you know what, I realise that what really makes the food good is not how long it has existed, but how passionate the hawker is about the food.
Of late, I have been coming across more and more newly established stalls who have been around only a few years and yet their food is really very good. Another advantage of new stalls is that there is no old baggage holding the hawker back, so he is at liberty to experiment and innovate.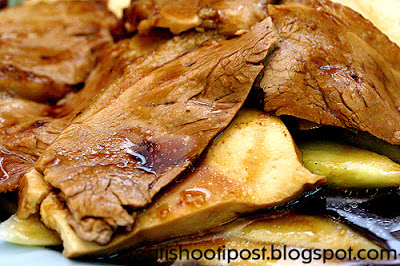 This Lor Duck (Braised Duck) stall is one good example. This gentleman has opened this stall for less than 2 years, but hey the duck is pretty good. You'll notice that the way the meat is cut and presented is reminiscent of how they do it in good Teochew Restaurants like Guan Hin. We loved the tenderness of the Duck and the Lor was tasty though it could have been a little more robust. 4/5
I asked him where he learnt to braise duck from and he simply said that it was a matter of trial and error, constantly getting feedback and trying to improve on the formula. It helps that his spent a good part of his life as a herbalist before deciding to go into the food business.
Conclusion
If you are into braised duck, you should give this one a try!