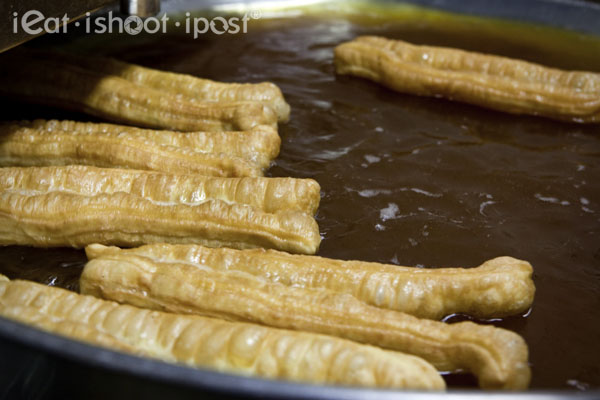 Ever wondered why You Char Kway always come in a pair? I mean it would be quite easy to make them as a single stick right? Why are they always paired?
Ah, the answer to this conundrum does not lie in the practicality of making sure that the You Char Kway doesn't keep rolling around in the cauldron of boiling oil, although, I suspect that this might be the real reason. The answer actually lies in Chinese folklore where they represent the treacherous Chancellor Qin Hui and his wife who plotted the death of the great General Yue Fei. As a result, they made these dough sticks in the shape of the human form in pair and dunked them into hot oil to torture them. (sounds like Voodoo doesn't it?) This is the reason why they are also known in Cantonese as Yao Char Guai (oil fried "Hui" which sounds like "ghosts" in Cantonese) as a sort of curse on the treacherous couple.
Speaking of You Char Kway, they are probably the most versatile of all fried dough. I love it in Porridge, Tau Suan, Bak Kut Teh, Cheong Fan or just by itself with a cup of kopi. There are not many other pastries, except maybe for a loaf of bread that is as versatile.
It is perhaps also the simplest of the fried breads, consisting mainly of just flour, yeast, bicarb, salt and water. So what is it that gives You Char Kway its characteristic taste? I have always thought that they have a special spice that they add to the You Char Kway to give it that characteristic flavour, but most of the hawkers that I spoke to just said that there really isn't anything special at all, except that you really only get that You Char Kway taste when you cook You Char Kway in bulk together with the other stuff like the Hum Chim Peng and Butterfly. There is only one way to find out and that is to try the recipe out myself at home to see if I can replicate the taste. Will keep you updated on that.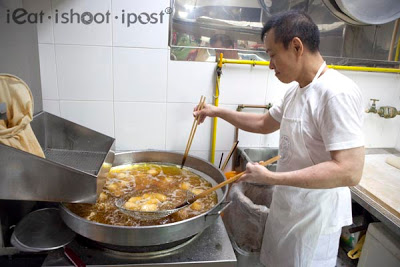 Perhaps one of the things we often overlook when we eat at hawker centres is the state of the oil that they use for cooking. Deep frying is a cooking style that uses a lot of oil and one of the ways of saving cost is either to use cheaper oil or to continue to use the oil when it has oxidised. The oil will also affect the final taste of the fried food, so it is important to use the right oil and to change it often.
So when I am looking for deep fried foods, I always try to sneak a peak at the state of the oil they use. If the oil is nice, amber and clear, it is a signal that the chef is careful about changing the oil frequently. If it is black, you might want to think twice about eating it. The stall owner here is one person who looks after the state of his oil. In fact, I was quite impressed with his overall setup which is nice and clean and systematic. He tells me that he uses refined coconut oil, which is regarded as one of the best (and most expensive) oils for frying You Char Kway as it is very stable to high heat and doesn't oxidize easily. Even then, he tells me that he changes his oil frequently to ensure that all his fried dough always taste fresh. 4.5/5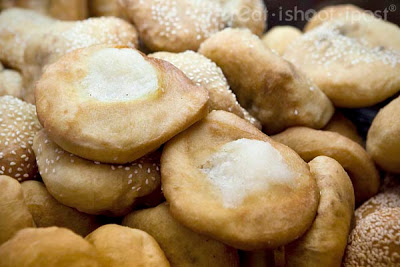 Compared to the You Char Kway, a Hum Chim Peng is simply a Hum Chim Peng. There is no history involved in this deep fried savoury cinnamon doughnut without the hole. Even if there were, I am not going to tell it to you today, cos this post is a bit too long already. Anyway, just a quick survey to see if anyone here likes to eat Hum Chim Peng with glutinous rice in the middle. Sounds like something that will make you full for the whole day doesn't it?
Conclusion
So tell us, where do you get your You Zha Kueh fix? The last time I asked this question on our facebook page, it seems like we no longer have any legendary You Char Kway men left.