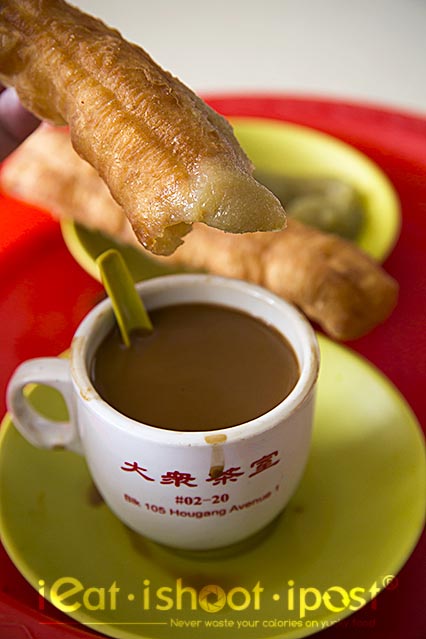 You Tiao with kaya dipped in a cup of treacly thick kopi. This is just about as simple as the simple pleasures in life get.
Ok, maybe I take that back. Omit the kaya and the You Tiao/Kopi combination is as simple as the simple pleasures in life get. But the kaya does add a little extra deliciousness to the equation!
In our modern Singapore where the young are cafe hopping to find the best churros in town, I can't help but ruminate about the similarities between Churros/Coffee and You Tiao/Kopi. Why are people happily paying $10 for one and complain if the other is more than a $2? Why is one shunned as an oily unhealthy food while the other is seen as chic and sophisticated? I don't think I need to go into the details as I have written about it many times previously. Many Singaporeans simply suffer from culinary prejudice when it comes to local hawker food.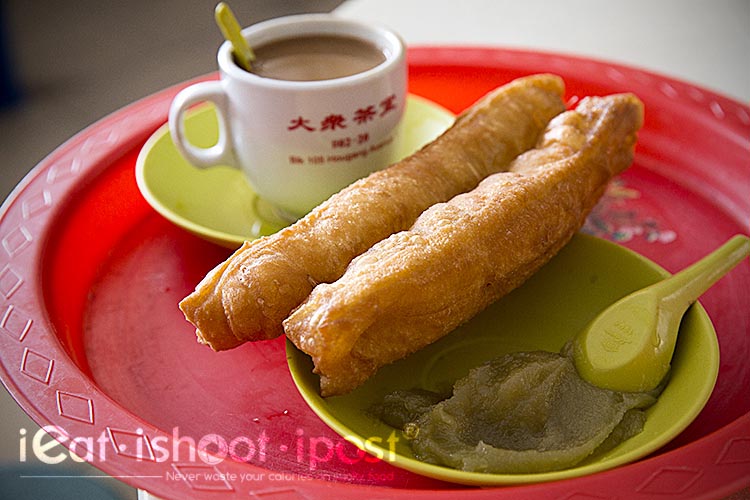 In case you haven't had You Tiao with kaya, may I urge you to head down to your favourite You Tiao stall, buy a few sticks and slather it with your favourite kaya. It is simple but oh so satisfying! We really should market this to tourists as part of the uniquely Singapore experience!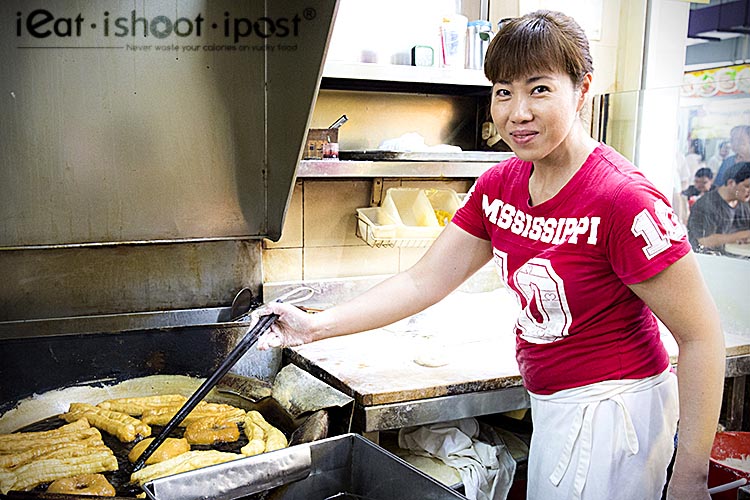 This particular You Tiao stall is run by the sister of Da Zhong kopi just next door. Like Da Zhong, they have been in business for decades and are still doing things very much the traditional way. They still make their own dough on the premise and use coconut oil to do the deep frying. Coconut oil is more expensive than the normal vegetable oil but it has a higher smoking point which makes it a better oil for frying. Most of the hawkers which I speak to who are serious about their deep fried food tell me that coconut oil is the best oil for deep frying.
The You Tiao here is nice and crispy when fresh. It isn't so stellar that you will travel all the way from Jurong to try, but if you are in the area and looking for traditionally made You Tiao, then here is where you can find some. I must say though that the You Tiao isn't the prettiest around. Some of them are so twisted and crooked that only an artist can appreciate them. One might say that it is because they are rustic and handmade, but I have seen handmade ones which look more like a platoon of soldiers than a classroom of pre-schoolers! 4/5
Conclusion
Ah, to visit the market in the morning and sit down with a cup of kopi in one hand, You Tiao in the other and a saucer of kaya. When was the last time you indulged in this simple pleasure?