It's amazing how time flies. It has been over 13 years since I lived in Thailand! I was there at the time when Thai food was quite the rage worldwide. I think the Thai food craze in the West has since simmered down as the the cuisine slowly gains familiarity and loses its initial mystique. Since coming back from Thailand, Thai food has been off the menu for me. It is hard to make myself pay 10 times the price for something that is less than what I know to be authentic. I think Thai food in Singapore has progressed much since then, but I haven't really kept pace with it. There is just so many different cuisines in Singapore nowadays that one has to pick and choose what to focus on.
My favourite Thai dishes come from the Esarn region of Thailand which is essentially sticky rice with Som Tam (raw papaya salad) served with grilled dishes like Khaw Mu Yang (grilled pork neck). That was the kind of food that my fellow Thai students used to bring me to eat for lunch when I was doing my MBA at Sasin GIBA. The presence of sticky rice at any Thai restaurant in Singapore is one of my gauge for the authenticity of the food being served. The problem is that sticky rice is not a popular staple with Singaporeans who prefer to eat white rice, so a lot of Thai eateries don't serve it.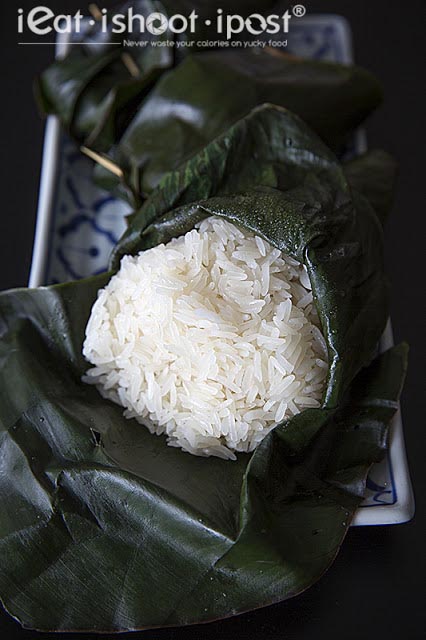 When I got the invitation to taste the food at Siam Society, my first question was whether they had Khao Niao (sticky rice) and Som Tam (raw papaya salad). They told me that they don't have it on the menu but they can certainly serve me some since their chefs eat it everyday.
Now that is a good sign!
Sure enough, the Som Tam and sticky rice was excellent. In the past, it was difficult to buy green papaya, so a lot of Thai restaurants in Singapore had to resort to using other fruits like apples or mango. But nowadays, green papaya is readily available, so we are able to get authentic Som Tam. What is not so easy to get are those Thai tomatoes which look like its been painted with a weak red water-color. The other thing that was missing were the whole peanuts that are just charred on one side. Other than that, the Som Tam has a very authentic flavour which includes the searing heat level. So if you can't handle such heat, you need to tell the chef to hold back on the chilli padi! 4.25/5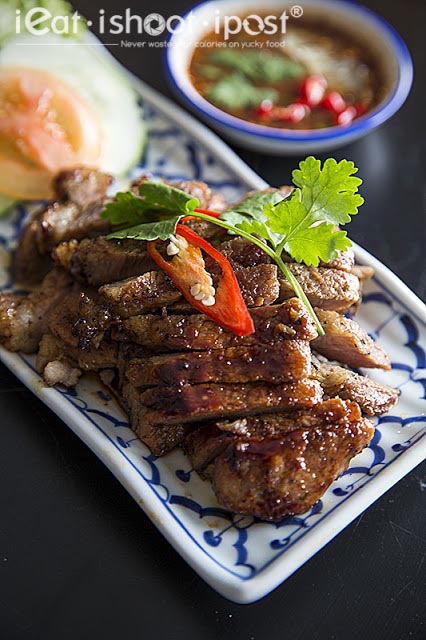 When eating sticky rice and Som Tam, it is best to use your hands. Tear off a bite size morsel of sticky rice and dip it into the Som Tam followed by a slice of grilled pork or more specifically, grilled pork neck. Khaw Mu Yang or grilled pork neck has a wonderful bouncy texture when fresh out of the grill and makes for a wonderful, savoury chew. However, the pork neck here is not quite up to my expectation. It was not quite the right cut and the marinade is missing that special something. Not bad, but can be improved. 3.75/5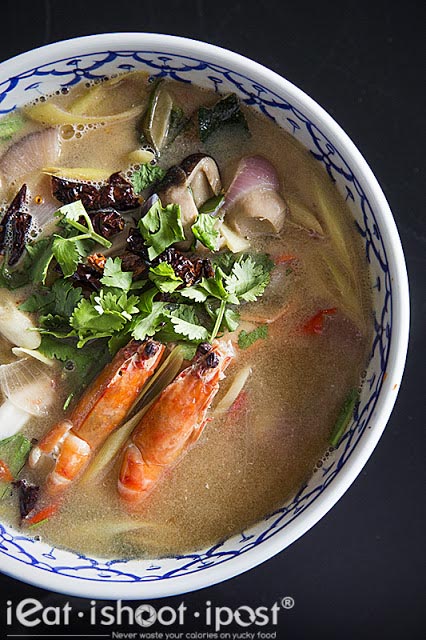 The kakis were very impressed with the Tom Yum Talay (Seafood) soup. They use a very good soup stock here, so you get a really nice rounded complex umami covering the palate which is nicely balanced by the tang and the spices. It is certainly one of the best Tom Yum Soup I have come across in Singapore so far. 4.5/5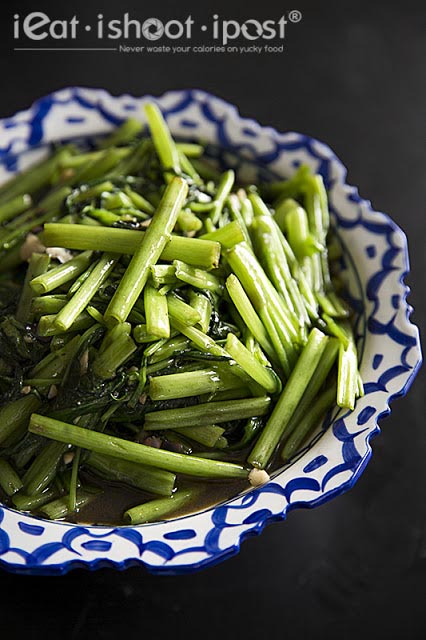 The typical morning glory in Thailand is served with bright red chilli padi whose presence is seen with the eyes and felt with the tongue. Hence it is known as Boong Fai Daeng — Fai Daeng meaning "red light" in Thai. Boong Fai Daeng is characterized by its sweat inducing heat as well as a deep smoky aroma which you should be able to smell distinctly at the back of the throat when you swallow. Thankfully, they cut back on the chilli padi here but the deep smokiness is very distinct and enjoyable. 4.25/5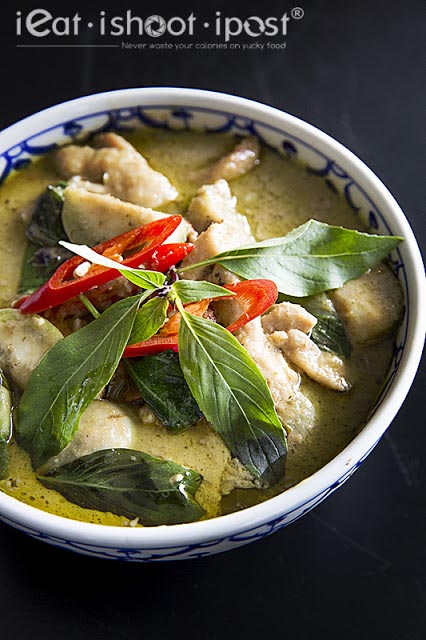 One dish I would highly recommend to go with rice is the green curry chicken. Their version of this sweet curry is excellent. They also use those baby eggplants which are cooked just right so that it is tender yet not mushy. This curry will make you order a 2nd helping of rice! 4.5/5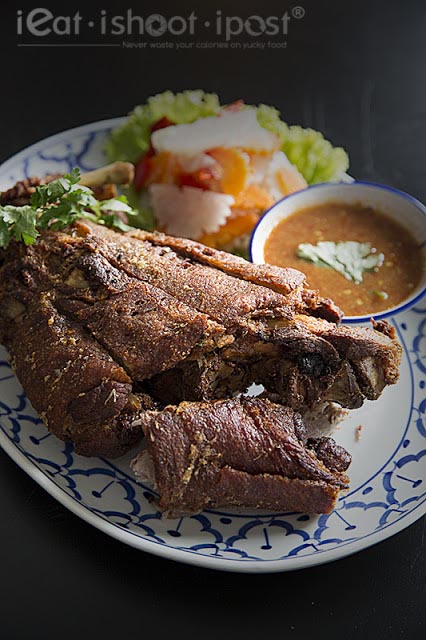 The crispy pork knuckle is indeed crispy but the interior was overcooked such that it has dried up. I wouldn't recommend this unless you are just ordering something to go with beer. 3.5/5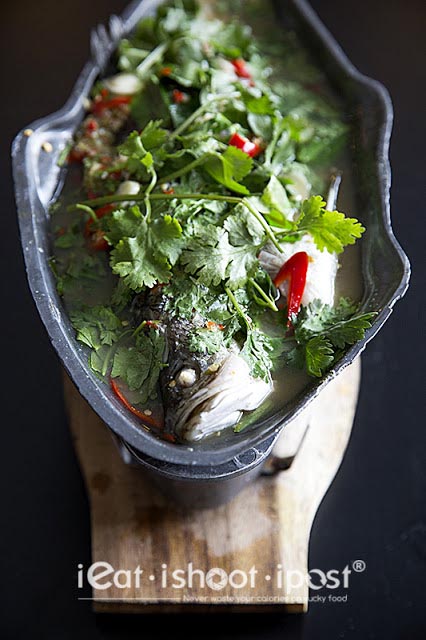 Usually, when you visit any restaurant, it is quite safe to just order their signature dishes. Not so with Siam Society! I have already mentioned those dishes which we were all quite impressed with but they were not their signature dishes. Their signature dishes like this steamed seabass are, unfortunately, best avoided. The fish was probably farmed even though they claim that the fishmonger said it was wild caught. As such it lacks flavour and the steaming sauce was overly tangy. Our group did not finish it. 3/5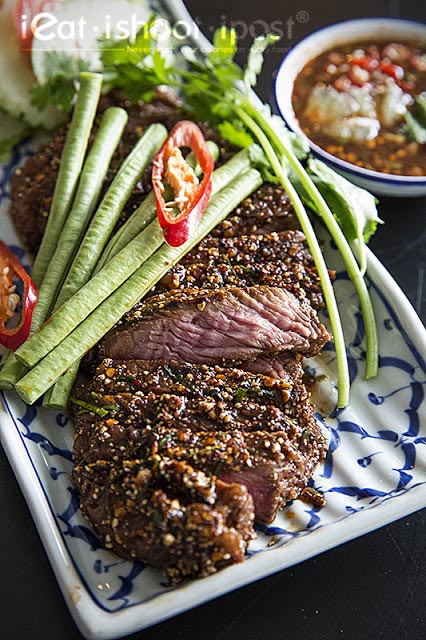 The other signature dish which shouldn't be listed as "signature" is the Weeping Tiger which is essentially a Sirloin Steak that is marinated with a classic Esarn rub. This particular dish is not available in Thailand but the guys here came up with this dish by substituting pork with beef. Unfortunately it didn't work for me and for the other kakis. The mix of spices might have worked on pork but it doesn't go with beef. 3/5
Conclusion
Siam Society is a modern take on the traditional Thai restaurant concept. The environment is more like a bar than a typical Thai restaurant but the food is authentic. There are some hits which I will definitely go back to eat again, but some duds which really need work. It is still relatively new, and I feel that the chefs do have a good grasp of Thai cuisine so it should improve with time.