This Stall is Closed
With Amagada, SCS Butter and Happi Mummi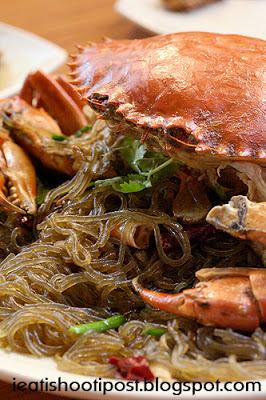 Crab Tang Hoon $25 for 2 Crabs
Just while you are still thinking about going down to Ya Kwang for the Lobster Noodles, let me just throw one more dish into your list of Must Try dishes. Ever since I discovered this Ang Moh Pai (Westernized) Cze Char Hawker, I have been back a number of times to try out new dishes. It's great when the Cze Char Hawker just happens to have traveled the world in his younger days. It means that he has a wider perspective of food and are willing to experiment with a wider range of ingredients.
Just take this Crab Tang Hoon for example. This Teochew dish is quite popular in Bangkok and there are a few Cze Char stalls that already offer it in Singapore. When I was living in Bangkok, this was one of the standard dishes that I must have everytime I have seafood. In fact I prefer Tang Hoon to Bee Hoon as I find that it absorbs the flavours even better.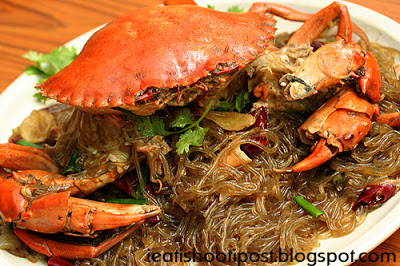 So let's take a Crab Tang Hoon and think about how to make it even better. OK, I can't wait for you to think, so let me just tell you what Chef Jason did. Instead of using the normal thin local Tang Hoon, he used Korean Tang Hoon which is thicker and more chewy. Whoa, if you have even eaten Korean Tang Hoon before, you would wonder why we are still using the local Tang Hoon at all. The texture of Korean Tang Hoon is just fantastic. I love the way it is sticky without being gooey and it is so lively it just leaps into your mouth! Each and every strand was infused with the flavours of the Crab, ginger, stock and a few secret Japanese ingredients. Simply addictive. 4.75/5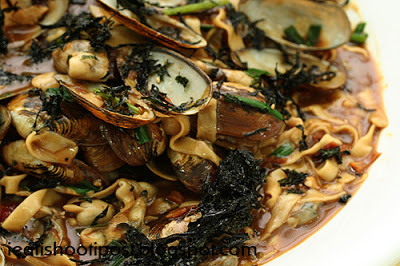 The reason I keep coming back to Ya Kwang is that I am always game to try new stuff. This picture of the Mussles Fried Ban Mian is probably a world first. I asked Jason if there was anything new on the menu and he simply came by with a bucket of Mussels and said he could try whipping up a noodle dish with it. Sure, why not. Life is too short to always eat the same stuff.
You can think of this dish as a variation of the KL Hokkien Mee. The dark sauce is very similar but Jason added Seaweed and Tee Poh (Crispy Fried Sole). He also specially fried some Pork Lard to go with it. Oooohhh yeah. Even SCS Butter who usually doesn't like Mussels was lapping it up. I think that Ban Mian was good but it would have been perfect if the thick round Hokkien Noodles or Udon was used. I think I am going to persuade Jason to whip up a worthy KL Hokkien Mee soon! 4.25/5
Conclusion
I will be back soon to have the Crab Tang Hoon all to myself. For $25, you get 2 small crabs so it is quite affordable. If, however, you want your big Sri Lanka Crabs, you can order ahead so that Jason that get them for you!