With Amagada and the kids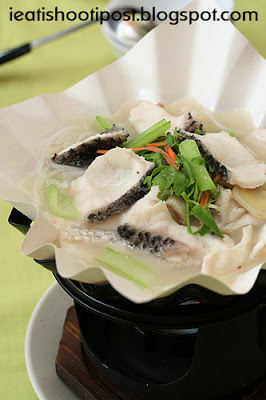 XO Fish Soup $9.90
One of the most complicated decisions that we have to make on a daily basis is "Where to Eat". I guess that is why you are reading this blog. But it gets more complicated when there are more people involved and even worse when there are people of different age groups involved. My kids love Japanese Food and MacDonald's, so we often have to sacrifice our Cze Char to meet their needs. Parents in similar shoes will agree with me that what we need is a restaurant that is comfortable and simply has something for everyone.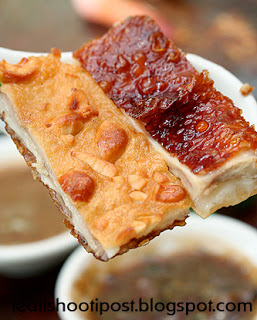 Well, that is what this new Restaurant at the Esplanade wants you to think as well. Urban East sells a variety of cuisines which all seem to be unrelated. It is very much like a Hong Kong Teahouse concept where you have Western Food, Local Food and a fusion of both. Essentially, this place has four different styles of food viz Chinese (Cze Char), Western, Stone Grill and Indonesian. There's a further twist on the Cze Char part as they serve their soups and claypot dishes in Japanese Style paper pots.
The XO Fish Soup served in paper pot was quite tasty and the smell of the XO is immediately noticeable when it is served. They don't add milk to the soup, so it was a clear soup that is thickened with corn flour. The advantage of presenting the soup this way is that it is kept hot a little longer. However, unlike the Japanese Kaminabe where ingredients are raw when served, the slice fish is already cooked. Quite an interesting idea but just be careful not to overcook the fish. They also serve braised tofu and claypot chicken dishes this way. 3.75/5
We tried a few of the Cze Char dishes and they were all quite competent. Of special mention is the Crispy Chicken with Prawn Paste. They added cashew and almond flakes to the bottom of the meat which was quite good. 4/5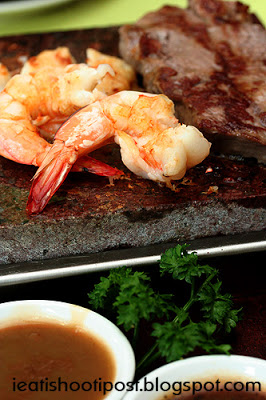 Surf and Turf $18.90
Those who don't want Cze Char food may choose to have their food cooked on a Stone Grill instead. You can have a choice of seafood and meats. They serve only Sirloin beef here and the meat is pre-marinated. Quite good but not for Steak Lovers looking for a juicy steak. But great for those who simply enjoy the experience of cooking the meat yourself. 3.5/5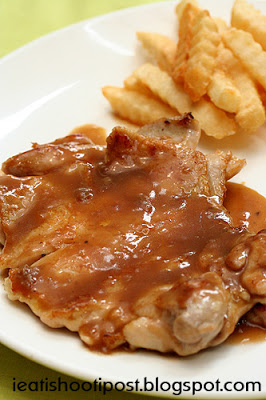 Chicken Chop $12.90
The Western Food range is typical of the Hainanese Style Western Food. The Chicken Chop was competent and the portion is quite big. Having the Western Food range really serve to cater to the kids and also the times when you just want a simple fish and chips. 3.75/5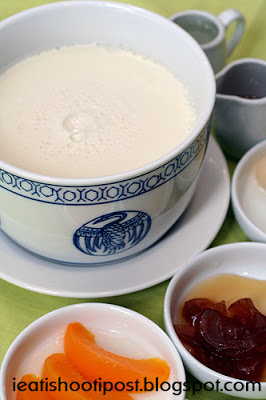 Bean Curd $3.90 per portion. Pic shows a 4 person portion
The dish that got us talking was the Bean Curd which comes in liquid form and sets while you wait. The Bean Curd was smooth and tasty and was given a thumbs up by Bean Curd specialist, Amagada. 4.25/5
In case you are wondering how a Restaurant like Urban East could come into being, let me just enlighten you. This restaurant is opened by a family that runs a few hawker stalls selling amongst other things, Bean Curd and Western Food. The father has been selling bean curd at Holland Village for the last 20 years which explains why they came up with the Bean Curd dessert. The siblings decided to move the family business upmarket by investing in a Restaurant but obviously they could not agree on what to serve so they just serve all their favourite styles of food. Voila! Our own version of the HK Teahouse!
Conclusion
Great as a no-brainer place to bring the whole family. Everyone should be able to find something they like. The food is all good but what it really needs is a few star dishes that one can dream about coming back to eat again and again. Still, it works as a comfortable place where there there's a wide variety of food that is interesting enough to keep everyone happy.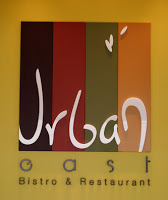 Disclaimer: I was invited to review this new restaurant so the food was provided for free.