This stall is closed
With Damien and iwatch_ueat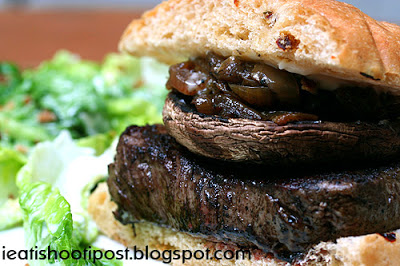 Steak Sandwich $12.50
I have been searching for a good steak sandwich for ages and when Damien raved about this one at the newly opened Tuckshop, I thought I should check it out.
Now most of the time the problem with Steak Sandwiches is that you really need good teeth to eat it because most places use a cheap cut of beef which could pull out your dentures if you are not careful. (No I don't wear dentures…..yet)
Not here! I was amazed at how tender and delicious the generous cut of NZ tenderloin steak was. And it had a nice beefy flavour which was quite hard to get in tenderloin. Of course the beefiness still cannot beat a nicely char grilled USDA Prime Ribeye, but for $12.50, this is very pleasantly acceptable. The other really great thing is the whole Portabello mushroom and the caramelised sauteed onions that accompanies the steak. It just goes to show that sometimes you just need great ingredients rather than fancy recipes to make a great meal. 4.5/5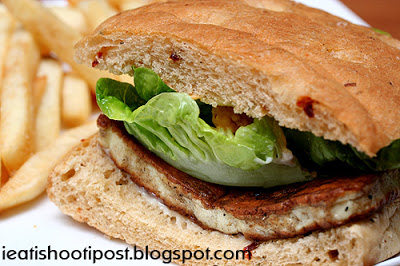 Halloumi Sandwich: $7.50

But the pleasant surprises don't stop there. Vegetarians will be glad to know that they have a very tasty Halloumi Sandwich which is made from a seared slice of Halloumi and topped with Hommus and lettuce. The combination worked wonders. The Halloumi is a cheese originating from Cyprus and is made from goat's milk. It does not melt when grilled and so it is an excellent substitute for a meat patty. I really won't mind going veg for a week if I had this for a substitute! 4.25/5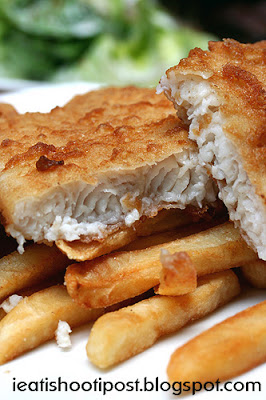 Fish and Chips $7.50
One more dish to recommend on this Pub Grub Roundub sic and that is the good old Fish and Chips! Actually Pub Grub is quite simple straightforward food since people usually go to a Pub for a drink and the food is just there in case you are hungry. But simple does not mean it is not satisfying and simple also does not mean that everyone gets it right. For Fish and Chips, there are really only three factors involved: Good Fish, Good Batter and a Good Cook. Get it all three right and you have a fantastically simple yet satisfying meal. Fortunately the Tuckshop gets it right on the three counts!
If you are starting to mumble about $7.50 being more expensive than the $4.50 fish and chips you get at the hawker centre, let me just say that you are paying for what you get. The most commonly used fish for fish and chips nowadays is the Cream Dory which is essentially the Catfish (pangasius hypopthalamus) farmed in Vietnam. The Cream Dory is farmed in ponds and grow very fast. Their cousin, the Pacific Dory (pangasius bocourti) has a cleaner taste and the flesh is more delicate but is more difficult to cultivate as they are farmed in cages along the Mekong River where there is a continual stream of fresh water. Cream Dory can sometimes taste a bit muddy depending on the farming conditions.
Needless to say, the Tuckshop uses Pacific Dory which justifies its higher price. The batter is light and crisp and thick cut fries are done very well. Well executed fish and chips! 4.25/5
Conclusion
Great place for some satisfying Pub Grub! For $12.50, this is the best Steak Sandwich I have come across in Singapore so far.