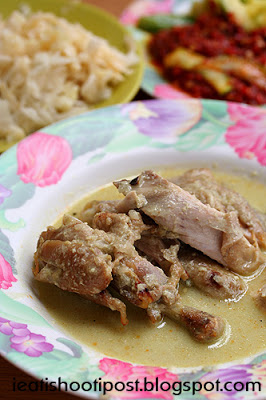 Ayam Pangang $4
When I think of "Nasi Padang", the first word that comes to mind is "Rendezvous". Then the next image that forms in my mind is the really shiok yellow green Chicken Korma that the original Rendezvous Restaurant used to dish out. Nasi Padang might mean many things to many different people, but for me it is all about the Chicken Korma. This was the dish my parents used to order for me because I was a kid then and wouldn't eat stuff that is too spicy. My first taste of the dish was a little tentative as I thought that since it is a curry, it had to be spicy. Mom was emphatic that this was not a curry but a Korma. Yes Mom, being a parent now, I too use the same argument for my own kids!
That first taste changed my life forever. Well, I still remember it today and use it as a yardstick to gauge all other Nasi Padang, so I'd say it was a life changing event, wouldn't you? The creamy, citrus-coconutty flavour of that non-spicy curry was incredible but unfortunately, it is not so easy to come by nowadays. I remember there used to be another Nasi Padang restaurant along the same stretch where Rendezvous was which also served a pretty mean Chicken Korma. Sadly when they were demolished to make way for the present Rendezvous Hotel, we really lost a heritage eating haunt. The last time I ate at the current Rendezvous Hotel, I felt that the Chicken Korma had lost some of its original ooomph. It almost always happens when the old makes way for the new.
My search for the elusive Chicken Korma brought me to this very famous Nasi Padang eatery which has been in the same location since 1948. This is a 3G Nasi Padang (To borrow our SAF's acronym for third generation) but Mr Jumrin insists that their traditional recipes continue unadulterated and they remain faithful to the original Padang recipes. The yellow-green curry chicken is known as "Ayam Pangang" at this stall which just means "Grilled Chicken" They don't call it Korma here, but it certainly has a taste and an appearance that hints of Chicken Korma. The chicken is first cooked in the gravy then grilled and left dry. The gravy is poured over the chicken just before serving.
I found the caramelized, chargrilled flavours of the spices on the chicken skin really shiok but the gravy was too light for me. I would have liked it a little thicker and more fragrant. Still it was great with rice. Not quite the Chicken Korma I was hoping to find, but perhaps it was not exactly the same dish? 4.25/5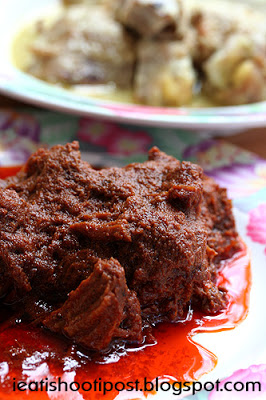 Beef Rendang $4
The Beef Rendang is the other signature dish at this stall. I was told that this is the style of Beef Rendang that they serve in Padang. The meat is cooked till it is almost dry and it had a shreddible consistency. It's quite fiery and should appeal to those who like to sweat while they eat. 4/5
Also read the updated post of this establishment here!
Conclusion
This is one of those Heritage Nasi Padangs that everyone talks about so you have to check it out if you have never been there. The Chicken Korma (Ayam Pangang) was not exactly the one I was looking for, but overall it was a very good meal. Do write in if you know where I can find that die die must try Chicken Korma