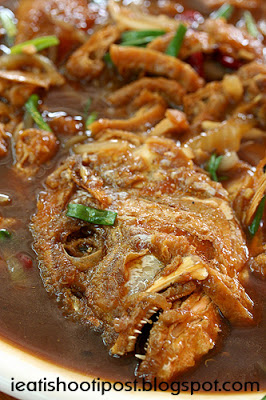 With smart, liverpool, iwatch_ueat,bashful hunter, bashfully hunted, fashionfoodie, pk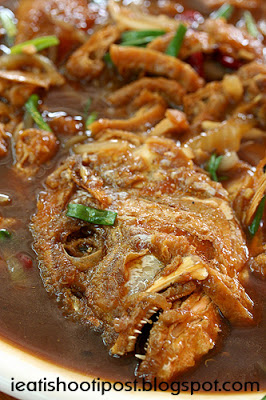 Hong Shao Fish Head $18 (half) $30(whole)
Ever since smart discovered Ya Kwang, he has been eating here almost every week with his family or his group of cronies. He's commented on them so many times that I felt it was time to blog it again so that you all can understand what the fuss was all about.
Ya Kwang is about experimental Cze Char. It's owner, Jason is not your typical Cze Char hawker and for that matter not your typical Singaporean either. Rather than playing safe and selling the usual Cze Char favourites, he continues to introduce dishes that you don't commonly find in Cze Char stalls. So, a trip to Ya Kwang usually means you get to taste some of his new dishes or even invent new ones if you wish.
The dish that smart has been raving about is the Hong Shao Fish Head. If I recall, this dish started off as a curry fish head, but one of smart's cronies could not take spicy dishes, so Jason came up with the Hong Shao Fish Head instead. It's a good dish and my only complaint is that the gravy could be a little thicker and that there could be a few more pieces of Sio Bak in it. Otherwise the fish head (He uses Ang Kor Li) is very fresh and the gravy really makes you want to eat more rice (know what I mean?). 4.25/5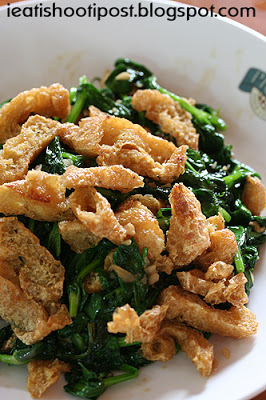 Another new dish is the Ti Wan Chye with deep fried crispy Bean Curd. The two elements are an interesting contrast in texture, but I did not think that the flavours synchronized that well. This one needs a little more tweaking but it was an interesting try. 3.5/5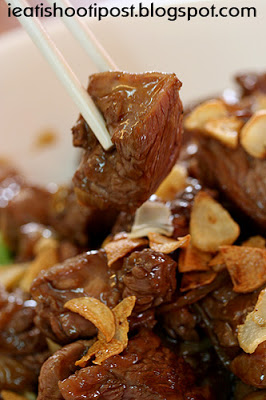 I remember having this dish in a Teppanyaki restaurant in Sydney. Essentially its chunky pieces of ribeye beef flash fried with teriyaki sauce. Not quite novel BUT certainly not something that you normally get in a Cze Char. We felt the beef could be cut just a little thinner so that it was easier to bite. Otherwise the thicker chunkier beef was actually good because it was cooked medium so it retained a lot of the juices. 3.75/5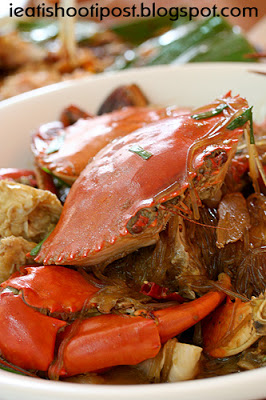 Of course a trip to Ya Kwang would not be complete without the signature Crab Tang Hoon which I have already written about in the my previous blog. Still good and prices are still reasonable compared to other crab bee hoon places. 4.5/5
Conclusion
There you go. A trip to Ya Kwang is always enjoyable because Jason is pretty hospitable and accommodating. So you get to order your dishes the way you want or even suggest new dishes. Not everything is die die must try, but there are some winners and some of the new dishes need tweaking. But that's the beauty of it, since you are there to experience something new and to offer feedback for further improvements. I think you can expect to hear a dissertation from smart on the Ya Kwang Cze Char experience.