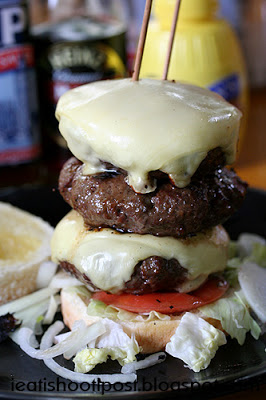 Actually Botak Jones started expanding just as I started this blog back in Aug 2006. But at that time I did not get around to blogging them. They would have made an interesting Ang Moh in the heartlands story. Now, just over a year and many other reviews later, Mr Jones has well and truly invaded the heartlands, taking major town centres one at a time. First it was Jurong, then Clementi, then Ang Moh Kio. Then they invaded Dempsey road and most recently they invaded the heartland of Bedok in the East. Seems like nothing is going to stop Botak fever!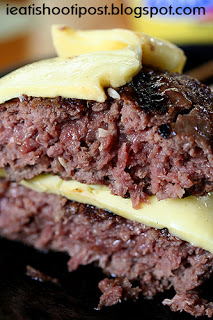 So instead of being a discovery blog, now it seems that the blog is not complete without my review of the widely publicized triple burger ("Crazy or what!" Burger). Yes, it will not be complete without a picture of the ultimate male fantasy. (OK guys I know what you all are thinking but this is a G rated blog OK?)
There is really no reason for the existence of a triple patty burger except that it really does attract attention. Practically, there is no one in the world who would be able to actually eat the three patties and the bun all with one bite. (If there were, he would be in the annals of Ripley's Believe it or Not!)
So how is the Triple Burger? Well, those who love to eat lots of meat will not be disappointed. The patties were chunky, hand moulded and cooked medium. I had initially thought that the cheese was the common "Singles" type, but was pleasantly surprised that it was actually quite a nice and thick cheddar. Tastewise, it wasn't as beefy or as tasty as I would like, but at $14.50 (Plus $1 extra for each slice of cheese) I guess you can't be expecting them to use US Prime Chuck. Good texture, lots of meat but lacking the beefy ooomph! 3.75/5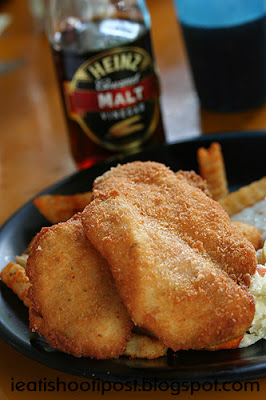 Fish and Chips $6.50
Fish n Chips can be found in almost every coffeeshop and food centre nowadays and most can do a good job at deep frying. The only differentiating factor for most sub $10 fish n chips is whether they use the cheaper Cream Dory or the superior Pacific Dory. Both are catfish btw, but the Cream Dory is reared in ponds and tend to taste a little muddy. The other differentiating factor is whether they have a proper Tartare sauce and vinegar to go with the fish n chips. I am glad to report that Botak Jones uses Pacific Dory which is a good thing. But if you want to have a nice juicy fish, you will need to upgrade to the $10 portion as the $6.50 portion is a little on the thin side. They also serve it with a sort of Tartare sauce. I say "sort of" because the pickles were not really all that chunky, but it was still better than your standard mayonnaise. 4/5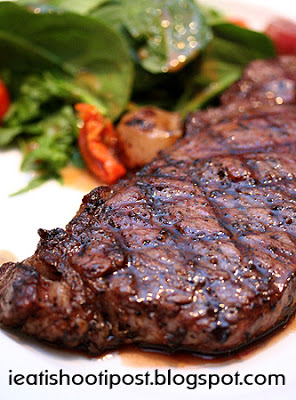 Australian 200gm Ribeye Steak $14.50
I had a Botak Jones steak before last year and I felt at that time that it had too much herb seasoning on it. Good steak should not require anything more than salt and pepper. But then again, you don't expect a sub $20 steak to be prime quality do you? That aside, I must say that I was pleasantly surprised with the Australian Ribeye that day. Though the ribeye did fall apart, the doneness was just right and the flavour of the seasoning was not overpowering. So it was a juicy, enjoyable piece of meat that would please you if you are going for the sub $20 steak. 4/5
Conclusion
The Botak fever looks like it is going to spread to all parts of the island. The steak is reasonably priced but the fish n chips and some of the other items are not exactly that cheap. Foodwise, the flavors are distinctly un-Singaporean so you are not going to get Hainanese style western food. Botak Jones has already inspired other Ang Mohs to follow suit (Crazy Ang Moh) and I think we are going to see more Ang Mohs doing the same thing this coming year.