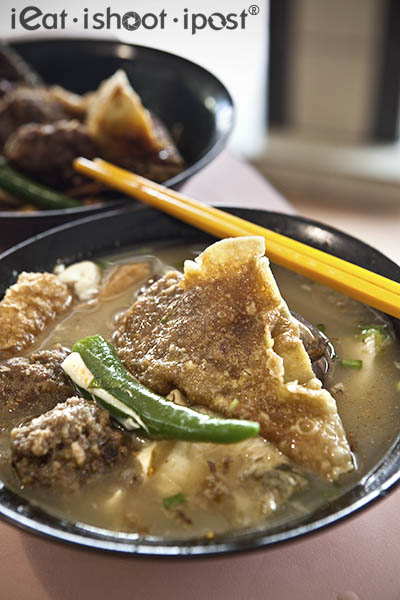 Our forum kaki, Sen posted a youtube video about this Yong Tau Foo stall in the
forum
which got all our kakis really excited. This stall was again mentioned repeatedly when I asked
our facebook
readers for their pick of where to find a great Yong Tau Foo! This stall sounds like a die die must try kind of place, so we rounded up the ieat brigade and headed to Ang Mo Kio Central to try out this Yong Tau Foo stall which is reputed to have a perpetual queue throughout the day.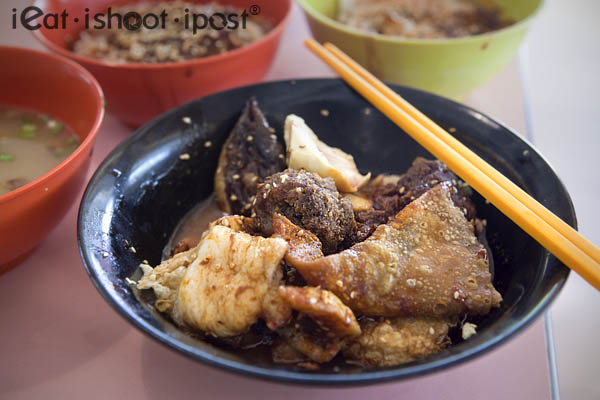 Sure enough, there was a queue outside the stall of more than 10 persons who have very obediently picked their Yong Tau Foo and are now waiting patiently in line for their lunch to be cooked. While Soundman was lining up for our food, I took the opportunity to speak with the Lao Ban Niang who tells me that they have been at the food centre since it first opened more than 30 years ago. She tells me that Yong Tau Foo is all about freshness of ingredients and here at the stall, they use fresh tau foo which are specially made without preservatives so that they last only a day before going sour. The bee hoon here is also specially delivered fresh everyday as opposed to the dehydrated ones in packets.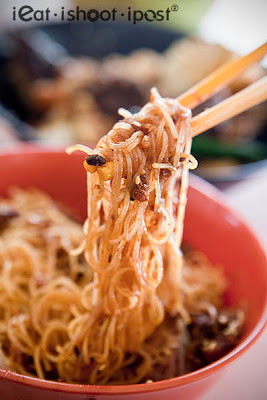 There are two things that are seriously good about this stall. That's not to say the rest are mediocre, but the two things that are really outstanding are the bee hoon and the sweet sauce. Both are very different from the ones you get from your run-of-the-mill YTF stall and are the most memorable bits for me. The fresh bee hoon has a wonderfully chewy texture and excellent fragrance. The sweet sauce here is spiked with lots of sesame seed flavour and is very addictive. 4.5/5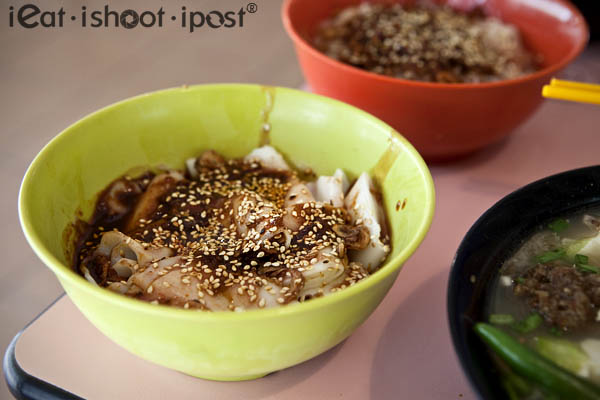 Aside from the bee hoon, this stall also sells chee cheong fun to go with your bowl of Yong Tau Foo soup. This is the first time I have seen any stall do this and when I asked the Lao Ban Niang why they serve Chee Cheong Fun with their Yong Tau Foo, she simply said that Chee Cheong Fun is nice to eat!
Now this Yong Tau Foo is filled with fish paste only but they do have a few items with minced pork, notably the minced pork balls. Personally, the YTF was good but the difference in quality of the usual items as compared with your normal food court stall is not as stark as the bee hoon and sweet sauce.
Conclusion
So the bottomline is: Would I queue for 20 minutes to get my Yong Tau Foo fix here? Oh yes! But it has to come with a bowl of bee hoon bathed in sweet sauce.