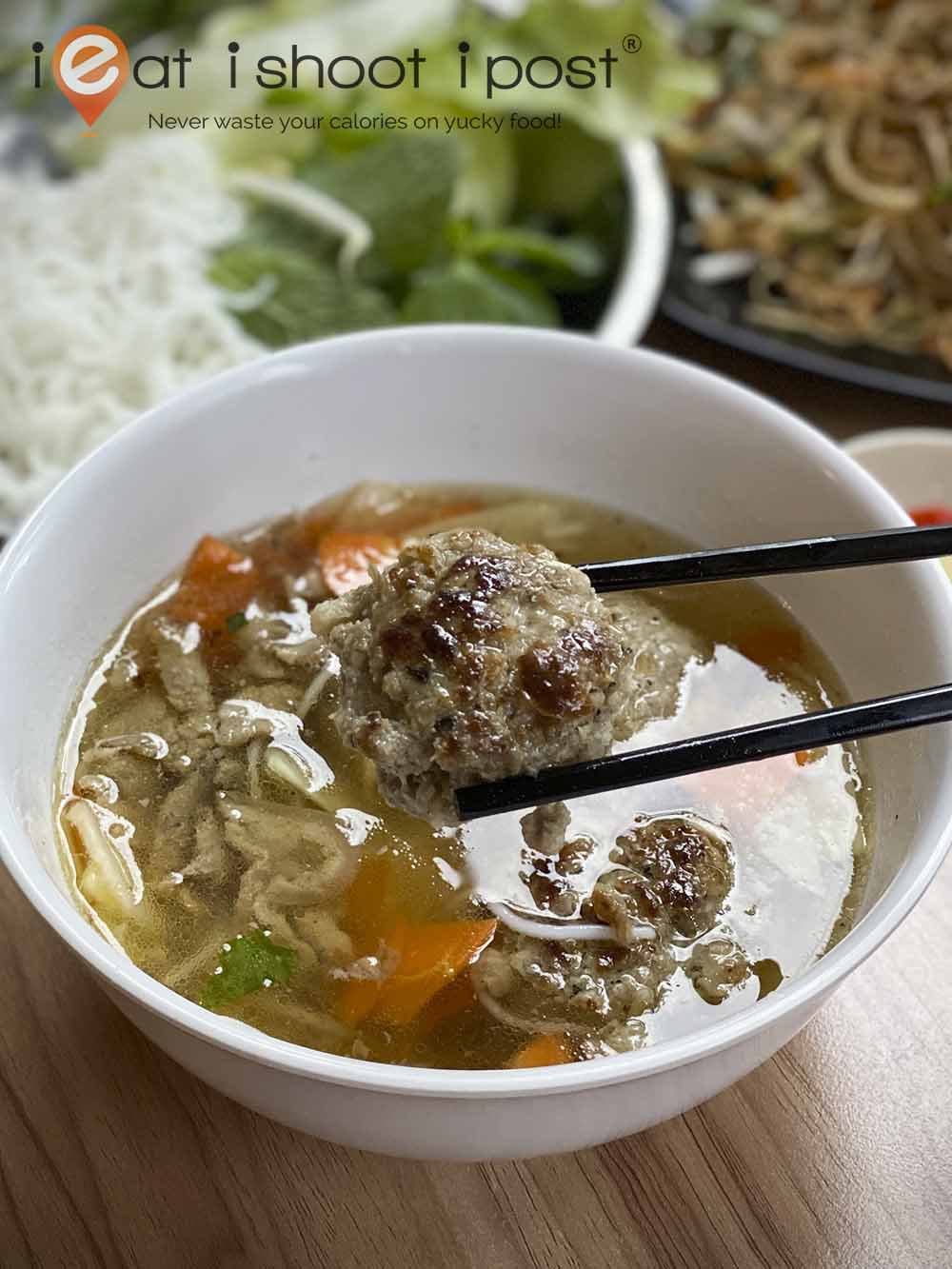 Ever since Anthony Bourdain brought President Obama for Bun Cha, the dish seems to be slowly overtaking Pho in popularity!  So, where can you find the best Bun Cha in Singapore?  I am certainly not the right person to ask, but my friend Mien is.  And, according to him, the Bun Cha at Uncle Ho's Tuckshop is the best he has tasted in Singapore.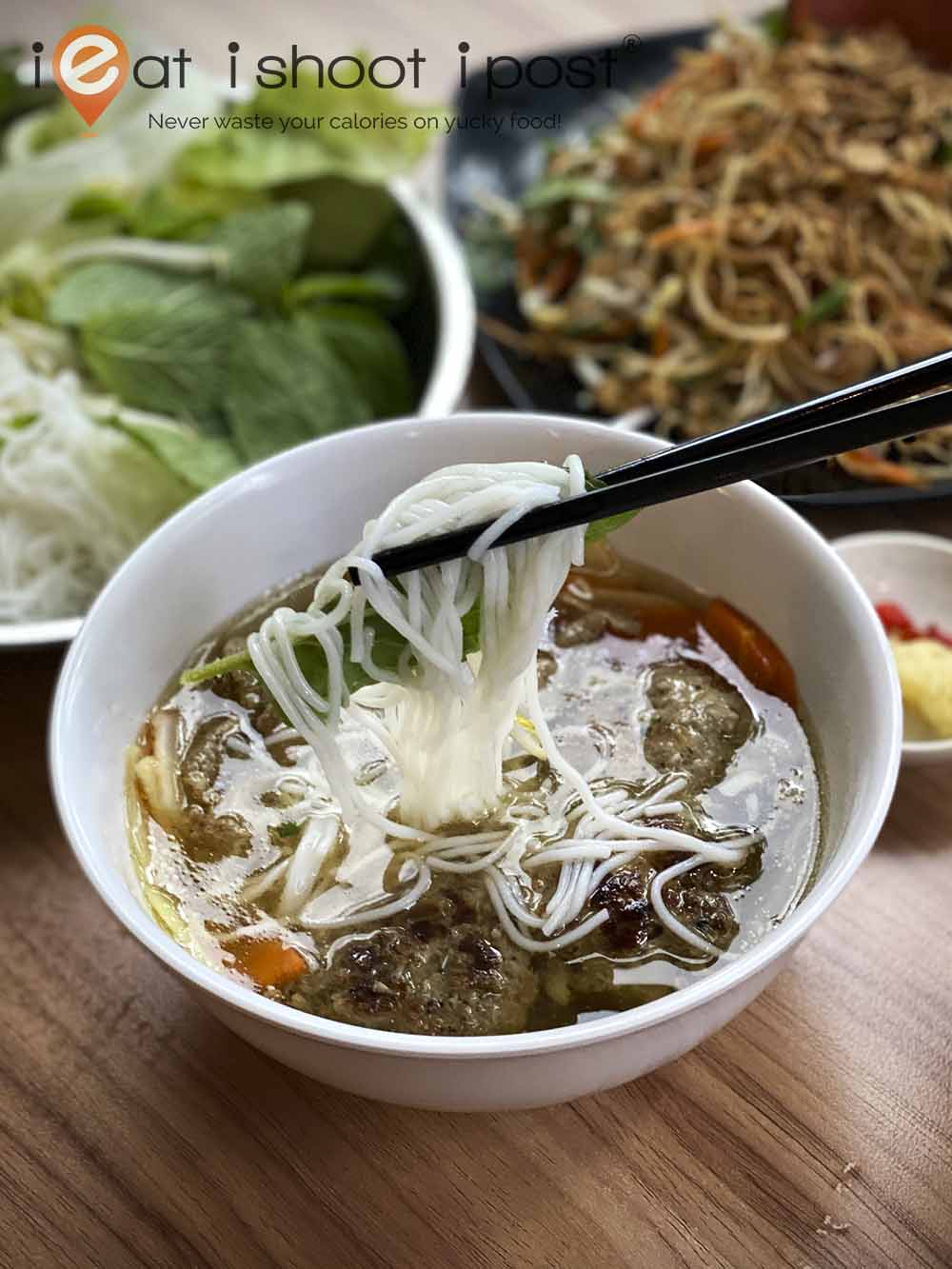 In case you are not familiar with the dish, it is essentially grilled pork balls which are served in a sweet and sour sauce and eaten with fresh rice vermicelli and herbs.  The lady boss at Uncle Ho's instructed me that it should be eaten like Soba where the rice vermicelli is dipped into the sauce just before you want to eat it, rather than leaving it in the sauce.
The pork balls are served in a bowl of warm sauce which looks like soup, together with sliced pork belly and pickled veggies.  I have to agree with Mien that it is very good, though I felt that the pork balls were lacking that charcoal smoke aroma.  The warm sauce has a nice balance of sweet and tangy and goes really well with the vermicelli and pickled carrots. 4.25/5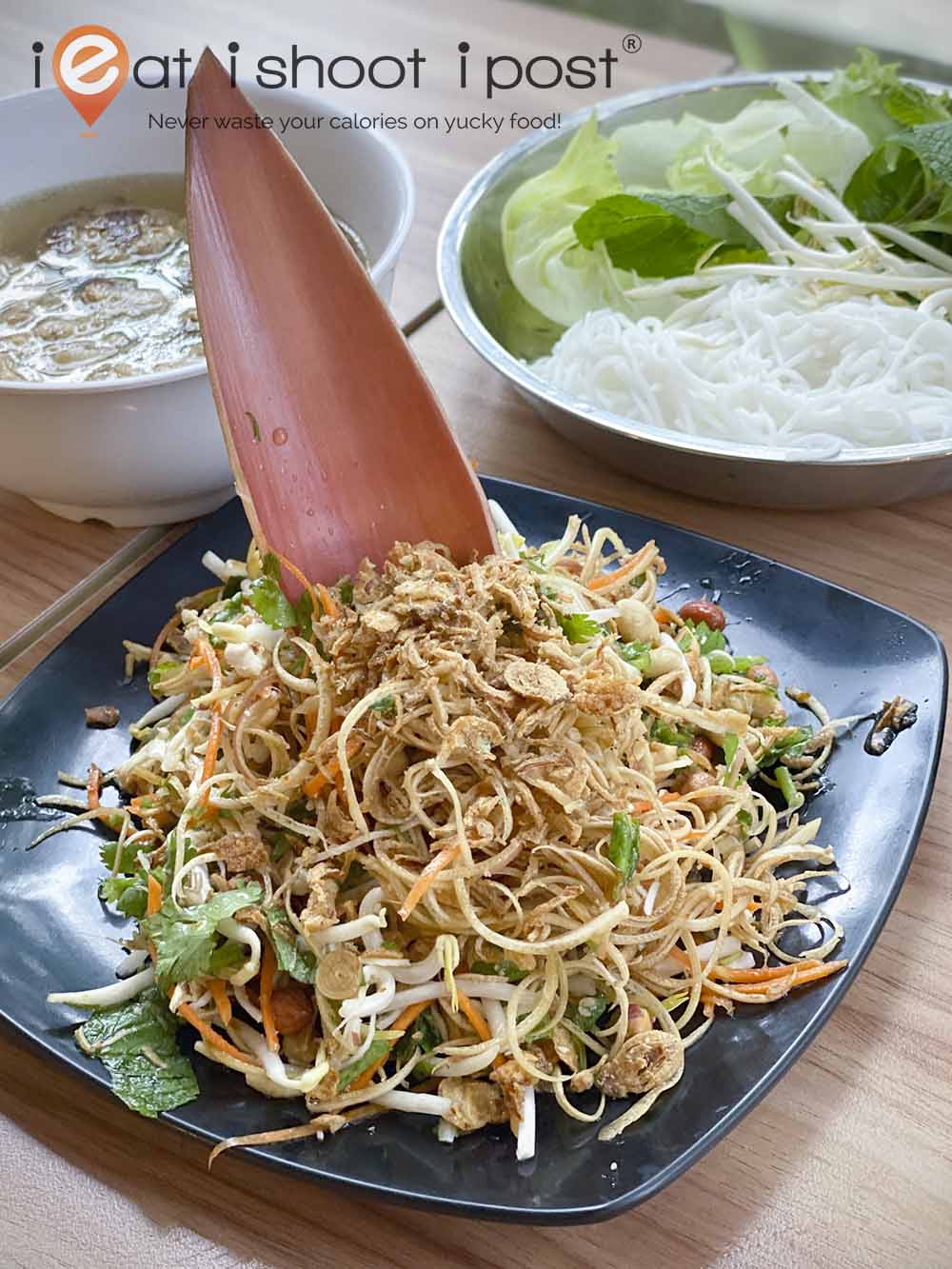 The banana flower salad at Uncle Ho is very good!  It is similar to the Thai papaya salad, but instead of green papaya, banana flower is used.  Ladyboss Janet tells me that in order to get the right texture, they had to import the banana flower from Thailand as the local ones just didn't quite have the same bite.  The combination of the thinly and crunchy banana flower, bean sprouts, shredded chicken breast, fried shallots, herbs, and house-fried peanuts make a lovely and refreshing salad! 4.25/5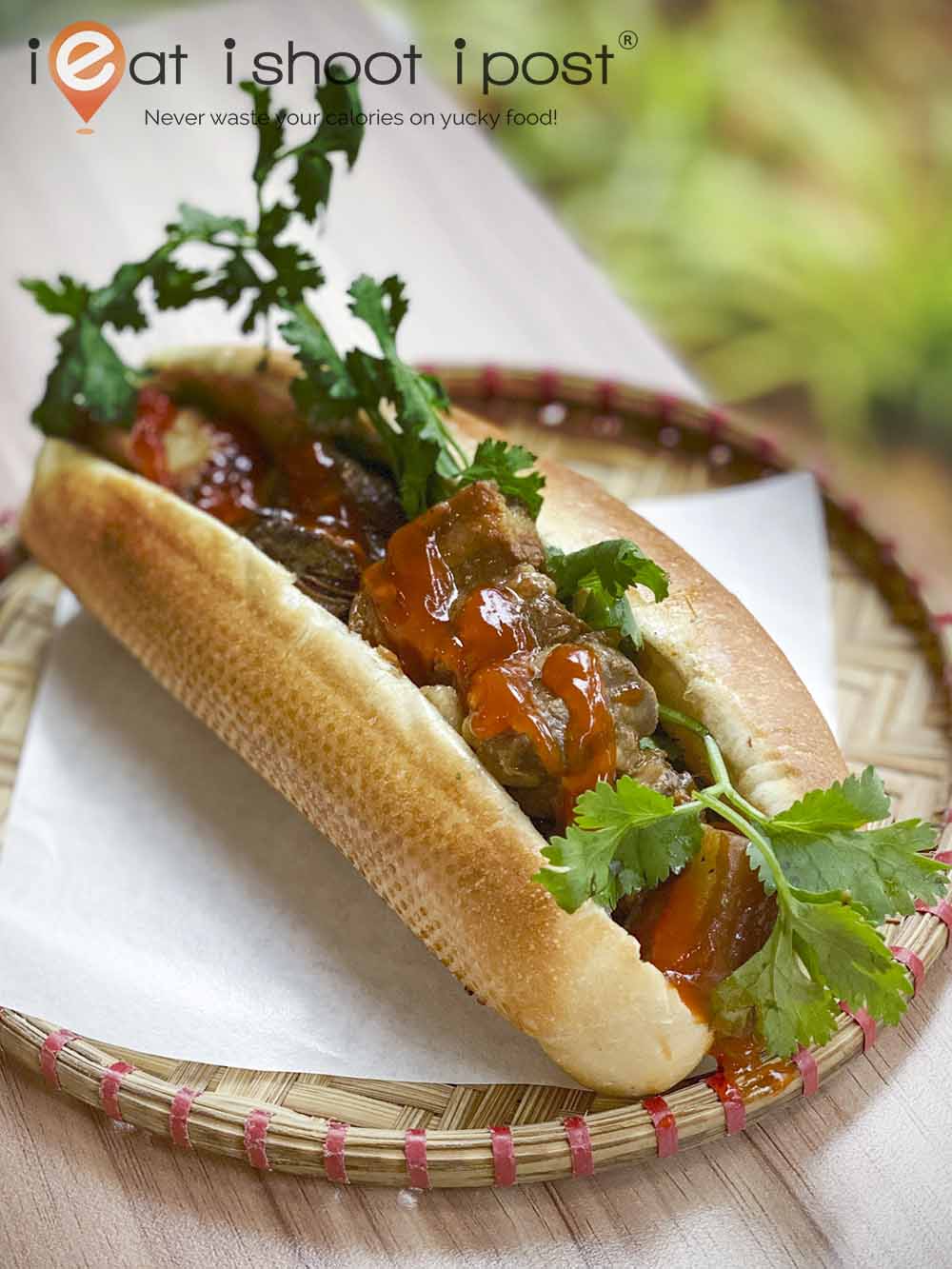 I was hesitant at first to order the Bahn Mi.  So far, I haven't come across any Bahn Mi in Singapore that looks like those I had in Hanoi.  However, when Janet told me that they actually hired their own pastry chef to make the baguettes, I thought I should give it a try.  I am glad I did.  Even though they didn't have the cold cuts and pate, I must say that their freshly baked baguettes are just about the best I have come across so far.  They are light and super crisp and a joy to eat.  The caramelized pork was nice and soft but I couldn't tell the difference between Vietnamese braised pork and our normal braised pork even though they were cooked in coconut water.  4.25/5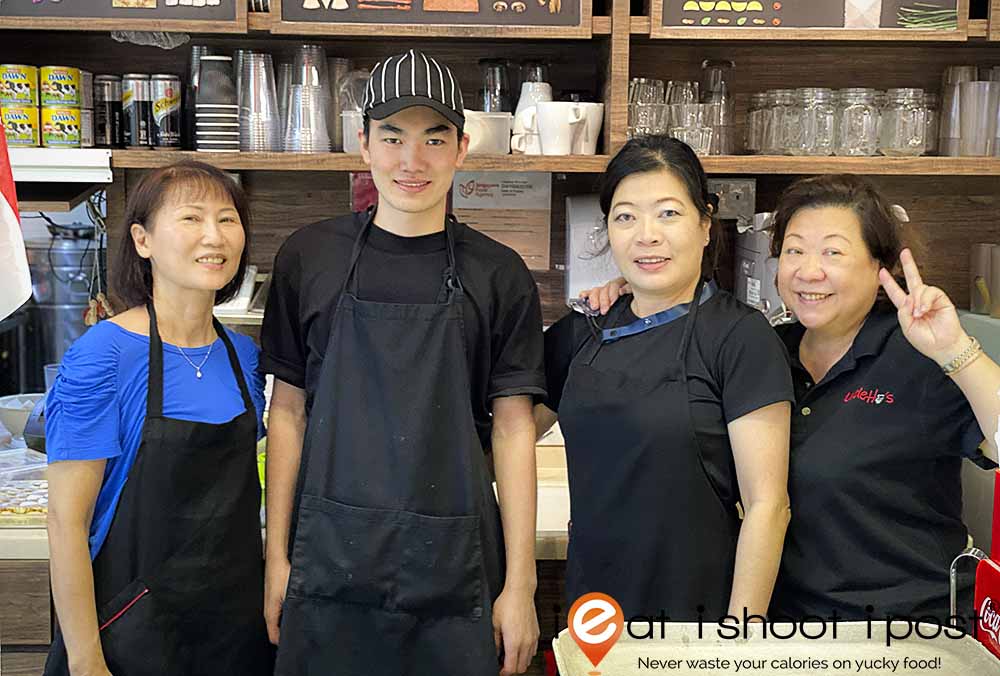 In case you are wondering, there isn't an Uncle Ho behind the counter. The place is run by Janet, a Singaporean who had spent some time in Vietnam.  The restaurant was named after Ho Chih Minh!  Aaaaah so!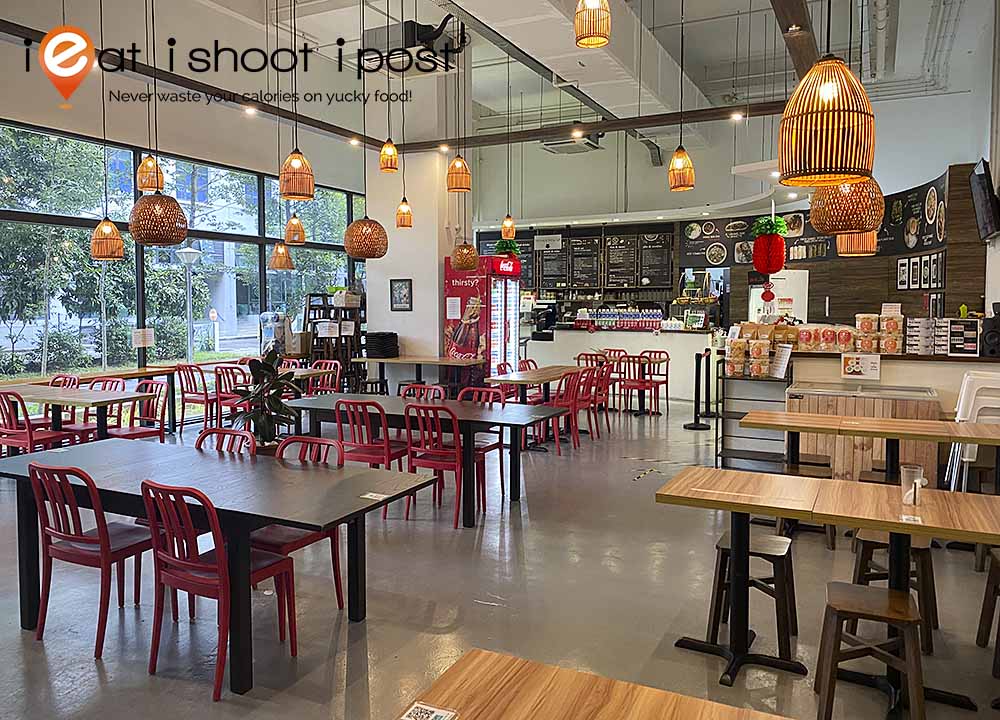 Conclusion
Very good Vietnamese food joint in the Southern part of Singapore.  The owner is so passionate about the food that she makes her own baguettes and especially imports special ingredients from overseas to ensure its authenticity!