We are always on the lookout for restaurants where you can order a variety of small plates which makes you feel like you are just having a few snacks instead of a formal meal. The Chinese have dim sum, the Spanish, their tapas and for the Japanese, it is the Izakaya.
The Izakaya concept has really taken off in Singapore with many local chefs infusing their own creativity to the traditional Japanese dishes.
iKO is one such restaurant that opened last year in the midst of the Covid pandemic as a higher-end modern Japanese restaurant but have since revised their menu such that instead of $80-$90 per head (without drinks), the average bill now works out to be around $40-$50 per pax.
What you can expect at iKO are a range of Izakaya dishes which have been given a modern and, one can say, Singaporean twist. We found the food to be quite delicious and creative.  There are, of course, some hits and misses, but overall, we found ourselves surprised and sometimes delighted by some of the unique flavour combinations.
Snacks, starters and raw dishes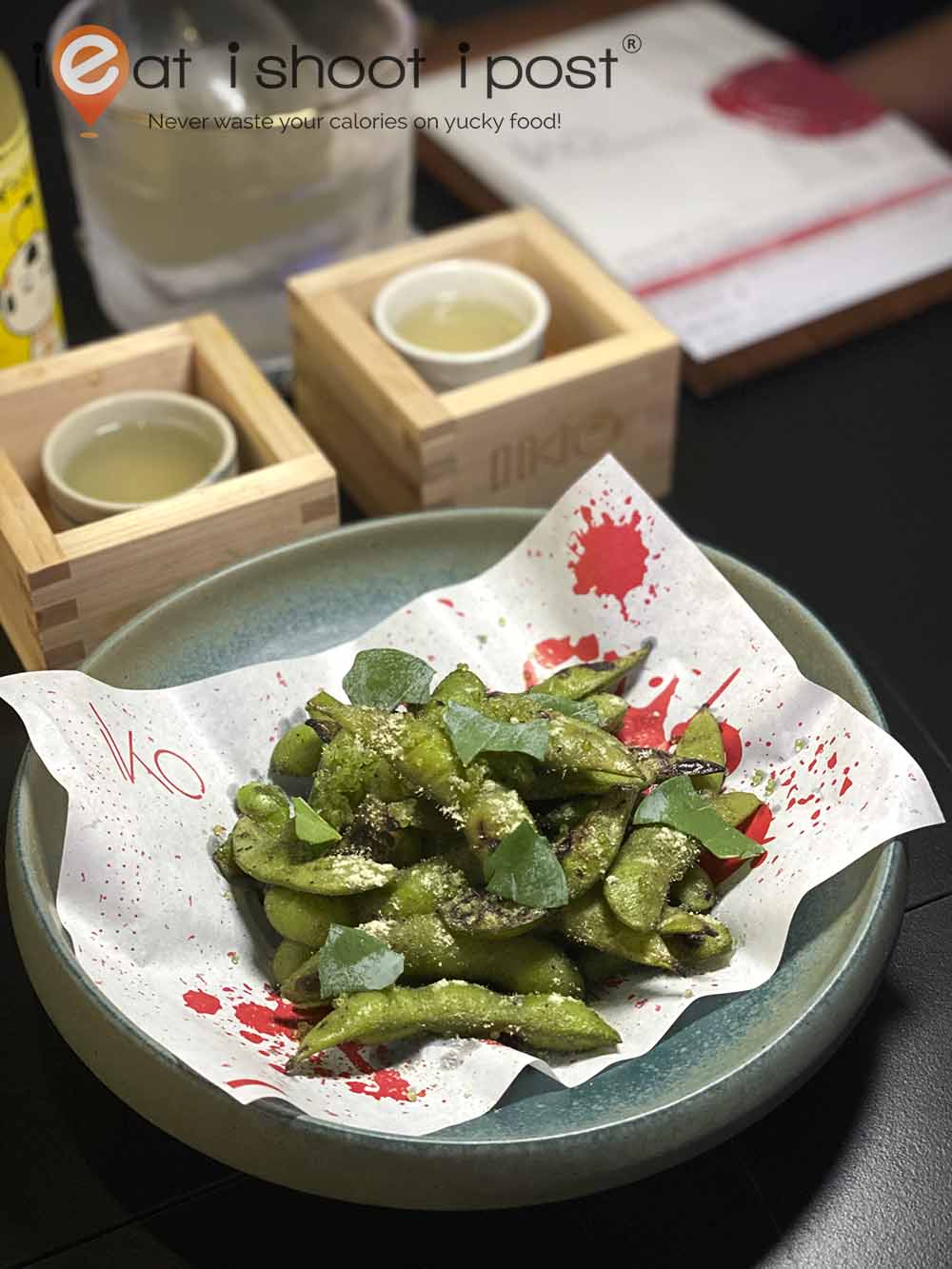 The charred Edamame served with oyster leaf and wasabi powder provided a great introduction to what to expect for the rest of the evening. The smokey aroma achieved by grilling the pods over binchotan added an extra dimension to the edamame which is usually just steamed. Its great with your drinks. 4.25/5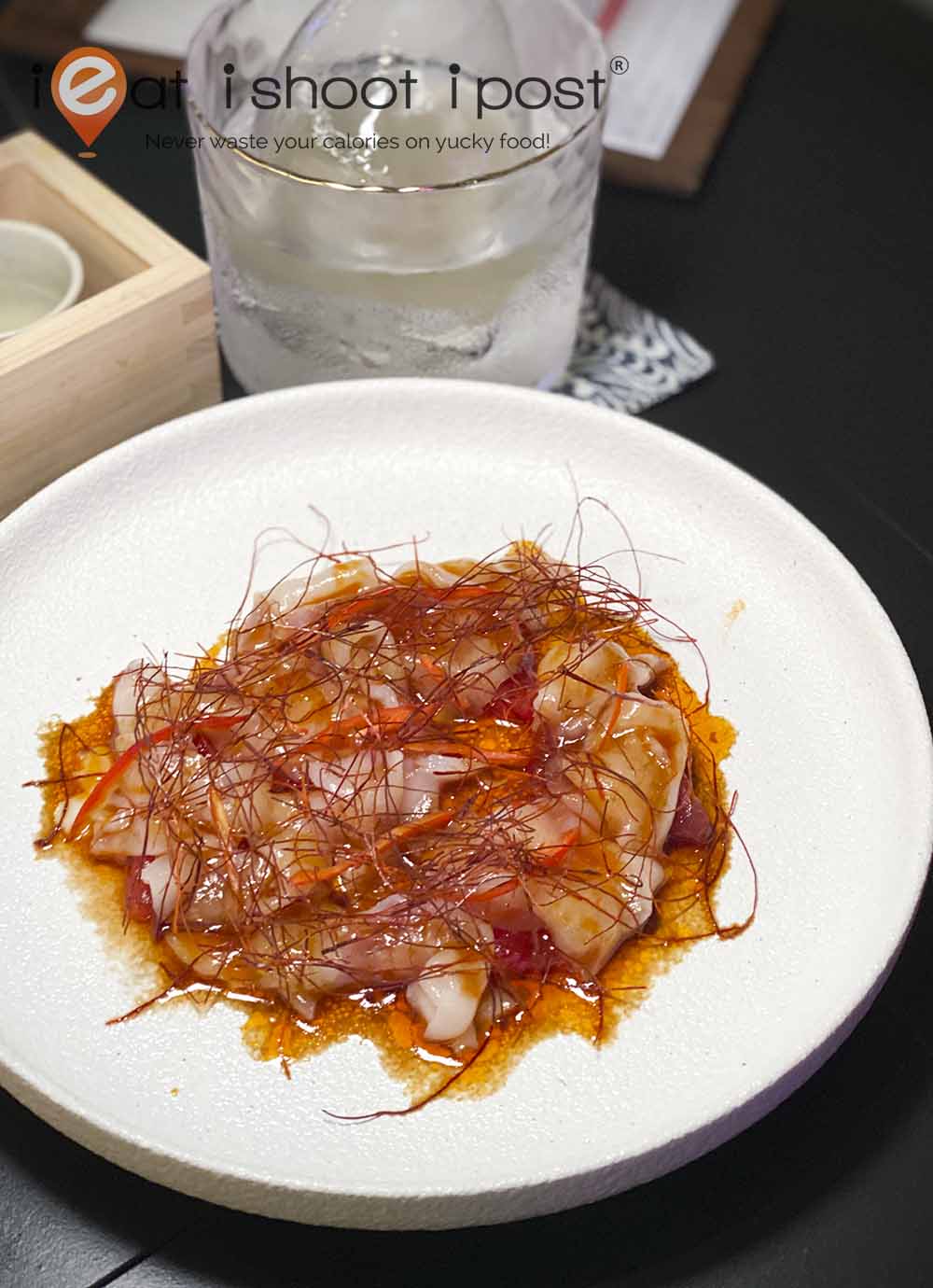 Another taster dish is the Scallop where you get slivers of hotate on fresh watermelon that has been soaked in gin, lemongrass and topped with chilli strands. The sauce was delicious but was slightly too strong for the delicate hotate.  The watermelon, however was a refreshing accompaniment. 3.75/5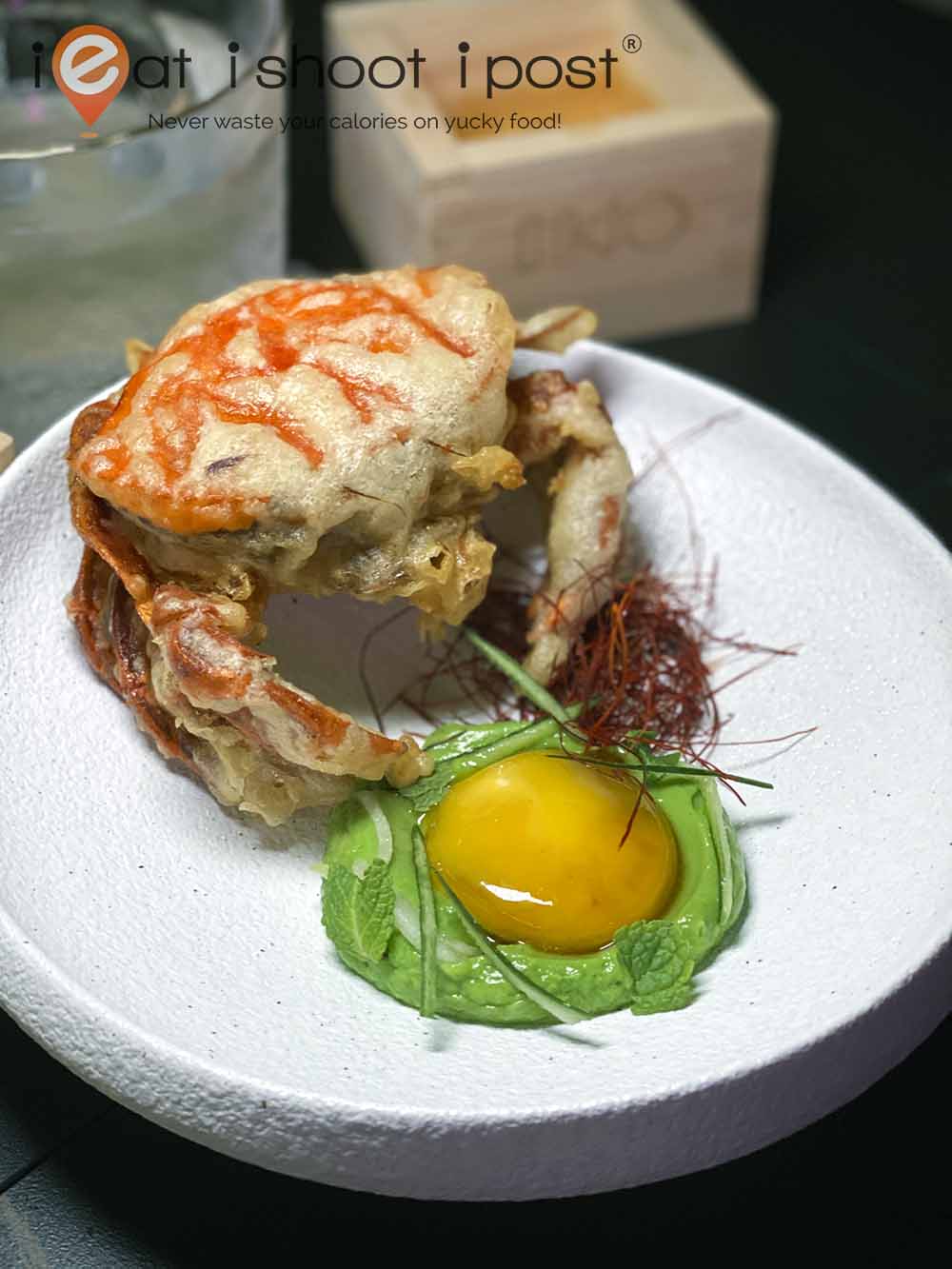 This is not just a deep-fried soft-shell crab but one that has been stuffed with mozzarella cheese and crab meat and accompanied with soy cured egg yolk nestled on a bed of avocado puree. The crispy crab went really well with the mint-scented avocado puree but we didn't really need the soy cured egg which made the dish unnecessarily rich.  (It did look really nice on the plate, though) 4/5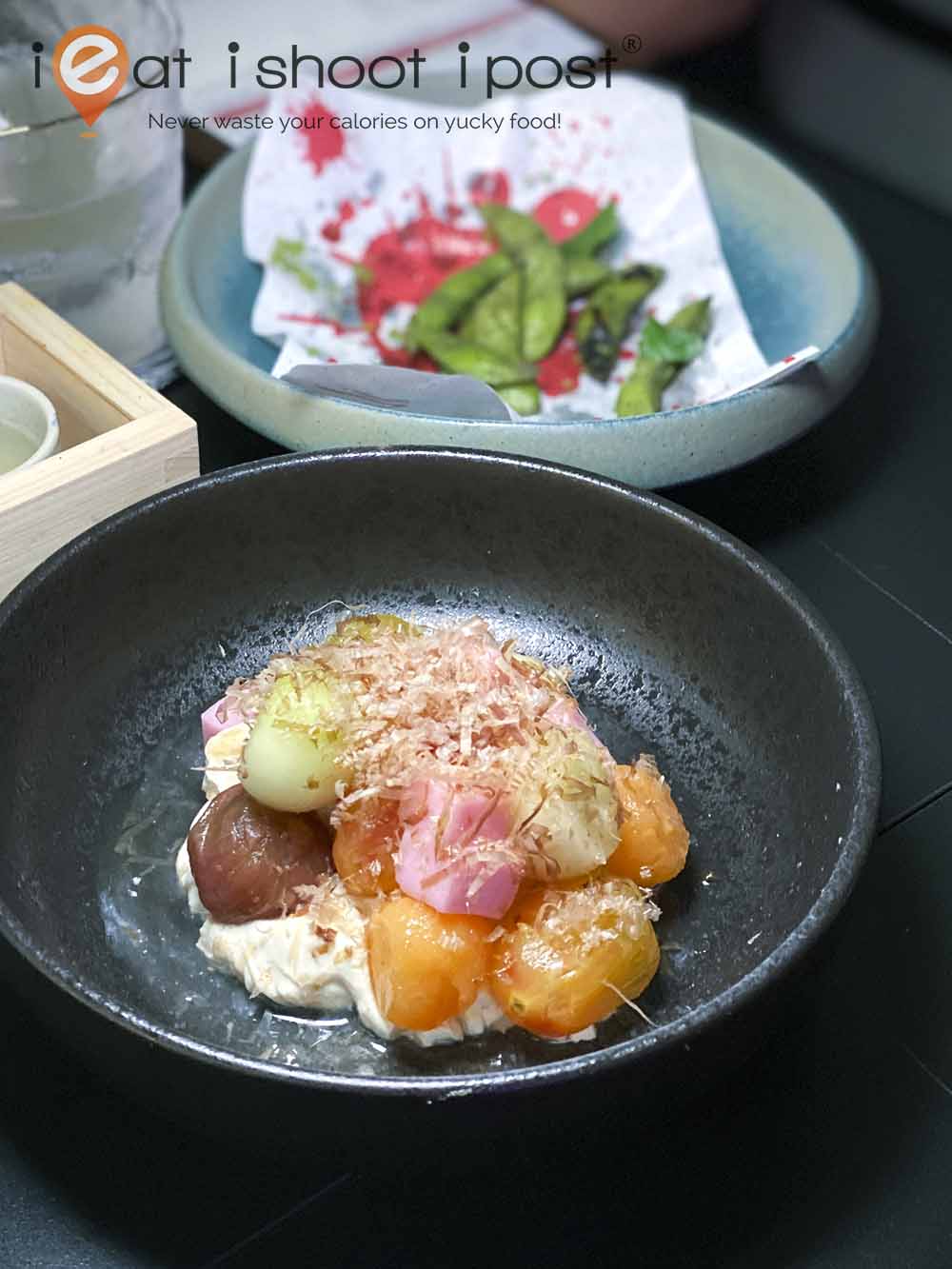 This was one of the misses in my opinion. We were a little excited when we saw "Heirloom Tomatoes" on the menu because we just love how sweet these tomatoes can be.  However, the dish really failed to bring out the sweetness of the tomatoes. The cream cheese dressing was a little too heavy and soaking the tomatoes in dashi muted their natural tanginess.  3/5
Main Dishes – Sumibi-yaki
Not sure why they named this dish smoked tuna when it is really a seafood pasta. Nonetheless, it was a delicious pasta dish with a creamy sauce, topped with bottarga (cured mullet roe) shavings, ikura, tobiko and of course smoked tuna and firefly squid. The pasta had a nice bite but I'm not sure the cavity in the bucatini did much to deliver seafood flavoured sauce to each bite. 4/5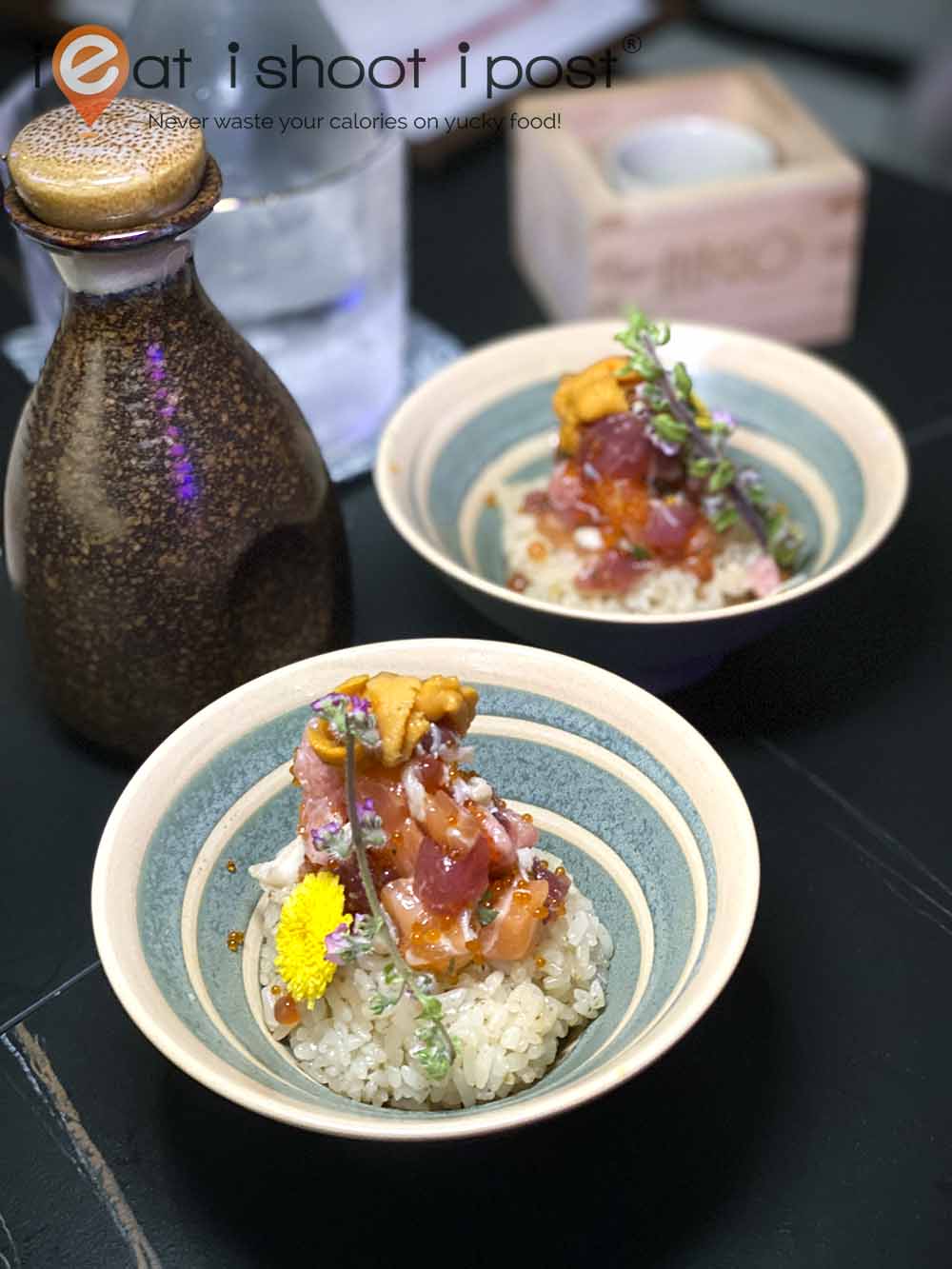 On the menu is a list of "not your ordinary rice bowls" that ranges from $15 for a classic rice bowl with just natto (fermented soy beans), okra (lady's fingers) and cured egg yolk to a $42 luxury rice bowl of all the good stuff like otoro, maguro, salmon, ikura, tobiko, snow crab and uni. The rice bowls also come with a little flask of Yuzu tonkotsu broth that you can add half way and have it like a chazuke (tea rice). The broth was quite rich and velvety but they were a little too generous with the Yuzu making the broth a little too tangy for my liking. A little pricey but unctuously delicious. 4/5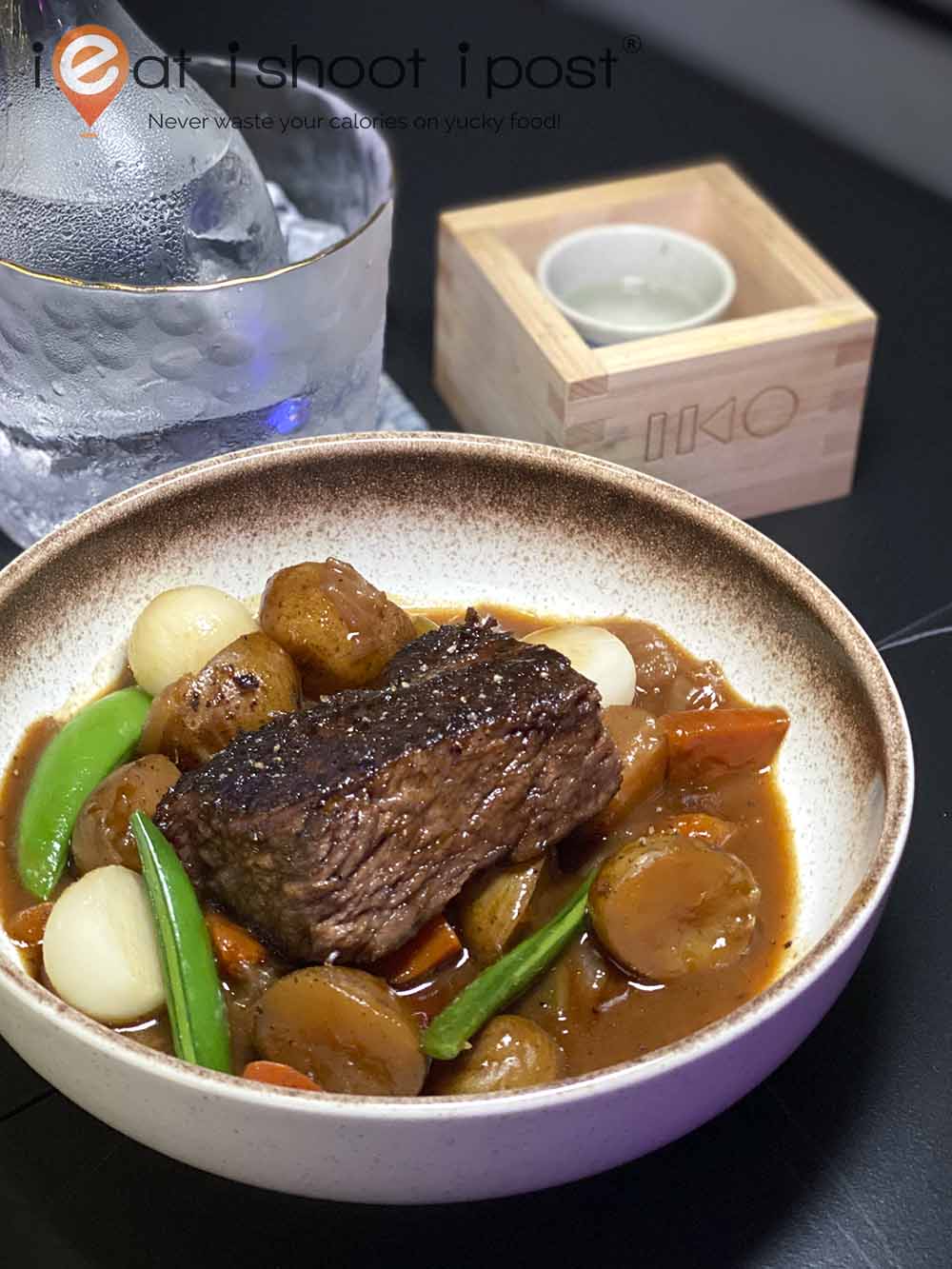 One thing they kept on the menu is their Augus Short Rib that has been slow cooked over 36 hours. The meat was fork tender and I like how it is served in a Japanese curry sauce with baby turnip and other root vegetables. It makes for a meal in itself. While it is a labour of love, I felt that the sous vide technique resulted in a piece of meat which, though tender, failed to bring out the beefiness of the meat.  Roasting it in the oven for 3 hours would probably yield the same tenderness but with a more robust flavour. 4.25/5
Drinks
We're not big drinkers but did have a taste of their Miyakanbai Sparkling Yuzu sake ($38, 330ml) which was sweet, bubbly and quite tangy and the Mizubasho Junmai Ginjo ($42, 330ml) that's a dry +3 sake with floral scents.  They carry mainly artisanal sakes sourced directly from small batch, boutique breweries in Japan so you won't find your Dassais here.
The New Team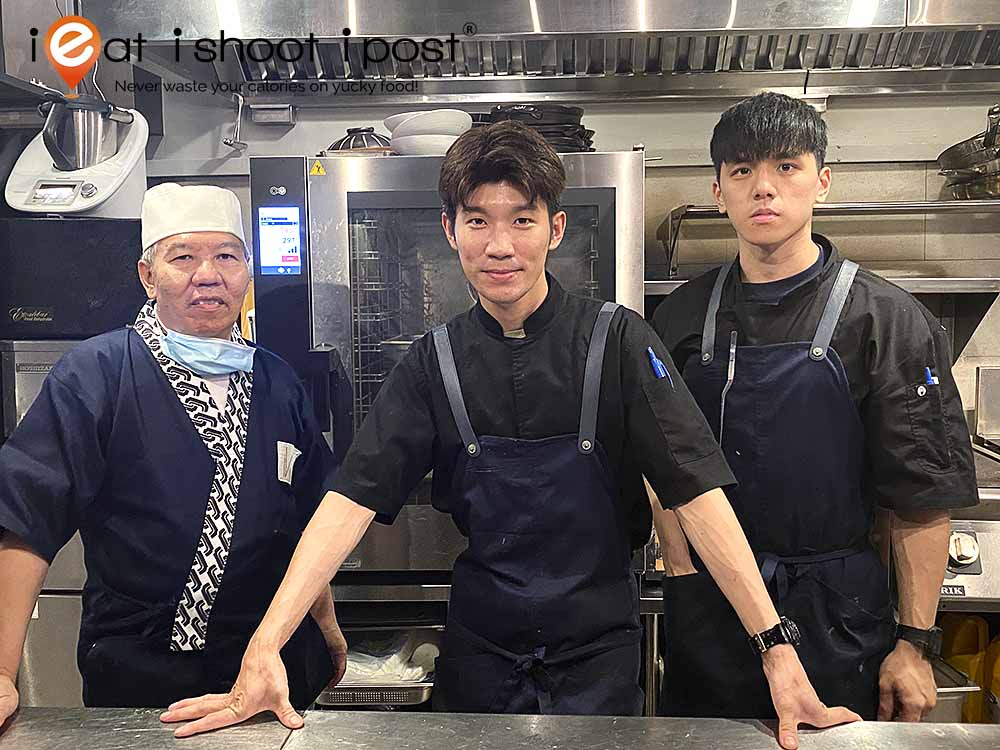 There is a completely new team on board iKO now.  The kitchen is headed by Chef Peter and his team while the menu is done under the consultation of Chef Dylan Ong of highly acclaimed The Masses restaurant.
Vibrant Ambience
The thing you want in an Izakaya is a vibrant atmosphere where the music is loud enough so you can't really hear conversations from the next table but is not too loud that you have to shout across the table. We like the vibe of the place and the owners seem to have a penchant for 80s music for some reason. Perhaps it's just that night when we're there.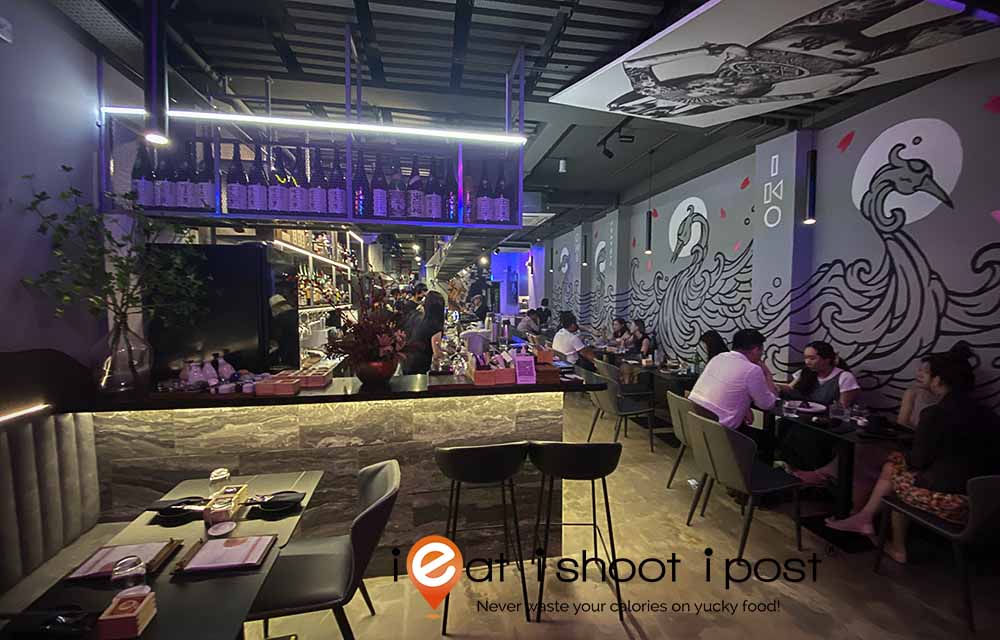 Conclusion:
IKO is the kind of place you go when you are feeling a little adventurous and want to experience something new. We like the small plate concept and found the dishes quite creative. There were some hits and misses but we left with the feeling that it is worth coming back again to try the other things on the menu.
Disclosure: this was part of a media review and like with all our posts, opinions expressed are of our own.