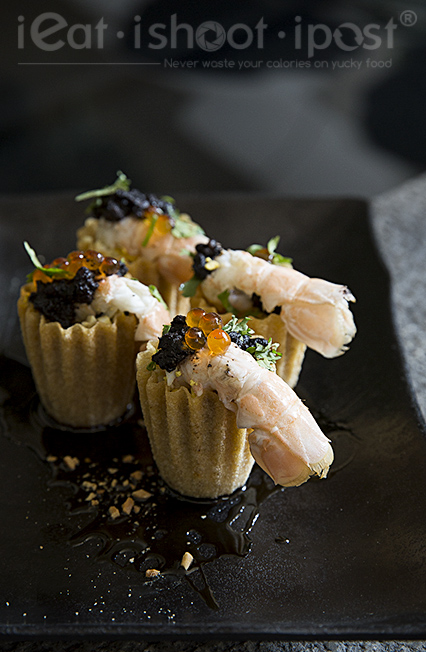 Kueh Pai Tee with Langoustines and Nonya Caviar
Every year at our Ultimate Hawker Fest, we invite some of Singapore's most famous Celebrity Chefs to come up with their versions of Singapore's most iconic dishes. Instead of pitting these chefs against the hawkers, they come alongside them to help support the our Charity event.
I must admit that it is much easier working with the Chefs than with the hawkers because they know exactly what I am asking for and they are used to working with excellent ingredients. Not only that, they are used to catering for large crowds and come with their own retinue of chefs! It's such a bonus having them at the Ultimate Hawker Fest!
This year we are glad to have Chef Paul Then from Orchard Hotel join us at the Ultimate Hawker Fest. Chef Paul's specialty is in Peranakan cuisine and he is in charge of the new Peranakan Buffet spread at Orchard Cafe.
Chef Paul will be showcasing two dishes which will be sold together in a set. The first is his version of the Ultimate Kueh Pai Tee where he will be stuffing the cups with a layer of his excellent "Nonya Caviar" ie Buah Keluak which has been fried with minced pork and spices then a layer of stewed turnips, topped with a peeled langoustine and then garnished with another dollop of Nonya Caviar and finished with a glorious globules of Ikura!
Chef will pair this with his famous Durian Pengat which he created from his days at Merchant Court Hotel. Unlike traditional Durian Pengat which is cooked with coconut milk, Chef Paul was the one who first made it using a cold technique which has since been replicated in many other places!

Sichuan Douhua's Organic Tau Huay and Soy Bean Milk Set
Also making his debut this year is Chef Zeng Feng of Sichuan Dou Hua restaurant which is famous for their silky smooth Tau Huay. For the Ultimate Hawker Fest, I have challenged Chef Zeng to go one step further to create for us a Tau Huay that is made from organically grown soy beans and well water (well as close as we can get to well water).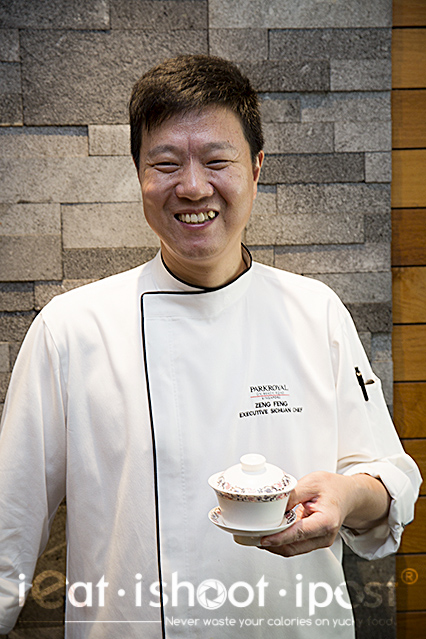 Chef Zeng Feng
Chef Zeng's Soy Bean set will come with a bowl of Tau Huay with bird's nest and wolfberries and a bowl of organic soy bean milk with gingko nuts and a "gold bar" which is his version of You Char Kway.
Our new chefs will be joined yet again by Celebrity Chef William Soh who will be showcasing his version of Oyster Omelette where he will be pairing Oysters and Scallops! It should rightly be called Oyster Scallop Omelette!
We also welcome back Celebrity Chef Eric Teo whose Boston Lobster Laksa was first to sell out at last years Ultimate Hawker Fest! This year Chef Eric will be showcasing his Alaskan King Chilli Crabs with Jade noodles!
See you at the Ultimate Hawker Fest this Saturday!
Venue: Millenia Walk
Date: 19 Oct 2013
Coupons: $50 per booklet
Tickets on sale now at www.ultimatehawkerfest.sg/
You can also purchase tickets from:
(a) Millenia Walk Service Desk on level one. Millenia Walk is located at 9 Raffles Boulevard Singapore 039596 (Next to Promenade MRT station, Circle Line)
(b) TOUCH Community Services at 3615 Jalan Bukit Merah, 3rd Floor TOUCH Community Theatre, Singapore 159461 during office hours on weekdays from 10am -12 noon and 2.30pm – 4.30pm.