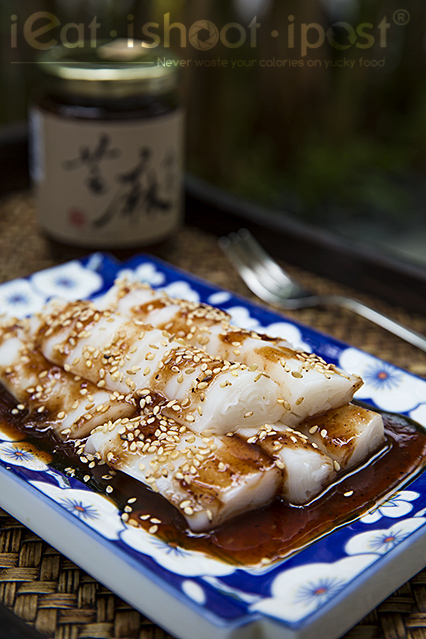 Ultimate Chee Cheong Fun from Kwong Woh Hin
Chee Cheong Fun is one of those things that most people take for granted. Not many people would rave about Chee Cheong Fun or make a special trip to a particular stall to eat it. Most of the times, it is one of those things which you order as an afterthought when you see it being offered when you are ordering your cup of kopi.
Well, at least that was what I used to think of Chee Cheong Fun. But not since I tasted the Chee Cheong Fun that I bought from Kwong Woh Hin. Now, Kwong Woh Hin is a sauce maker, so they don't actually sell Chee Cheong Fun. However, they do sell a boutique version of the sweet sauce which is excellent. This sweet sauce is not available on a commercial scale as it is too expensive ($3.60 for a small bottle), so it is sold only to foodies who are looking for something special. Although they don't make Chee Cheong Fun, you can also order the Chee Cheong Fun from them. They specially order their Chee Cheong Fun from a manufacturer who specially makes it for them using a higher rice to flour ratio for superior fragrance and texture. I have been trying to get Byron from Nanyang Cafe to sell this but it was just not viable for them as the cost is too high and consumers in general will not pay a premium for a dish which they feel should only cost $2 or less.
I am very happy to announce that Kwong Woh Hin will be showcasing their Chee Cheong Fun sauce at our Ultimate Hawker Fest! There will be a station where you will be able to eat this special Chee Cheong Fun and also bottles of their boutique range of sauces! They will also be selling Curry Chicken Chee Cheong Fun cooked with their Curry Chicken paste which will also be available for sale.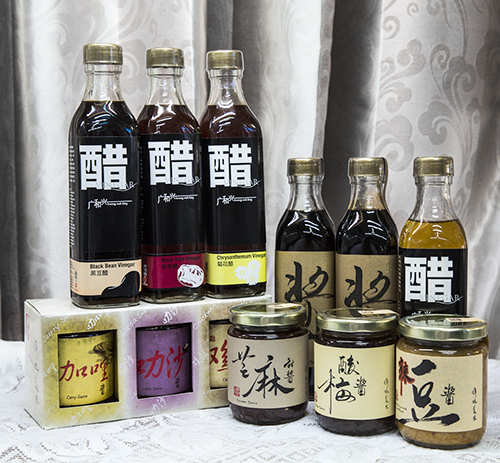 Kwong Woh Hin has also recently been making various fruit vinegars which have been fermented naturally as well as their naturally fermened light and dark soy sauces which I have written about before. These are all products which are only available when you visit their factory and not readily available. So do come down, have a taste and go home with some truly exceptional sauces!
This year we also welcome on board Suren of Heavens Putu Mayyam! Suren is responsible for the resurrection of handmade putu mayyam in Singapore and will be making his Putu Mayyam fresh at the Ultimate Hawker Fest and serving it with a scoop of Durian! I haven't had the chance to taste it just yet, but he tells me that it works!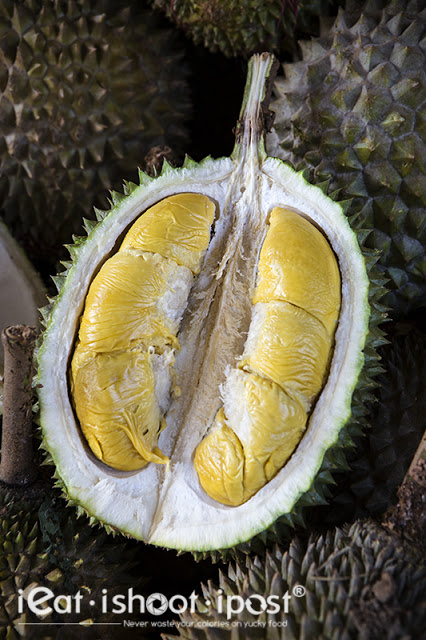 Mao Shan Wang by 818 Durian Trading
We also welcome 818 Durian trading who will be selling their Durian Puffs which are made from pure quality Mao Shan Wang durian without any additives. 818 Trading works on the principle that durians are best eaten fresh. So any unsold durians are opened at the end of the day and the flesh is removed and frozen. This flesh is then used to make the filling for the Durian puffs. So as you can see, this is the best way of eating Mao Shan Wang when it is not in season and at the same time not get your hands smelly!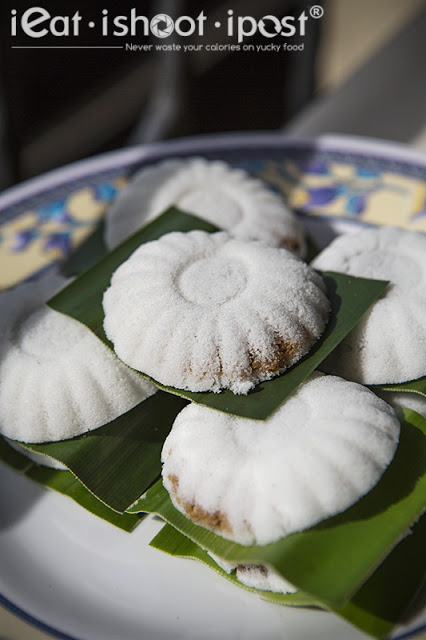 What's a Food Fare without that Kueh Tutu pushcart? We welcome back Tan's Tutu Kueh for our 2nd Ultimate Hawker Fest! Tan's Tutu Kueh is still being made from rice and peanuts which they still pound themselves at their stall in Havelock. For the Ultimate Hawker Fest, you can expect special flavours like Cheese and Chocolate which were a huge hit last year!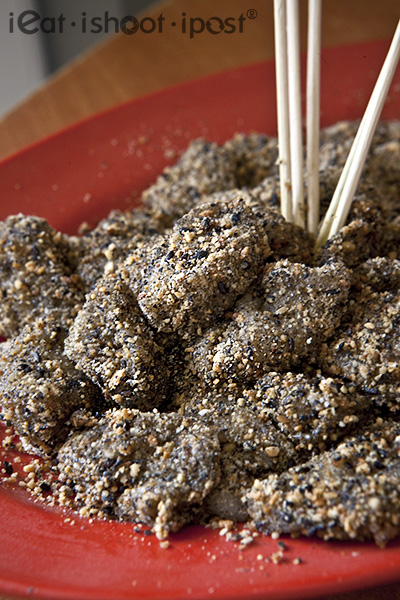 And to cap off our ultimate little snacks is none other then Singapore's last standing Muah Chee man. In case you don't know, he is the only hawker I know who is still making his Muah Chee by hand rather than buying it from the factory and the sublime texture of the Muah Chee has to be experienced to be believed!
The Ultimate Hawker Fest is only 2 weeks away so do get your tickets soon! Not only will you be able to experience hawker fare like you never experienced it before but you will also be contributing to a great cause! I look forward to seeing you there!
Venue: Millenia Walk
Date: 19 Oct 2013
Coupons: $50 per booklet
Tickets on sale now at www.ultimatehawkerfest.sg/
You can also purchase tickets from:
(a) Millenia Walk Service Desk on level one. Millenia Walk is located at 9 Raffles Boulevard Singapore 039596 (Next to Promenade MRT station, Circle Line)
(b) TOUCH Community Services at 3615 Jalan Bukit Merah, 3rd Floor TOUCH Community Theatre, Singapore 159461 during office hours on weekdays from 10am -12 noon and 2.30pm – 4.30pm.