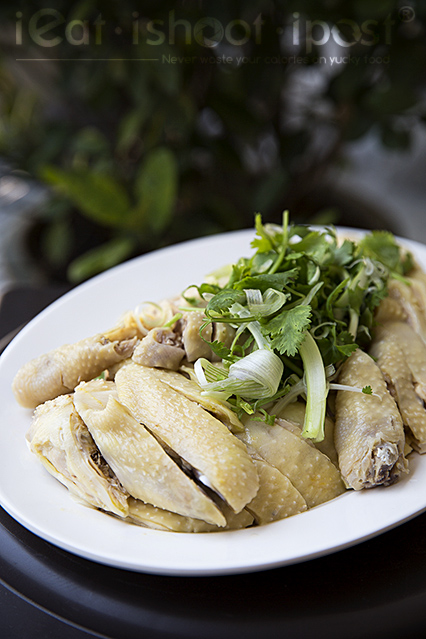 Anxin Chicken
This store has closed. Check out their other branches at Bedok and Maxwell Centre.
Singapore is the Chicken Rice capital of the world. It is something we are all proud of. But whenever I introduce chicken rice to my Japanese friends, I always feel a little embarrassed because I know that even our best Chicken Rice is limited by the quality of chicken that is available. If the Japanese were to do chicken rice, they would use specially bred chicken that live in bungalows, feed on caviar and get pedicure treatment for their claws. They would then sell us a plate for $50 and we would all be happily paying for it and going all "Oishii!!".
Singapore Chicken Rice on the other hand, uses white broilers that live in dormitories, feed on fast food and only see the light of day the day they get slaughtered. By that time, these battery hens get so fat that their legs can't even support their weight. You might be shocked to hear that even the hotels which are charging you $20+ for chicken rice are just using these chickens! For the full story of the lives of battery hens please see the article I wrote last year.
I have been trying to persuade our local chicken rice sellers to focus on using better chicken but to no avail. Most of them are worried about customers not wanting to pay the premium for better chickens. Even Tian Tian chicken rice is not confident selling them at their stall after last year's overwhelming response at the Ultimate Hawker Fest!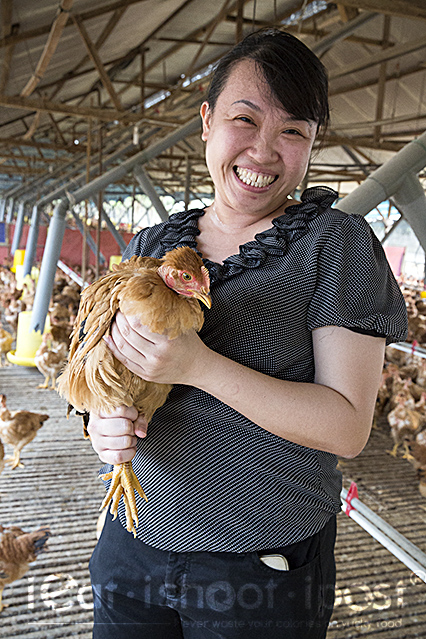 Ms Loi – 2nd Gen Tian Tian Chicken Rice hawker with corn fed Anxin Chickens
The Ultimate Hawker Fest is that one time of the year that you can eat a chicken rice which I can confidently showcase to my Japanese foodie friends. And this year's Chicken Rice is going to be even better than last year's!
This year's chicken rice takes about 3.5 months to make. The process started back in July when I called up Johnson of Toh Thye San farms to start growing a special batch of Anxin chickens for the Ultimate Hawker Fest. Unlike last year where we just used the chickens that were available, this year we are growing the chickens specially for the Ultimate Hawker Fest from day 1. They are fully corn fed naked neck chickens which will take 90 days (compared to 35 days for white broilers) to grow to the 2.2 kg as required by Tian Tian for their chicken rice.
That is just for the chicken meat! For the rice, we are going to be using extra Old Mother Hens from Anxin's breeding farms to make the stock to flavour the rice. Old Mother Hens meat is very tough and the skin is too rubbery for most Singaporeans but their meat is flavourful and sweet and is excellent for making a robust stock which is going to be used to cook the Anxin Chicken which adds even more flavour to the stock that is used for the rice. These Old Mother Hens are only possible because Anxin is willing to sponsor all the chickens! So, as you can see, we are sparing no expense in trying to create the Ultimate Chicken Rice!
I visited the Anxin Chicken Farms in JB recently to inspect the chickens and learnt a bit more about what makes Anxin Chickens special. They are called Anxin Chickens because An Xin (安心) in Chinese means "No worries". It is the company's goal to grow healthier chickens which are antibiotic residue and hormone free for the Singapore market.
Everyone knows that chicken comes from eggs. But where do the eggs come from? The eggs come from chickens of course, but not just any chickens. The naked neck chickens breeder chickens are specially imported from France every four months in order to produce the eggs that will hatch into chickens to be bred for the table. These breeders are air flown to Singapore as chicks and each chick alone costs RM60! They are then grown to be breeders and start laying eggs when they are 100 days old. There is a ratio of 10 hens to each cockeral in the breeding farms and the hens are expected to lay 2 – 3 eggs each week. Each hen can be expected to lay around 130 eggs by which time they become Old Mother Hens which are really tough but flavourful and great for making soup! Since bringing in chickens from France is an expensive procedure, some other farms use 2nd, 3rd, 4th generation chicks to become breeders. This is not a good practice as the chickens lose some of their favorable characteristics!
Once the eggs are laid, they are collected and transported to the hatchery where they are kept in an incubator for 21 days after which the eggs will hatch.
It is interesting to note that the chickens are already picked while they are still in the eggs. Odd shaped eggs are rejected as they produce odd shaped chickens! Once the chicks are hatched they are then transported to coups where they will grow for the next 90 days.
These chicken coops are exposed to natural sunlight and there is ample space for the chickens to run about. These conditions are vastly different from the white broiler farms which are crowded and the chickens are kept in the dark.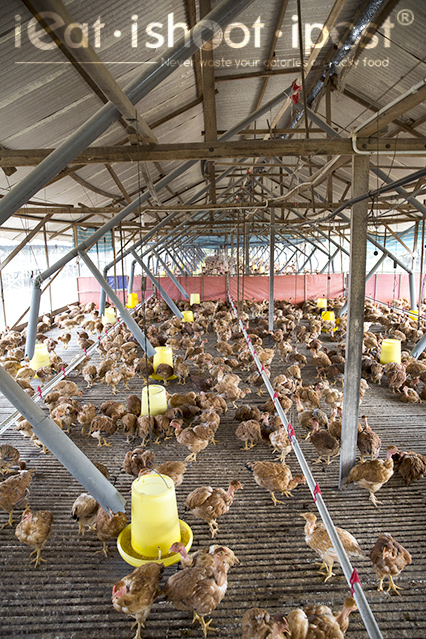 These photos show the actual chickens that we will be using for the Ultimate Hawker Fest. The normal Anxin chickens are fed a mix of corn and Soy meal. Soy meal is higher in protein and the chickens put on weight quicker with the addition of soy meal. However, just for the Ulitmate Hawker Fest, we are feeding them exclusively with cornmeal which means the chicken will have more time to grow and develop flavour!
Fully corn fed chickens will also have that natural yellow colour skin which the chickens that we used to eat in the past all had. The meat will have a little more bite and you will be able to taste a natural "chicken" flavour unlike the white broilers which tend to be just vehicles for flavour. With these chickens you don't have to season them with anything and they will taste good.
So do come to the Ultimate Hawker Fest and see what you think about these specially bred chickens and the rice that is cooked with extra Old Mother Hens! See you there!
Venue: Millenia Walk
Date: 19 Oct 2013
Coupons: $50 per booklet
Tickets on sale now at www.ultimatehawkerfest.sg/
You can also purchase tickets from:
(a) Millenia Walk Service Desk on level one. Millenia Walk is located at 9 Raffles Boulevard Singapore 039596 (Next to Promenade MRT station, Circle Line)
(b) TOUCH Community Services at 3615 Jalan Bukit Merah, 3rd Floor TOUCH Community Theatre, Singapore 159461 during office hours on weekdays from 10am -12 noon and 2.30pm – 4.30pm.


For more info about Toh Thye San Farms and Anxin Chickens, please visit their website.