With smart, byron and iwatch_ueat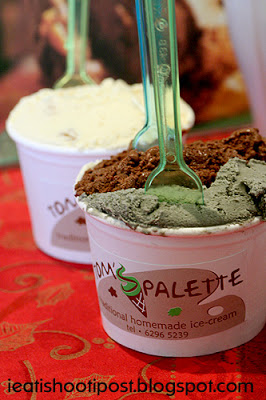 I seldom rave about dessets. But I am going to rave about the ice cream here because its been awhile since I was bowled over by an ice cream. I always liked small eateries where the people are really passionate about their food. When ice cream is made with such passion the difference is an indelible quality that manifests in tongue tingling delight.
My favourite flavour is the Black Sesame Seed Ice cream. Now, I have been going around looking for the ultimate Black Sesame Paste in Singapore (hot soup version) and have so far been dissappointed. All of them lacked that rich nutty savoury flavour I am looking for. Imagine my delight when I found this taste sensation in an Ice Cream instead! The rich and smooth flavour of the black sesame hits the back of the tongue and lingers for quite awhile after you swallow the ice cream. I was so taken by it that I bought a tub home (first time I bought ice cream for years!). Eunice (the passionate ice cream chef) shared with us that they use a sesame paste rather then powder to make the ice cream and they perfected the receipe only after many trials.
The other flavour that I really enjoyed was the chocolate. No choc chips, Belgian Chocolate or Oreo cookies, simply Chocolate. The Chocolate here is different. It's not overly creamy, but it is a silky smooth and luxurious blend of semi sweet chocolate without the bitterness. Now, we've tasted chocolate from Haagen Daaz, Awfully Chocolate, Ben and Jerry's, Swensen's but I must say that this one has left the most lasting impression for me. Even iwatch_ueat our Godiva Queen, gave it her stamp of approval.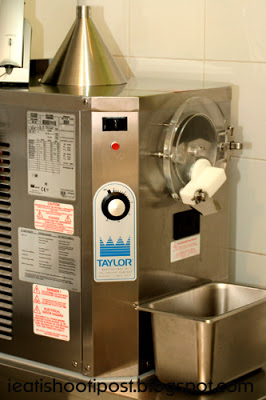 In case you are wondering how to make ice cream at home. Eunice was kind enough to give us a overview of the process. First boil the milk, eggs and sugar to make a custard. Put in the fridge to cool and then add the cream and custard into the Ice Cream churner (shown above) and add your favourite flavours. Sound simple doesn't it? For $2.80 a cup (completely packed not a scoop) I will just sit back and enjoy the fruits of Eunice's labour.
Conclusion
Black Sesame is my absolute favourite. Liverpool swears by the Apple Pie, iwatch_ueat would die for the chocolate, and even smart who needs to cut down on sugar couldn't resist taking more then a few mouthful. Enough said. 4.5/5