With smart, iwatch_ueat and liverpool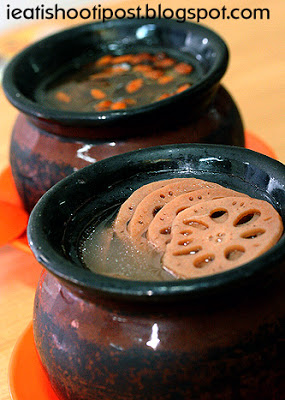 Now this is an excellent and rather unexpected discovery! Makanuncle smart was wondering around this area when he spied a soup shop which "Bakes" its soup in a Traditional Chinese Soup Urn.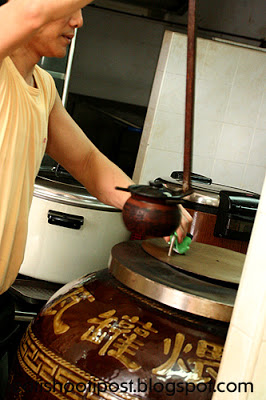 This is the first time I have come across this style of cooking soup. Most of the soups you find in the food courts are steamed soup which works on the same principal as double boil soup in that boiled water or steam is used to slow cook the soup so that it would not evaporate and the goodness of the ingredients are slowly extracted from the soup. In this case, the soup is brewed by dry heat generated by charcoal lying at the bottom of the urn. So the temperature is higher then the boiling point of water, in which case the water inside the little clay pots would evaporate. The trick however, is to have a good seal on the clay pots in order to keep all the moisture in the soup. This thing about charcoal still puzzles me. I understand how chicken wings roasted over charcoal can taste better, but how can, say, hokkien mee cooked in a wok over a charcoal fire taste better. Surely the only advantage is the gentler heat, there is no way the charcoal can somehow impart flavour to the Hokkien Mee? Nonetheless, somehow by putting a claypot of soup into the Urn with charcoal the soup did taste richer, or is it just my imagination?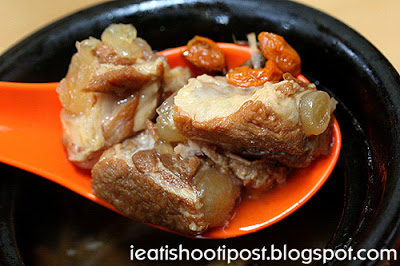 We tried 2 of the soups on offer. This one is the Pork Rib Mushroom Soup which was very very good. For $3.50 you get a whole bowl full of pork soft bones cooked till super soft, mushrooms and other liao (ingredients). 4.5/5 We also tried the Pork Rib Lotus Root Soup which was good but not as shiok as the first one. Again they were more than generous with the lien Ou (Lotus Root) 4/5
Conclusion
Ain't nothing better then a piping hot bowl of soup on a cold rainy day. And even better when you get a whole pot full of ingredients for $3.50. I am definitely going back next week to try their signature Pig Tail soup which was sold out that day.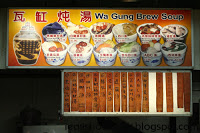 Acknowledgement: Tiantianchi for providing some information on the soup urns