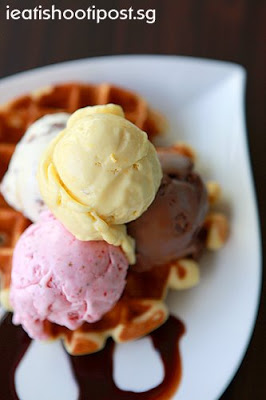 Mao Shan Wang, Strawberry, Rum n Raisin, Chocolate on waffle
You can't help but wonder what kind of a crazy guy would name an ice cream parlour after a cow's mammary glands. Yes, I can see the anatomical connection, but you would suspect that either the fella's a little kinky or he had watched the outrageous "Man vs Cow" fight scene from Kung Pow a few times too many. (Warning, some readers might find the following video disturbing).


Whatever the case may be, you can trust that the same brain, which is probably a few neurons short of a full circuit, to come up with quite a few crazy ice cream flavours. Yes, home grown ice cream parlours all try to incorporate new flavours into their ice cream but it takes someone who needs a tuning job to think about using pure strawberries to come up with a strawberry ice cream which is actually more tart then sweet. Quite refreshing and unlike any other strawberry ice creams I have tasted before. 4/5
Then of course there is the signature Mao Shan Wang ice cream which uses real Mao Shan Wang rather then the generic durians that most other places use. Mao Shan Wang durians as you know, is not cheap but it gives the ice cream a rich yellow colour and a flavour that has people willing to top dollar for. I am still a believer in eating durians neat, but if you are the type who likes to eat durian without having to savour your fingers later, then the Mao Shan Wang ice cream would probably be your next best alternative. 4.25/5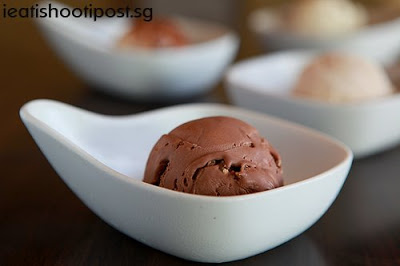 Single Scoop of Hazel's Nuts
The one flavour I really enjoyed that day was a new one. "Hazel's Nuts" which is made from Hazel nut chocolate and wafers and tastes like a Nutella ice cream with crushed Ferraro Roche. That just about best describes it. I am always partial to the nutty flavour of Nutella so this one really connected with me. 4.5/5 It was even better when paired with their Rum and Raisin ice cream although I would have preferred the raisins plump and whole rather then chopped. However, if you like your Rum, you will not be dissappointed with this one. Please remember, if you drink, don't drive. 4.25/5.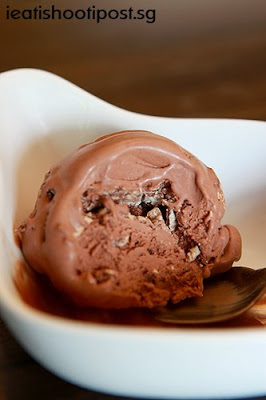 Udders has positioned itself as an ice cream parlour for adults. What that means is that their ice cream is less sweet, has more alcohol and more pure flavours. David, the owner, also tells me that they try to cut down on the cream but have just enough so as not to compromise on the texture. Yes David, it's a good effort but ice cream is still ice cream though it is comforting to think that you are eating a "healthier" version.
Conclusion
Quaint, quirky, quintessentially and Udderly good ice cream that would satisfy any ice cream connoisseur. If you like your ice cream spiked with alcohol, you will not be dissappointed and best of all it isn't going to burn a big hole in your pocket.
*The prices range from Connoisseur $5.30, Premium $3.90, Classic $3.20, Waffle $2.50
Special for ieatishootipost readers
Print out this post and present it to Udders and get:
One free scoop of ice cream with every 4 scoops purchased.
Please read the terms and conditions.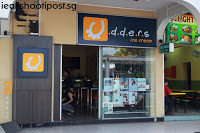 Terms and conditions
1. Free scoop of ice cream can be chosen from the classic or premium category (worth up to $3.90).
2. Only valid from Mondays to Thursdays, excluding Public Holidays.
3. Valid at all 3 udders outlets till 31 August 2009.
4. Valid only when presented with one page of this ieatishootipost review, which will be retained by our staff for record purposes.
5. The free scoop must be redeemed immediately.
6. The 4 scoops purchased must be in a single receipt.
7. Take-away pints are excluded from this promotion.
8. Not valid with any other offers, discounts or promotions.