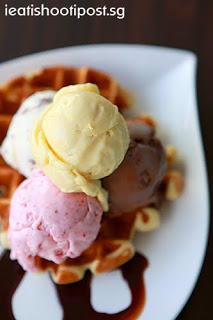 Due to overwhelming response, we have closed registration for this event. If you like to be on the waiting list, you can still write in. Sorry folks.
Registration for the Extreme Ice Cream Encounter is now opened!
Rather than doing just an ice cream buffet, Chief Milkman, David, will introduce to us the basics of Ice Cream making and also the trials and tribulations of making each of the Ice Cream flavours. So during the event you will get to appreciate the stories behind some of the signature ice creams and of course get to taste the myriad of ice cream flavours.

We have also concocted a very special surprise flavour for the session. There is a reason that I call this the "Extreme" Ice Cream Encounter because we are experimenting with flavours which are on the brink of being sadistic. So get ready to have your hairs stand on end.
Here are the registration details:
Venue: Udders (Kilat Outlet)
Address: 17 Lorong Kilat, #01-08 Kilat Court, Singapore 598139
Date: 6 Sep 2009 (Sunday)
Time: 2pm to 4pm
Limit to 4 pax per registrant
To register, please write to [email protected]
Subject: Udders
Body: Name, Nickname, HP no., No. of pax
Organizer for the event: Holybro
Now, just a word about your email. We do appreciate your greetings. However, in gmail, we can actually capture all the information we need without opening your email if the details are on the first line of the text. So please put all the pertinent info on the first line and the rest of the email following it. Thanks!
If you like to be sent an invite for the next makan session, do join our facebook group by clicking here.