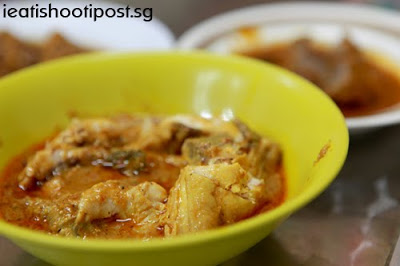 This next post is for those who enjoy a simple meal in a simple setting that is simply shiok.
This little shop located in the 2nd floor of Orchard Plaza will bring you back to a earlier simpler age. Ok, ok, some of you might be wondering what I am doing at Orchard Plaza. Well, I was there to meet up with a tour agency about the possibility of organizing a food tour to Malaysia. And I was there during lunch time. So please don't get any ideas. But you know, just like Geylang, these sort of unsavoury places do tend to have pretty savoury food.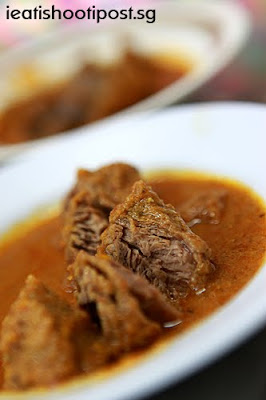 This sort of Nasi Padang suit people like myself who don't really like the ultra spicy food. That is to say that my tongue has not been seasoned till its like old leather unlike those who love to torture themselves with chilli padi. Yes, it is a fact that eating really hot chilli is a soft form of masochism where one is subjected first ot intolerable pain so that it would induce the release of endorphins which bring relief and pleasure. Its like undergoing a 48 hour fast so that you can really enjoy a 4000 calorie A5 grade Wagyu steak — well sort of.
OK, I am circum-bushing (beating around the bush) so let's get to the point I am trying to make. This Nasi Padang is run by a Chinese family, so the curries are spicy but not hot. The dishes are cooked by an indonesian lady, so they are authentic, but they tone down the chilli so you get flavour without too much heat. I know this may not please some, but for me it is just nice.
I was actually here to eat the Ayam Korma but unfortunately, they did not have it that day. So I ended up eating the Rendang. Three different Rendangs as a matter of fact. The chicken, beef and mutton. All were good. I particularly liked the Beef Rendang. It had a nice citrussy fragrance which is due to the use of lemon grass and tumeric leaves. 4.25/5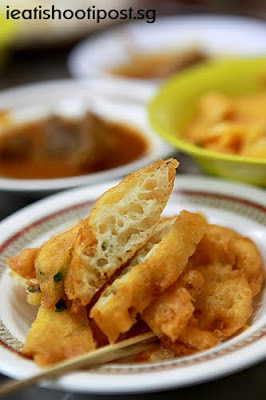 The fritters were good but nothing to shout. They add a nice contrast to the curry very much like You Char Kuay with Tau Suan. 3.5/5

Conclusion
It's simple, straightforward but strangely satisfying. This is not something you would climb up the mountaintop to tell the world about, but I really had a nice meal there and won't mind going back again to check out the Ayam Korma.