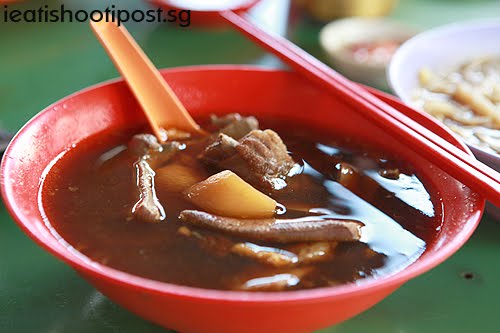 If you are looking for a interesting twist to the usual prawn mee, then this is it.
SCS Butter has been telling me about this unique stall for a while now. Basically this is a Prawn Mee where the emphasis is more on the pork than the prawn. As you know, most Prawn noodle places sell Prawn Noodles where the pork ribs are thrown in because they are also used to cook the soup. With this place, the Pig takes Pole Position and the Prawns are a Pathetic Passerby.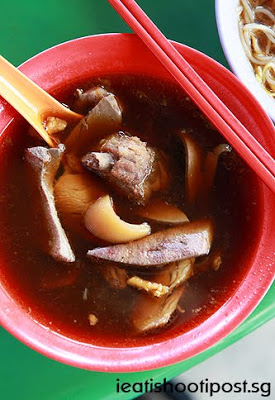 BUT, this is not Bak Kut Teh either. The taste is somewhat like Prawn Mee but it is not really. It is simply Pork Ribs Prawn Mee as is stated by their signboard.
The soup is robust and quite tasty but I am sort of unable to compare it with any other prawn noodles since it is so unique. I quite like it but not enough to want to eat it again soon. 4/5
Conclusion
You might like to try this if you are looking for a new taste. It is quite good, but for me I think I still prefer to have more of that that savoury prawn flavour in my Prawn Mee Soup.