With Big MOG and Power|MOG
Please note the restaurant has shifted to Kaki Bukit


Single scoop Vanilla with Warm Chocolate Cake $7.80++
For Superman, it was Kryptonite. For Samson it was Delilah. Yes, every man has a weakness, something that would make him crumble to his knees. For the Big MOG, that happens to be ice cream. (His wife can also have the same effect sometimes, but that is not relevant to this story.)
It just so happened that when the Big MOG visited Singapore this time round, I also got contacted by Seventh Heaven to review their "Adults Only" ice cream. I thought that this was an opportunity too good to miss!
You see, Seventh Heaven is the latest player in the growing homemade ice cream market. But rather than going the "Homemade = Low Fat, Low Sugar = Good for You" route, they have gone directly opposite and are offering a "No holds barred, Sinfully Creamy, Don't tell me what the Doctor told you, just eat first and suffer the consequences later" type ice cream. So I was really excited to see whether this would literally send the Big MOG to Seventh Heaven.



Chocolate Coffee Crunch Single Scoop $5.80++ (brandied cherry in shotglass not shown)
The lady behind this ultra sinful dessert turned out to be quite an unlikely candidate. Rather than someone who looked like she really enjoys eating lots of pastries and desserts, she turned out to be a rather petite ex-English lecturer from NUS. And the place this cafe is situated is just as unlikely, being tucked away in "no-man's land" at the Marketing Institute of Singapore (former Gan Eng Seng School) where there is hardly any human traffic.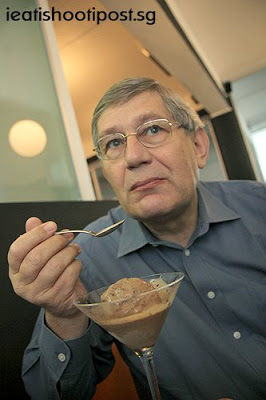 Big MOG in his moment of Epiphany
This ice cream really is for the true believers. There is no fancy sundaes here and you won't find them giving you a choice of toppings. The ice cream flavours are served as they are with just a wafer. Afterall, when so much effort has been put into each flavour of ice cream, it would be a waste to add anything else to it.
The one flavour that really stood out from the rest was the Chocolate Coffee Crunch which had hand pounded Arabica Coffee beans in chocolate ice cream made from Italian Amedei chocolate and Expresso. Big MOG was so ecstatic about it that he wanted to give it a 5/5 but but I had to moderate it a little. Having tasted the various homemade ice creams around town, I must say that this one is quite exceptional and coffee lovers will appreciate the pieces of crunchy coffee beans in the ice cream 4.5/5. Another one that I really enjoyed was the Chocolate and Scotch Whisky which is has a wonderous chocolate flavour and leaves that bit of Scotch Whisky aftertaste at the back of the palate. This one was my personal favourite. 4.5/5 If you like Kahlua, you should not miss out on that flavour as with all the ice cream here, they don't skimp on the amount of alcohol added, so the Kahlua taste really does hit home. 4.25/5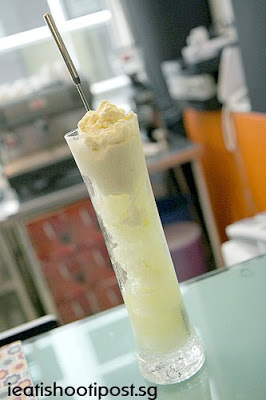 Lemon Granita
For those who like something a little lighter, you can try ordering the Lemon Granita which is essentially a hand crushed ice lemonade topped with their Vanilla ice cream which is made from a combination of four different Vanilla pods. When you visit, you should ask Dr Sein Chan, Phd herself why she went to so much effort to make a Vanilla ice cream. To me it was a good Vanilla Ice Cream but I don't think I could appreciate the difference that the four types of Vanilla pods made over other premium Vanilla Ice Creams. But eaten together with the zesty crushed lemon ice, it was quite addictive. 4.25/5
Conclusion
Quite a different class of homemade ice cream altogether. You are not going to find your usual Durian and Black Sesame here. Instead, they have the more "Grown up" flavours with a lot of them spiked with liquors and other stuff with fancy European names. Well worth a visit if you are an Ice Cream fan. It would be interesting to see if the "Ulu" (remote) location will play to their favour as the inaccessibility might add to their exclusivity.
Post Script:
I returned to Seventh Heaven with our regular Makan Kakis just before posting this to get their opinion on the Ice Cream. The majority ranked Chocolate and Whisky the highest (which was my personal perference as well) so I am upping its rating to 4.75/5. The other thing that we all agree was very very good was the warm chocolate cake ($7.80) which is probably the best value dish you can get there considering that a single scoop is already $5.80, that means that for an extra $2 you get a freshly baked warm chocolate cake with molten chocolate in the middle to go with your Ice Cream! We all gave that one a 4.75/5 as well.




Update 7 July 2011
They have shifted to Kaki Bukit and no longer have dine in. You can still do takeaways.


Disclaimer: Please do not overindulge in this if you are suffering from conditions such as diabetes or high cholesterol. This blog does not in any way advocate underage drinking or excessive alcohol consumption.