Our recent polls showed that the Hokkiens have the least proportion of foodies as compared with the other dialects groups. Of course this does not mean that they don't have a few lip smackingly shiok dishes in their culture. One of the best dishes in the world that the Hokkiens have given us is the humble Hokkien Mee which is in my opinion, the most underated of Singaporean dishes. Every tourist knows about Chicken Rice and Chilli Crabs but not all of them are as familiar with Hokkien Mee. If you all remember our polls last year on Singaporean's favourite hawker dish, Hokkien Mee came first, ahead of Chicken Rice to everyone's surprise. Thankfully there are quite a few great Hokkien Mees around and I am still finding gems even after blogging over 20 stalls.

Now you might be wondering why I did not blog this stall earlier. The fact is that when I was here last year but I did not think much of it. However, this time round, I was very pleasantly surprised at how good it actually is.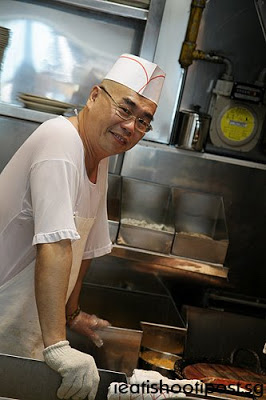 The main characteristic of this Hokkien Mee is its gooeyness which intensifies the crustacean taste of the the stock. The noodles were well fried and the chef is no friend of pigs, so you get your lard and belly pork strips here. The prawns and sotong are tiny and only serve as a garnishing. What you are going for is just a satisfying, full flavoured, fried noodle dish. 4.5/5
Conclusion
Simple, no frills, gooey and tasty Hokkien Mee. As I alluded in the title, the irony is that the stall extols its patrons to come daily but are only opened six days a week.