With iwatch_ueat and SuperSatayMan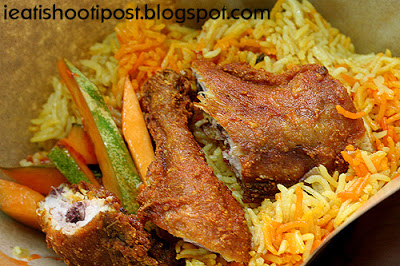 Since my blog on Allaudin's Briyani, people have been writing in recommending their favourite Briyani's around Singapore. So I have decided to go on a Briyani Pilgrimage to try to find Singapore's, dare I say, "Ultimate" Briyani. My first stall is one which I frequent and up till last week, my favourite Briyani. People look for different things in a Briyani. For me the rice is of prime importance, then the meat and the curry and I also like the cucumber achar/salad to be nice and sweet to contrast with the savoury flavours of the curry. I opt for fried chicken rather than curry chicken because my stomach complains when I have too much curry.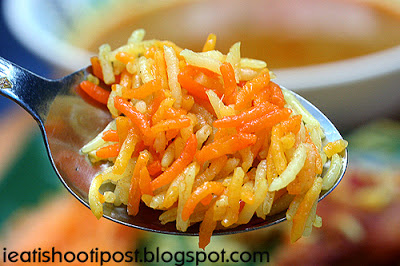 The rice at this stall is nicely done. Every grain is separate and unbroken. The springy texture is satisfying to the bite. The cucumber achar at this place is also very good. I love just eating the rice by itself without the gravy. 4.25/5 I have to concede that overall, the combination of the curry, the rice and achar was not as shiok as others I have tried.
Conclusion
Rice texture is tops, taste is great but not quite the ultimate Briyani.