This Place is Closed!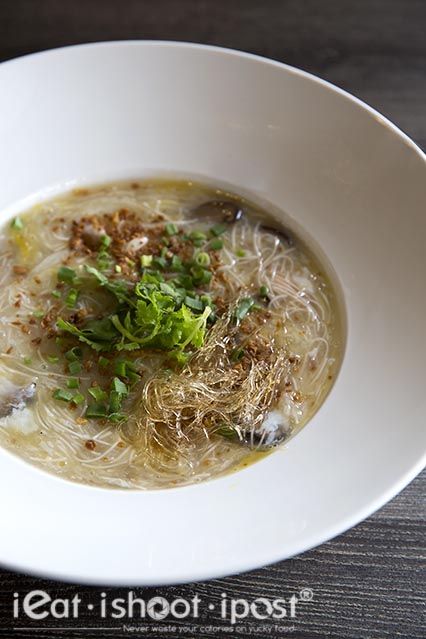 There has been a steady influx of Malaysian eateries in recent years. Some, like Overseas restaurant, did not last too long whiles others have had more luck. Actually when you think about it, most of our Cze Char stalls are run by Malaysian Cze Char chefs and we are actually eating a lot of Malaysian food without even knowing it. What makes Malaysian food so enticing is that it has got a certain level of familiarity such that it doesn't intimidate, yet it's different enough to make it novel.
The latest Malaysian eatery to hit town is Teow Chew Meng which started selling Mee Sua Tow in Butterworth almost 20 years ago. It got so popular that they opened in KL and now they have expanded to Singapore. Their branch in Singapore is a joint venture with a local restaurant group, but the owner, Stephen Seow still flies to Singapore every week to make sure everything is properly done. It was Stephen's father-in-law who started selling Mee Sua Tow in Butterworth after a trip to China where he sampled the dish. When he got back, he made some modifications to it, adding fresh seafood like fish and oysters and sharksfin. It soon become a hit and was voted Best Mee Sua Tow in Malaysia!
The Mee Sua Tow is very much like a shark's fin soup with mee sua in it. They don't use real sharks fins here but have replaced it with a vegetarian version. As with shark's fin soup, it goes well with black vinegar. This is comfort food if you are looking for something warm and non-confrontational. But it lacked a certain level of ooompph I was looking for. Still, it is one of the few places I know which sells this dish, so it is worth a try. 4/5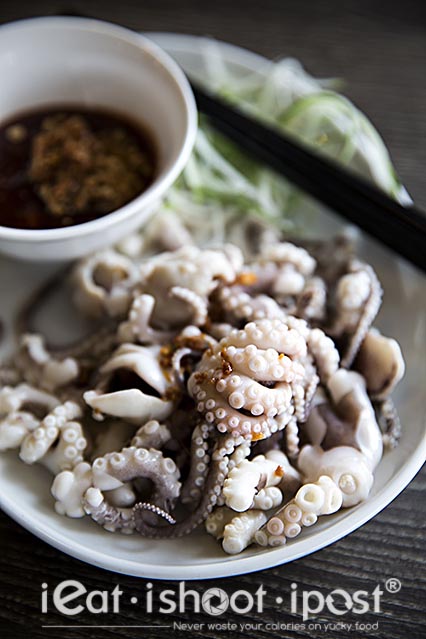 I was pretty intrigued with the baby octopus. The octopus has a unique and rather satisfying bite. It is bouncy with an interesting crunch and almost a faint squeak when it rubs against your teeth. Stephen told us that the baby octopus come from Penang and has to be washed and massaged by hand for two hours in order to extract the fishy odour and give it that unique texture. It is served with a rojak sauce made from Penang hae gor (prawn paste). If you are not a texture person, you might not appreciate this as it might just come across as a bland fish noodle. But I like it because of its simplicity and it isn't something you can find in Singapore. 4.25/5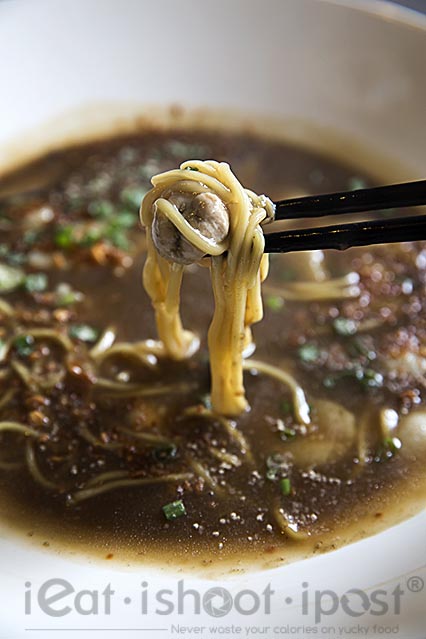 The dish which all the kakis liked were the braised oyster noodles. It is like a gentler version of KL hokkien noodles but with oysters. Gentler because it isn't fried in lard, so it isn't oily. The noodles are also soft to the bite. It is interesting to note that they take the trouble to make different stocks for each dish, so the oyster noodle stock is made from scratch rather than being blended from a basic pork stock. Again, I would have like it more punchy, but being a Teo Chew restaurant, the seasonings are restrained so that the natural flavours of the fresh seafood doesn't get over-powered. This is the dish I would definitely order when I go back. 4.25/5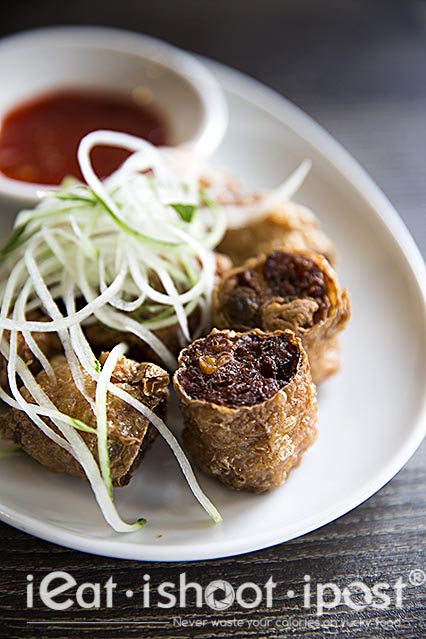 What is known as Hae Chor (prawn rolls) or Ngor Hiang in Singapore in known as Lor Bak in Penang. They are essentially the same idea which is meats and/or seafood that is wrapped in bean curd skin into a roll which is steamed and then deep fried. The Lor Bak at Teow Chew Meng is filled with seafood and the twist comes in the form of salted eggs. I really have never come across a Hae Chor that is really bad, neither have I come across one that is really outstanding. So this is quite a safe side dish to order with your meal. 4/5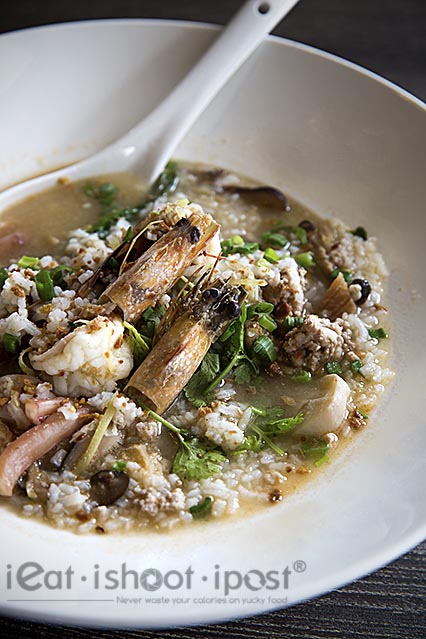 The seafood porridge reminds me of the kind of porridge that my mom used to cook when grandma was still around. What characterizes Teochew style porridge is that we Teochews like our porridge with a bit of bite. So the rice grains are usually soft but still largely intact and there is a distinct separation of rice and water. We usually eat it plain with dishes at the side but sometimes we add seafood and meat into the porridge to make it a one dish meal. The thing that reminded me of grandma was the addition of dried cuttlefish into the porridge which gives it a very distinctive flavour. I must admit that it's a pretty ugly dish that looks almost like swill but it sure tastes good especially on a cold rainy day! 4/5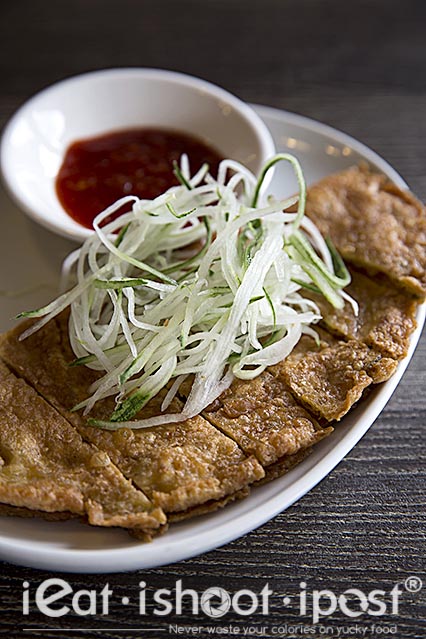 Another side dish is the prawn pancake which is made up of chopped Sur Lor prawns, eggs and flour. It is usually one of those dishes that just works so well with porridge. However, I found their prawn pan just a tad thin and a tad too dry for me. 3.5/5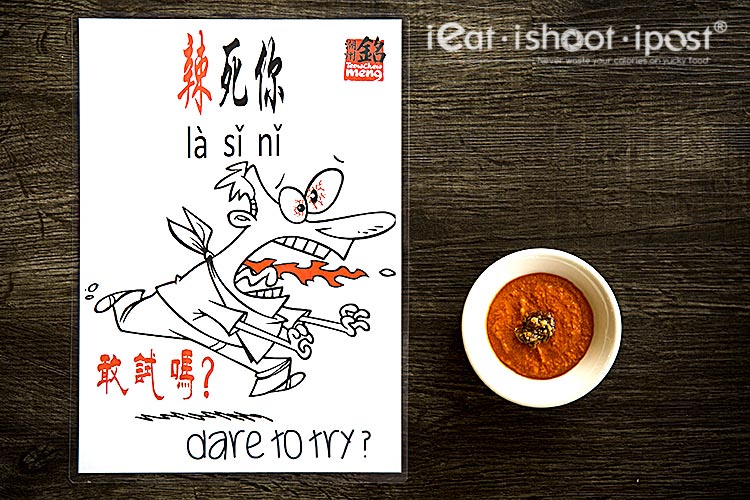 There is good news here for maniacal chilli lovers as Teow Chew Meng pride themselves on a sadistic chilli paste that is designed to release your endorphins and activate those dormant sweat glands. It's interesting to note that Eng's Wanton Mee also has a powerful chilli sauce and they are just a stone's throw away! Looks like Tanjong Katong is really the place to be for chilli masochists!
Conclusion
Overall, I felt that the food could have had a bit more oompph, but then again, Teochews tend to be light handed on seasoning and sauces, preferring to savor the natural flavours of the fresh seafood. It is, however, a place to visit simply because the dishes are rather unique. It's also a comfortable, air-conditioned place to get a hearty bowl of noodles or porridge with some side dishes at cze char prices.