If you have been reading my blog for a while, you would probably notice that I seldom blog about buffets. I guess it may be because I am older now and I can't eat as much as when I was younger. It's also because buffets are ideologically opposed to my motto of "Never Waste Your Calories on Yucky Food", since, as you probably know, you generally tend to overeat at buffets. Nowadays, just about the only times that I eat at buffets is when I am on holidays and there is a breakfast buffet included with our room. Even then, I tend not to overeat. So I feel that it is never worth eating at a Buffet.

So, why am I writing about Straits Kitchen? Well, two reasons. Sometimes I find that I have to entertain guests from overseas who might not be able to take the balmy and rustic conditions of our hawker centres, so the Straits Kitchen provides a nice, comfortable setting to sample a variety of local favourites. It's kind of a soft landing for those who have never been to Asia before. Secondly, the Straits Kitchen is one of those places which is Halal certified and it also offers vegetarian options, so you really don't need to worry too much when you are planning for your overseas guests since everyone will be able to eat the food there.
Another reason I don't write about Buffets is because I am usually overwhelmed by the variety of dishes which may change over time. So it doesn't fit with my usual style of writing where I like to focus on one particular dish, pull it apart and analyze the peculiar aspects of the dish that make it stand out. So I think what I will do for this post is to give you a quick rundown of the different stations at Straits cafe instead, so you can get a big picture of what it is all about.
If you have been to Mezza9, the other restaurant at the Grand Hyatt, you will be familiar with the open kitchen concept which is one thing that sets Straits Kitchen apart from a lot of other buffets. Straits Kitchen is divided into six stations, each with a few chefs busily preparing the food behind the counter.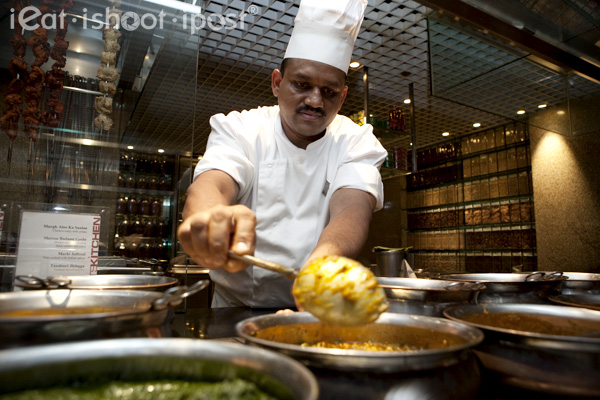 Indian Station
The Indian station serves Northern and Southern Indian food and you can get Naans and Roti Pratas made on the spot. Both the Naans and Roti Pratas are excellent even though the prata is made without the addition of eggs in order to cater to the vegetarians. Both the fish and chicken curries are very good, so it is one of those rare places you can get high quality curry to go with your roti prata. 4.25/5
I had a chat with the Chef behind the counter about the origins of Roti Prata and discovered another piece of the Roti Prata puzzle. He is from Kerala and he tells me that they do have a similar dish which is also call Prata (without the Roti). Over at Chennai on the South East Coast of India, the dish is referred to as Roti Chennai. This may explain why it is called Roti Canai in Malaysia although there is another theory that the word "Canai" actually means "to stretch out" in Malay. If you check with the Malaysian Historians, that seems to be the official account. I personally feel that truth is somewhere in between.
The Malay station offers your usual Nasi Padang dishes, Satay and BBQ fish. The two dishes here that really stood out were the Mutton Rendang and the Ayam Buah Keluak. 4.25/5. The satays are pretty much your common variety satay 3.5/5 which you really need to get fresh off the grill if you want it to taste good. The dishes do change daily, with the exception of the Rendang and the Ayam Buah Keluak which are the always on the menu.
They have a cold station that serves Gado Gado, Rojak and Poh Piah which are all vegetarian. The Poh Piah skin is good but as a whole it is pretty mediocre. 3/5. I didn't manage to get to the Rojak but it is promising since they are using the torch ginger flowers and Hae Gor from Penang. If you prefer, there is Gado Gado as well.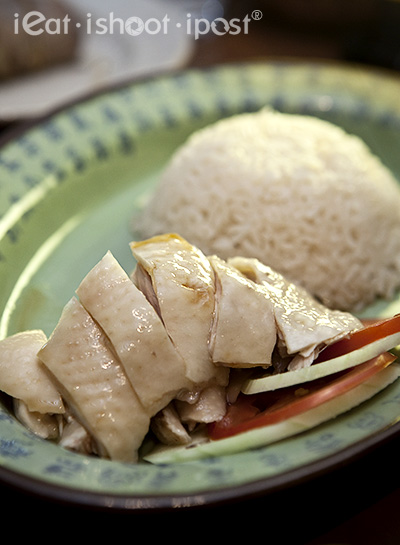 Chicken Rice – Non Wok Station
The Chinese stations are divided into the Wok Station which prepares local favourites like the Carrot Cake and Char Kway Teow and the non-Wok Station which has local favourites like Chicken Rice, Roast Duck, Laksa and Prawn noodles.
Being a Halal Certified Restaurant, they don't use pork in any of the dishes and this is a big challenge when it comes to things like Fried Kway Teow. In addition, they also steer clear from shellfish like cockles and oysters for fear of food poisoning incidents. So, all I can say is that dishes like Char Kway Teow are a poor facsimile of the real thing, although you do get good Wok Hei (smokey breath of wok) if you manage to get it when it is just freshly fried. But Char Kway Teow without lard and see ham (cockles)… well, isn't really Char Kway Teow in the strict sense of the word. 3.5/5
In general, I felt the wok dishes are pretty good in their own right but the dishes don't really come close to the ones at the hawkers because of the restrictions of ingredients. I was told though, that the chilli crabs which is served during dinner is probably the most popular dish at the wok station.
Over at the un-Wok station, the Chicken Rice and Roast Duck are pretty decent 4/5, but you shouldn't spend any calories on the laksa and prawn noodles. The prawn noodle soup is bland and lacks some serious umami. 3/5 I guess its a bit of a challenge if you are unable to use pork bones. Similarly, the laksa also suffers from a Ooomph deficit. 3/5
Aside from the Indian station, I think the other station which is very strong is the dessert station. Here is where my love for the humbel ice kacang was I rekindled. There are not many stalls in Singapore which can sell an outstanding Ice Kachang nowadays but I am glad to say that the one at Straits Kitchen really puts Ice Kachang in its pride of place again. The ice is very finely shaved and the addition of an excellent gula melaka makes this a dessert you can confidently show off to your overseas visitor. 4.5/5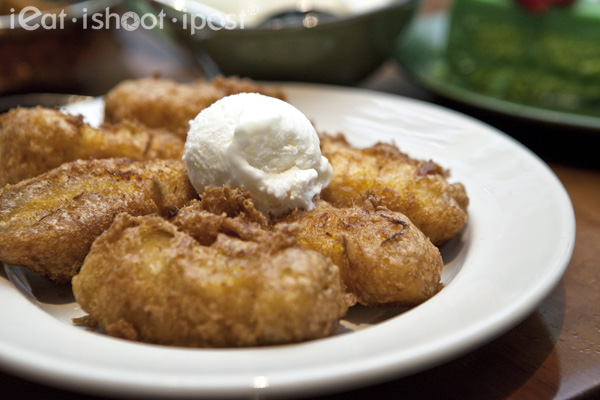 Goreng Pisang
The Goreng Pisang (banana fritters) here are also excellent. They specially source ripe Pisang Raja and fry the fritters in a light batter. I know it is not traditionally done, but I can't resist eating it with a scoop of their homemade icecream which come in a variety of local flavours like coconut and durian both of which go amazingly well with the Goreng Pisang. 4.5/5
Aside from these two desserts, they have many other great local stuff like Mi Chiam Kueh and Muah Chee as well as an array of Nonya Kuehs. It's too bad I didn't managed to get to them in time.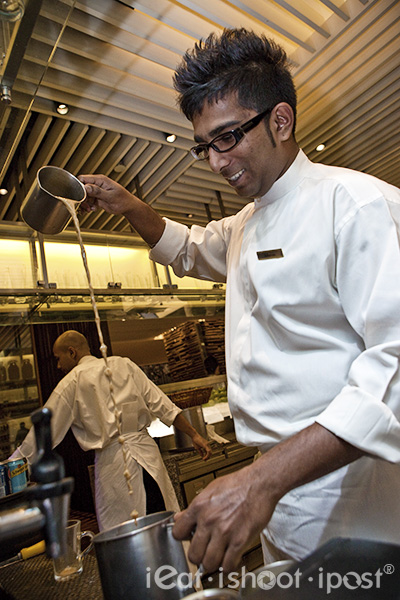 Teh Tarik – excellent but must get it hot! 4.5/5
Conclusion
The Straits Kitchen is a great place to introduce overseas visitors to local cuisine and it has the added advantage that it is Halal. The open kitchen concept also makes for an interesting dining experience. There are of course some winners and others that are hampered by the need to be Halal. Overall, the food is very good and the quality of the ingredients are top notch, so taken as a whole, you will get a good feed. However, with a price tag of $44++ for lunch, I think most locals will wonder why they have to pay so much for Hawker food.
This was a media invite