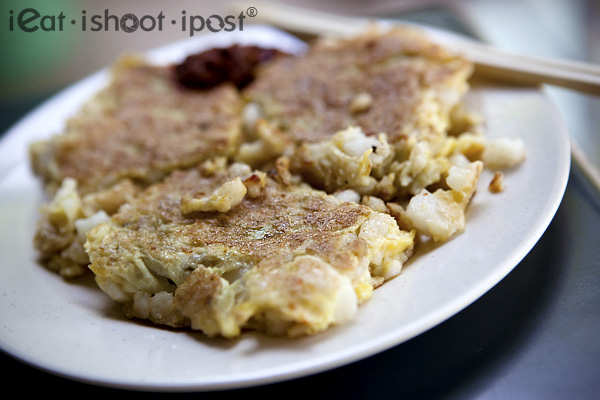 Carrot Cake $2
I used to say that there were three types of carrot cake, the white, the black and the one with cream cheese frosting. But you know what, I was wrong, there are actually more. Within the white carrot cake category, there are still several variants. There is the commonly seen loose one, the crispy waffle-like ones of Chey Sua Carrot Cake and then there is this thick wallet sized, egg-ful ones that of this particular stall. Actually, there are two stalls here in Bukit Timah Food Centre that makes this style of Carrot Cake and Seng Kee which I had blogged about earlier. However, this stall is the one that supposedly started the tile-style Carrot Cake some 30 years ago.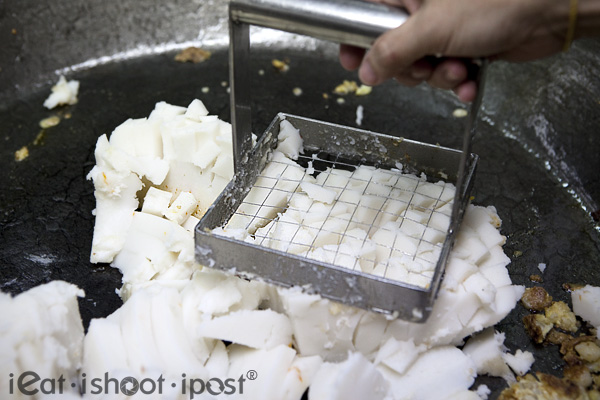 I am very impressed by the fact that both the stalls at Bukit Timah Food Centre actually bother to steam their own carrot cake rather than buy them ready made. I guess competition is good for the consumer. There are many ways which I have seen hawker cut up their carrot cake. The traditional way, of course, is to use the wok ladle to chop the carrot cake into bite sized pieces. However, other hawkers have also come up with more efficient ways getting the job done like the uncle at Pek Kio Food Centre who pushes his carrot cake through a cake cooling rack. This particular stall uses a special handmade carrot cake cuber as you can see from the picture.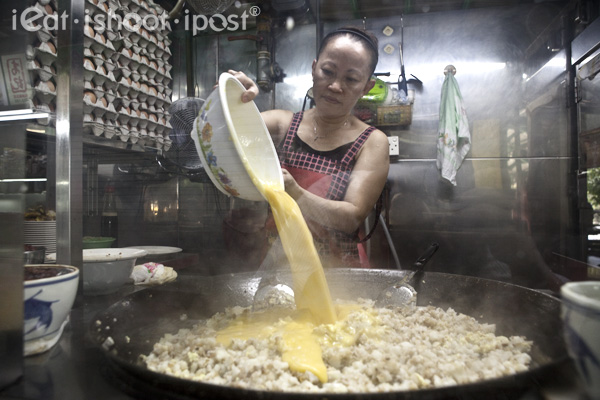 After the carrot cake is fried, the chye poh (salted radish) is then fried with garlic and mixed in with the carrot cake. In case you are wondering why Chye Poh tastes so good, it is because the Radish, (lit white carrot in mandarin) is one of those vegetables which contain a high level of glutamate and glutamate equals umami! This is also why radishes are often added to soups to sweeten soups! But I digress…
Once the chye poh and carrot cake are mixed and fried till the carrot cake cubes have lost their sharp edges and has been infused with chye poh and fish sauce flavour, a huge bowl of eggs are poured into the mixture and slowly heated until it sets. This should really be called a carrot cake frittata as there is as much egg as there is carrot cake…. almost.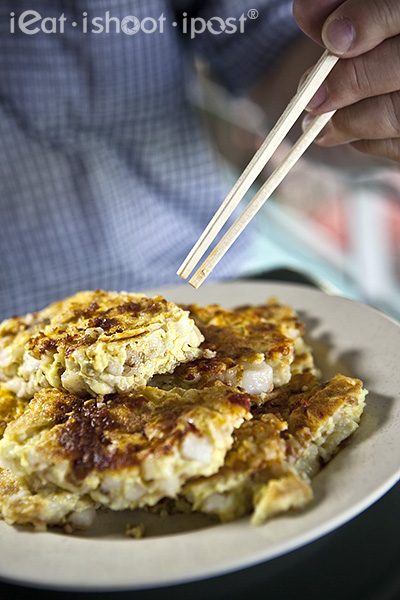 You really can't go wrong with eggs, chye poh and fish sauce. They are about as classic a combination as basil, tomato and cheese. What makes this carrot cake different is the texture of the homemade carrot cake and the fact that you can actually pick up a whole piece with your hands and eat it like a slice of cake. I found the carrot cake to be just slightly under salted at first, but with an extra dash of fish sauce the flavour is really lifted to the next level. Their chilli is smeared on top of the carrot cake just before serving and is fragrant without being overly spicy. 4.25/5
Conclusion
Anyone who lives out west would probably know of this particular carrot cake stall. Are there other stalls that can compete with this one out West?