This post was brought to you by Grand Park Kunming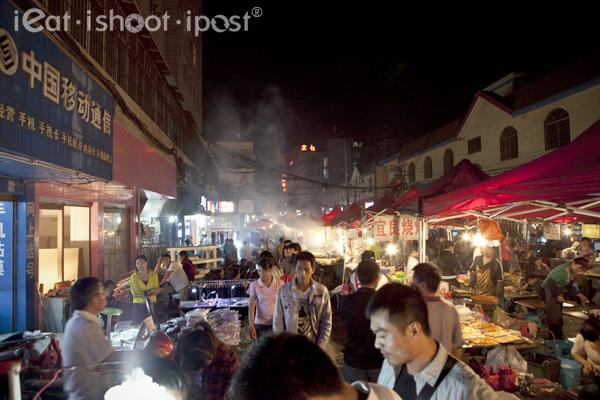 Local Food Street in Kunming
There is just no better place to learn about a city's food culture then to visit its food streets at night. Although there are many popular touristy food streets in Kunming, I told my guide that I wanted to go somewhere the locals go to and not another touristy locale. You know, an "Old Airport Road Food Centre" instead of "Newton Circus Food Centre". So Xiao Li brought us to ShuangQiao Lu (Twin Bridge Road) which he said was off the tourist map. He warned us however, that he only did it on the expressed instructions from Thomas, the head guest relation officer who knew that I was on a special food mission.

If there is one thing that strikes you about Kunming street food, it is that the Kunming people get a thrill out of their grill. At least 80 percent of the stalls sold grilled meats and you can get almost any thing on a stick, ready to be popped over charcoal and finished off with a sprinkle of the all too familiar chilli flakes which they seem to put on everything. The taste profile here is somewhat different from Singapore. Kunmingers tend to like their food salty, savory and spicy, unlike Singaporeans who like their food a little on the sweet side. Compare their grilled beef skewers to our Satay and you get a general idea of what the majority of their dishes taste like. They also tend to favour the grill over deep frying. So when you walk along the street, there is smoke everywhere but very few crispy stuff. There was the occasional deep fried potatoes and I even managed to find a place selling sweet rice crisp cakes. But these were pools of hot oil in a land of glowing embers. And oh, talking about the rice cakes, I was told by the hawker that his stall is frequented by Singaporeans! So much for not being on the tourist map! Or perhaps we Singaporeans have a way of sniffing out the good food places?
If you are feeling a little adventurous, this is a great place to discover the heart of Kunming cuisine. But I have to warn you that it really isn't a place to bring kids and you take a risk on getting food poisoning if you eat at the wrong stall. But what's an adventure if there wasn't a little danger?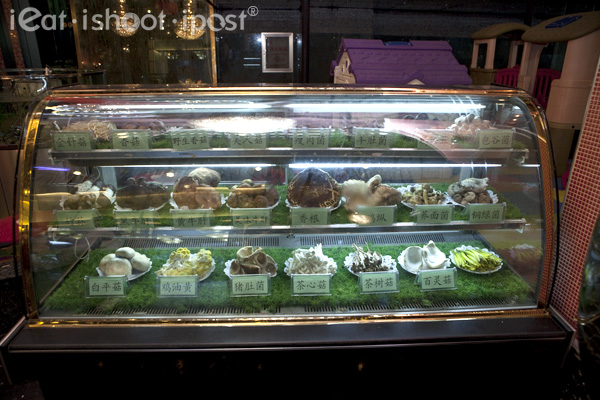 If you go manic over mushrooms, then Yunnan is the place to get your mushroom mania because of the nearly thousand edible mushrooms in China, 850 of them are found right here in Yunnan. The mushrooms grow in the mountains surrounding Kunming and are handpicked by foragers. The Kunmingers take their mushrooms very seriously. So seriously that they have four story restaurants like the one we were at serving just wild mushrooms!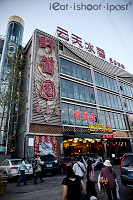 I must admit I don't really know much about wild mushrooms so it was rather difficult to pick some mushrooms to throw into the hotpot. I heard that they had some Matsutake mushrooms which are prized by the Japanese because it is said that they were the first things that started to grow after the bomb was dropped on Hiroshima. So we tried some Matsutake mushrooms. We also picked several of the more popular ones like morels and an interesting one that grew on bamboo shoots.
They offer several different broths to cook your mushrooms in and we chose the wild chicken broth which I can highly recommend. It taste very sweet and slightly gamey and is very different from the broths we get back home.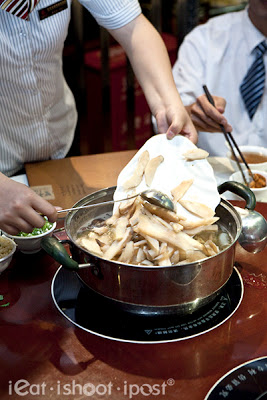 They are very strict about cooking the mushrooms here for you. In fact, we are frequently warned that some mushrooms can be poisonous if they are not cooked properly. So there is a cooking time listed on the menu for each of the different type of mushrooms you order. They will also insist on cooking the mushrooms for you. The waitress will put all the mushrooms into the hotpot and start a timer and you are not allowed to touch the dish until she says it is ready!
Our local guides seem to enjoy the dish a lot. Personally, I can't really appreciate the differences in the tastes of the mushrooms as they all tasted pretty much the same after cooking in the same pot. There is of course a difference in the texture. It was a good experience to try at least once.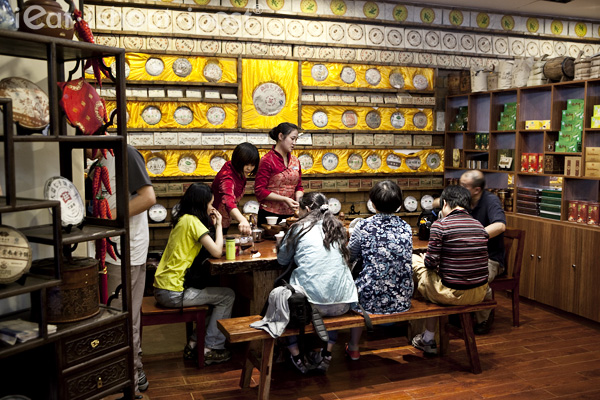 Yunnan is famous of its Pu Erh tea and visiting a tea house to learn about the tea culture is a must do. However, a word of warning. Unless you know your teas very well, one of the things you must do before you sit down for their free tea demos is to decide just how much you are willing to spend at the tea house because they can be quite persuasive when it comes to getting you to buy the tea.
Our guide had brought us to Dr Tea at the International Trade Centre and assured us that it was a place that would sell us genuine products. We sat through a fascinating half an hour session where we learnt about the thousand year old tea forests of Yunnan and how the tea leaves are harvested from these tall trees. Up till then, my idea of a tea plantation was like the ones we often see in Sri Lanka or Malaysia where the tea leaves are plucked from shoulder height tea bushes. Here in Yunnan, the tea trees are real tall trees!
Pu Erh is one of those 6 different types of Chinese Tea. What makes Pu Erh different is that undergoes fermentation and aging and it has been shown to be good for lowering cholesterol levels. It is now one of the more popular teas in China because tea blocks were given out as presents to the Olympic atheletes during the Beijing Olympics. A good aged Pu Erh tea can cost thousands of dollars a block while a cheap one might only be a few bucks. So this is where you really need to know your tea.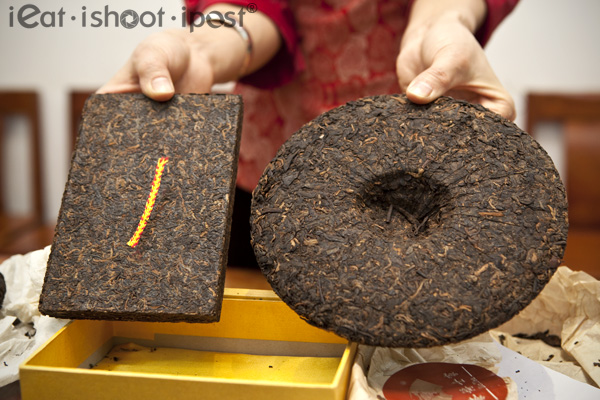 We ended up buying the rectangular block of tea on the left because we were told that they were made from tea buds and have been aged for 18 years. They cost 600 yuan each and we ended up buying four after much persuasion. (They make it very difficult to say no) Anyway, we thought that this was Yunnan, so we might as well buy some really nice teas for the place of origin.
When we got back and I sat down to write this post, it suddenly occurred to me that I really should get the tea checked out. I managed to get hold of two Pu Erh experts and met them at Tianfu Tea house where we got their opinion of the tea. The general opinion is that the Pu Erh I bought is a "Shou Cha" which has been fermented and aged artificially as opposed to a "Seng Cha" which is naturally aged. The experts felt it didn't taste like an 18 year old tea and in any case, a tea that is 18 years of age would have cost a lot more. However, it was a good quality tea that was worth drinking, but they wouldn't pay 600 yuan for it.
So there you have it. It cost me a few hundred bucks to learn my lesson on buying tea in Yunnan. I hope that by sharing it, you all can avoid such a mistake! Bottomline, if you don't know your Pu Erh, just give yourself a modest budget and don't be afraid of saying "Is it ok if I don't buy this tea today?"
A word from our Sponsors and how to win a holiday package for yourselves!
This trip to Kunming was kindly sponsored by Park Hotels Group as part of their Unlimited Discoveries campaign. Grand Park Kunming is ranked as one of the top business and leisure hotels in Kunming city. It is iconic landmark located along the picturesque Green Lake Park and provides easy access to many scenic destinations of the city.With 300 rooms and suites and meeting spaces for over 350 people, the hotel is only minutes away from the Central Business District and 20 minutes' drive from Kunming International Airport.
Unlimited Discoveries Campaign
Park Hotel Group launched Unlimited Discoveries, a 2-month long worldwide campaign in conjunction with its 50th anniversary this year.
50 lucky participants will stand a chance to win a 3D2N holiday package for two persons at 6 destinations located in Singapore, China, Hong Kong and Japan. Packages include return air-tickets, accommodations and admission charges for attractions in the selected itinerary. Participants can pre-select their ideal holiday package based on themes such as Adventure, Culture, Gourmet or Romance.
Simply share your most memorable moment on the Unlimited Discoveries website and be one of the 50 lucky winners. What's more, choose to upload your memorable photo with your entry and stand to win an additional SGD$5,000 in cash.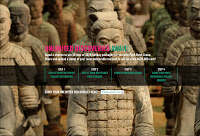 Participate in the Unlimited Discoveries campaign now here: http://www.unlimiteddiscoveries.com