This post is brought to you by Grand Park Kunming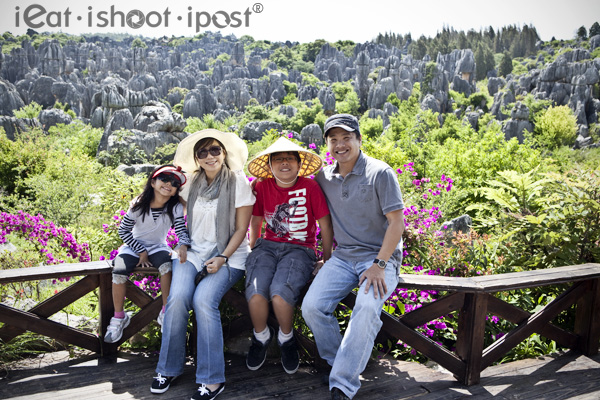 China is a vast country. I am still amazed to think that over 2000 years ago, Emperor Qin Shi Huang, managed to unite the whole of China under his rule and that he managed to do that when the fastest vehicle they had, and subsequently the fastest means of communication, was the horse. Back in those days, the area which is now known as the province of Yunnan was considered the outback or the wild wild West. It was one of the last provinces to join the Chinese Empire and it wasn't until the Han Dynasty that they become part of China. It was the mountainous area where the Barbarian tribes lived. In fact, 26 of the 56 minority ethnic groups are still found in Yunnan.

Kunming is the capital city of Yunnan and people go there for two things. The first is golf as Kunming boasts some of the best courses in China principally because of its springtime temperatures all year round. Kunming is situated on a plateau at 1300m above sea level and it is warm enough not to wear sweaters but cool enough not to need air conditioning. The other thing that people flock to Kunming to see is the amazing karst formation which is part of Unesco World Heritage site. It is more popularly known as the Shilin Stone Forest.
Shilin is situated quite close to Kunming and is connected by a modern highway. So it was a very comfortable one and a half hour trip to get to there. The forest is said to have existed for 270 million years and was at one time stone formations on the bottom of the sea. The stone formations are truly amazing and definitely worth the trip.
Shilin is divided into two circuits. Greater and lesser Shilin. Basically you take a buggy around greater Shilin and then get off and walk around lesser Shilin. One bit of trivia which I found was quite interesting is that what we are seeing isn't really natural. Yes, the stone formations are natural, but I was told that wonderfully green and lush grass actually comes from the US! I wonder how that fits into it being a World Heritage Site?
At any rate, you can stare at all the rock formations and probably imagine it to look like something familiar. Just have a look at the photo above. What can you see? It is supposed to look like one of the Immortals staring into the sky while holding a sword in his right hand. Can you see it?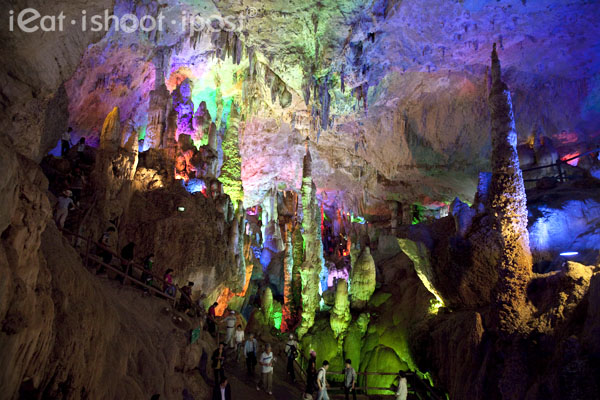 Although the Shilin Stone Forest is the most popular attraction in Kunming, we actually found the Jiu Xiang Caves to be even more fascinating. These cave formations are about half and hour from Shilin and are a real eye opener. Our guide had forewarned us that it would take three hours to walk through the caves and at the end, there is a final ascent of a 100 steps which can be quite challenging. So we were initially wondering if the children would be able to make it through the caves.
The Chinese like to build things big. Whether it is the Great Wall or the Three Gorges Dam, when I was walking through the cave system, I can't help but think of all the effort of building the pathways that line the walls of the caves. Just imagine, every single block of stone needs to be hauled in! But as our guide reminded us, this is nothing compared to the building of the Great Wall!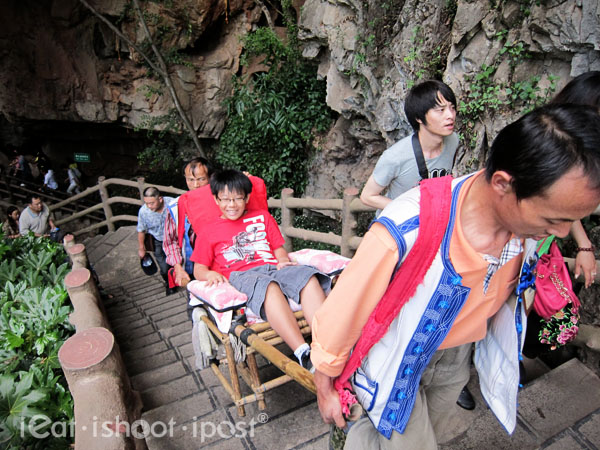 Ah yes, those final hundred steps. For just 50 RMB ($10) you can make your accent like an Emperor and have two guys haul you up on a bamboo chair. We just had to do it!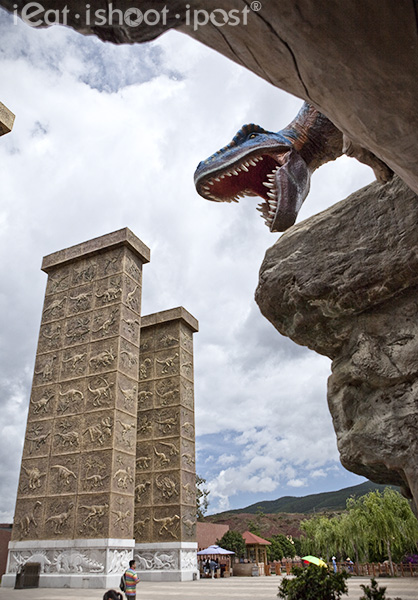 If you have an extra day in Kunming, another attraction which you might want to explore is the Lufeng Dinosaur World which has just opened its doors 3 years ago. Lufeng Dinosaur World is built on an excavation site where hundreds of fossils have been found. It is one of the most prolific fossil excavation sites in the world.
We were told that one fascinating feature of the fossils is that they were all buried facing the same direction. So it would seem like they were all running away from some natural disaster just before their death. This would seem to support the theory that the age of the dinosaurs ended with an asteroid hitting the earth!
The park, like everything else in China, is huge in terms of the space. The main attraction is the excavation site where all the fossils are displayed. There is also an amusement park with a few rides which only operate when there are enough people. We went on a quiet weekday, so the kids only got to play the bumper cars. There are two other buildings which house in door displays. These seem to be quite superfluous and all the text were in Chinese so it doesn't look like they had designed it for international tourists. All in all, worth a visit if you have extra time on your hands or if you are en route to some of the other attractions in Yunnan out West.
A word from our Sponsors and how to win a holiday package for yourselves!
This trip to Kunming was kindly sponsored by Park Hotels Group as part of their Unlimited Discoveries campaign. Grand Park Kunming is ranked as one of the top business and leisure hotels in Kunming city. It is iconic landmark located along the picturesque Green Lake Park and provides easy access to many scenic destinations of the city.With 300 rooms and suites and meeting spaces for over 350 people, the hotel is only minutes away from the Central Business District and 20 minutes' drive from Kunming International Airport.
Unlimited Discoveries Campaign
Park Hotel Group launched Unlimited Discoveries, a 2-month long worldwide campaign in conjunction with its 50th anniversary this year.
50 lucky participants will stand a chance to win a 3D2N holiday package for two persons at 6 destinations located in Singapore, China, Hong Kong and Japan. Packages include return air-tickets, accommodations and admission charges for attractions in the selected itinerary. Participants can pre-select their ideal holiday package based on themes such as Adventure, Culture, Gourmet or Romance.
Simply share your most memorable moment on the Unlimited Discoveries website and be one of the 50 lucky winners. What's more, choose to upload your memorable photo with your entry and stand to win an additional SGD$5,000 in cash.
Participate in the Unlimited Discoveries campaign now here: http://www.unlimiteddiscoveries.com